It's the same question cropping up time and time again regarding Solar Lights...."do they work in the UK?"
The answer is Yes, but only at certain times of the year. Most solar panels require around 6 hours of direct sunlight to illuminate 50 to 100 LEDs for an evening of use. What we find in the UK is that a vast majority of Autumn and Winter is covered with dull grey clouds and various showers of rain. Solar lights have a habit of playing up in these months, with minimal sunlight available to charge the solar panel.
If you shop around the internet you will find that solar fairy lights can range from £5 to £40 for 100 LEDs. With such a huge choice it's difficult to decide what to choose and what will actually work in your garden. Most of us tend to go with reviews of products to help us decide, however it is good to know what quality the specification of the solar panel is.
Lights4fun solar fairy lights
have a good quality solar panel with generally 2 x 600 or 800 mah AA rechargeable batteries inside. The higher the battery, the more charge this can hold, and usually the brighter the output on the LED. This type of spec will definitely work during the spring and summer months in the UK, but may struggle to cope with weeks of dull cloud and poor sun light. Lights4fun do have a higher grade panel and battery for their premium range of solar lights and believe that this would perform better during the winter months. However, solar is still in it's early stages of technology and cannot guarantee illumination for 365 days of the year.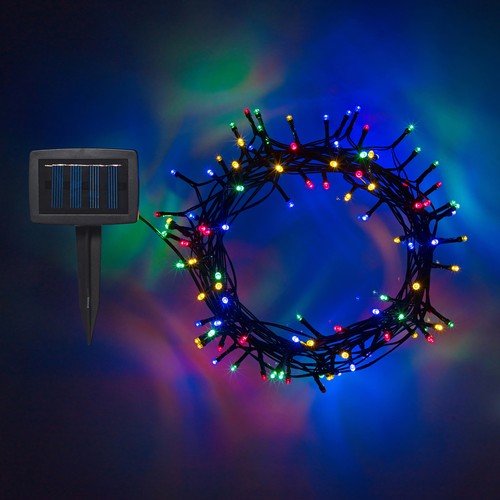 Top Tips
Don't go cheap with Solar Lights, as you do get what you pay for. If you can get 100 LED fairy lights for under £8 then we believe it is likely the spec may not be suitable for long term UK use.
Always position the solar panel in direct sunlight, not under branches and not inside behind a window, this will not charge behind glass.