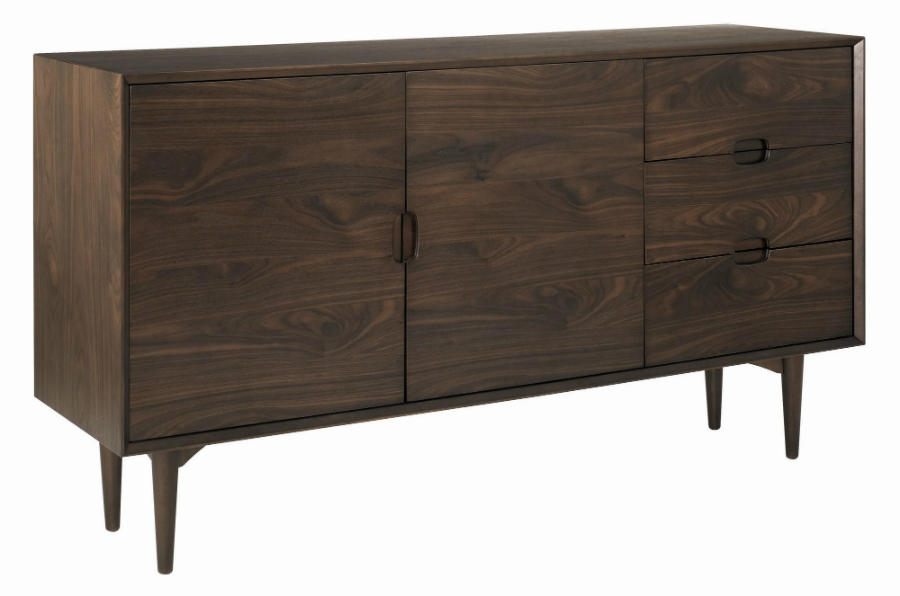 Solid wood sideboards are popular and attractive features of the dining room and are available in a wide range of designs. They are traditionally used to store items such as cutlery and glassware, but with the variety of sizes and shapes available, they can be used to store all kinds of items.
About Solid Wood Sideboards
Early sideboards developed in the 18th century. Before this time, items were stored on tables against the wall or open shelves. Welsh dressers, usually located in the kitchen, combined cupboards and shelving. Around 1760, the furniture designer Robert Adam created a type of sideboard by standing a serving table on two cupboards with two boxes on top. The boxes were to hold items such as cutlery while the cupboards housed wine and glasses. Other designers such as Thomas Chippendale developed the concept by making the individual items into a single piece of furniture, adding drawers and decorative features, and called it a side board. By the end of the 18th century, sideboards were considered ordinary items of furniture in well to do homes. Their popularity increased further in the 19th century, being seen as middle class status symbols along with the concept of a room set aside solely for dining. Various styles evolved in the 20th century, from elegant curved mahogany designs of the early 20th century to mid-century retro styles with a more basic and utilitarian form. Many of these designs were low lying without additional shelves or cupboards on top. Today, sideboards are available in a range of designs that draw upon traditional, retro, and contemporary influences. The traditional wooden sideboard is a classic addition to any home. Alternatively, corner sideboards are useful where space is limited. Solid wood sideboards are frequently made from pine, oak, ash, or exotic woods such as mango and mahogany. Solid wood is generally considered preferable to furniture manufactured from plywood veneer due to its superior strength and durability. It is also easier to repair if and when damage does occur, whereas veneered furniture can be extremely difficult to repair. Solid wood ages well and retains an attractive appearance for many years.
Choosing a Solid Wood Sideboard
Which solid wood sideboard is chosen will depend upon many factors, including the type of wood, style, space considerations, and size, and what the sideboard is to be used to store.
Type of Wood
| | |
| --- | --- |
| | A popular choice of wood for sideboards. Pine has a neutral to warm, slightly amber, colour that blends well with other furniture and decor, and gives a light, homely feel to a room. This can be highlighted with natural finishes or the wood can be stained to give extra depth of colour. Natural knots and lines add character. Pine is a softwood, and it can be easily carved to form beautiful decorative features. However, it can also scratch more easily than other woods. Pine is sturdy, though not as sturdy as hardwoods such as oak. An advantage of pine furniture is its light weight which makes it more practical for moving around the home. Because it is quick growing, pine is readily available and less expensive than many other woods, and its growth and manufacture has less environmental impact. |
| | The oldest British furniture is made from oak, and today it is the most popular choice of wood for home furniture. Oak is incredibly hard and durable, and it is resistant to scratches and stains. It has a beautiful fine grain. The tannins, a type of chemical, in oak wood provide protection against insect damage. Oak furniture can be waxed and polished to give it an attractive sheen that brings warmth to the home. It is versatile and can fit into traditional, rustic and contemporary styled rooms. Because it is so popular, a very wide range of designs are available to choose from. Though more expensive than pine, oak is less expensive than some woods such as mahogany. |
| | Teak is a popular choice of wood for home furniture because of its inherent durability, tensile strength and resistance to cracking, scratching, and rotting. It is one of the hardest woods used in furniture and has a high oil content that gives many of its characteristics. Teak has a rich and warm reddish colour and a beautiful fine grain. Ensure when purchasing teak furniture that it is high quality with a high oil content. Low quality teak has less oil content and will be less durable. |
| | Ash is a dense hardwood that is strong, but very versatile and elastic, enabling it to be crafted easily. It has a similar colouring to oak, but is slightly paler, giving it an attractive and delicate hue which can look stylish in contemporary styled rooms. Ash sands and stains well. Because it requires a higher degree of sanding than other woods, scratching may be apparent, and this should be especially considered when buying dark ash furniture. Ash is more prone to insect damage than oak, which may result in imperfections in the grain. However, ash is also an economical choice offering good value for money as it is cheaper and more readily available. Unfortunately, the fungal infection known as ash dieback is now threatening stocks of British and European ash trees. |
| Mango | Mango is an unusual alternative to traditional woods used in British furniture. It is a tropical hardwood that is durable, but easier to craft than some other hardwoods. The colour can range from light to darker brown, or be a combination, and the wood features attractive lines and swirls. It lends itself to rustic and contemporary designs. Mango is a quick growing wood that is easy to harvest and is produced sustainably, making it an environmentally friendly and economical option. |
| | Mahogany is a highly desired material for furniture due to its beautiful rich, dark reddish colour as well as its strength and durability. The grain is attractive and can be finished to produce a beautiful sheen. Mahogany is resistant to chipping and splitting as well as warping and staining. It also ages well. Mahogany can, however, be expensive and difficult to obtain. |
Style
Sideboard styles range from the traditional and vintage to minimalist and modern. Choose a sideboard that will fit existing or planned decor. Complement the style with picture frames, ornaments, or other items in a similar vein.
Size
Sideboards have become typically smaller over the years as houses and dining rooms have become smaller, but there is a wide choice of sizes available and sideboards exist to suit the largest and grandest down to the most modest dining rooms. Larger sideboards may have four doors or more, with many contemporary designs tending to be long and low. More traditional or rustic designs may be more upright with the standard two or three doors. Small sideboards or corner sideboards are available where space is a limiting factor. Sideboards should ideally be large enough to be an interesting focal point, but not so large that they dominate a room.
Function
Sideboards are traditionally housed in the dining room and used to store cutlery, glassware, wine and similar items. They can also be used for displaying ornaments and pictures, or for serving drinks and snacks from. When purchasing a sideboard, bear in mind what layout of cupboards and drawers would be most suitable. If the sideboard is to be used for serving drinks, a higher piece may be required. Sideboards are no longer confined to dining rooms, but may also be kept in living rooms, offices, hallways, bedrooms, and other rooms where they could be used to store anything from books, stationery and office accessories to clothes and bedding.
Find a Solid Wood Sideboard on eBay
To find a solid wood sideboard, begin at the eBay homepage. Open the Home & Garden tab and click on the link for Home & Garden. Open the Furniture & Living tab and click on the link for Furniture. Scroll down to Sideboards, Buffets & Trolleys. Under Type select Sideboards. Scroll down to Material and select Solid Wood. These listings can then browsed or refined further by criteria such as colour, brand, condition, price, height, width and style. Solid wood sideboards can also be searched for in the search bar at the top of any eBay page. Try entering specific terms such as "contemporary solid wood sideboard", "oak solid wood sideboard" or "rustic solid wood sideboard".
Conclusion
Solid wood sideboards are a beautiful investment for the home that will provide years of service. Advantages of solid wood over other materials include its inherent strength and durability as well as its attractiveness. Various types of wood are used for sideboards, such as pine, oak, teak, ash, mango, mahogany and yellow wood. Some of these are readily available, such as pine and oak, while exotic woods such as mango are receiving increasing interest. Each has its own advantages and disadvantages that should be carefully considered before a purchase is made. Research sellers and review feedback and product descriptions to ensure confidence in a purchase.