Soundware Beginners Guides: How to...
...Convert Vinyl LP's to MP3 or CD
To convert vinyl into a digital audio format, you need two things: firstly, a method of transferring the audio signal from your record player to your computer, and secondly, a software application capable of recording the incoming signal and converting it into digital audio. If you are unsure which proucts would be best for you, please contact us and we will be happy to help.
Connecting a Record Player:
Direct to Sound Card
Via a USB/Firewire Interface
Recording and File Conversion

Connecting a Record Player:
Direct to Sound Card
If your computer only has a minijack microphone input for recording, it's possible to connect the line out of a record player directly to it using a cable with the correct connections.

Lynx Standard Phono to Stereo MiniJack 1.2 MTR
View Cables and Leads in our Shop...
Via USB/FireWire Interface
If your computer does not have an audio input (for example, if you are using a laptop or only have onboard sound), you can connect a hifi to a spare USB or FireWire port via an interface. This usually provides higher sound quality and lower latency times than connecting via a standard computer sound card. Some interfaces also include bundled software for recording or editing audio.
Examples of USB/FireWire Interfaces:

Griffin iMic
- iMic shines as the essential tool for converting your old LPs and tapes into MP3s and CDs. Griffin's audio recording software Final Vinyl for Mac OS X (provided for free exclusively to iMic owners) makes recording old records and tapes super easy, with several advanced features such as waveform-based cue editing and built-in 10-band EQ.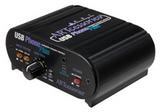 ARTcessories USB Phono Plus
- Transfer all your tape archives: Cassettes, reel to reel, 8-tracks, commercial carts and even vinyl and rip them directly to your PC or laptop! All you need is the player with the proper connections and you're on your way.
View Audio Interfaces in our Shop...
Recording and File Conversion Software
Once you have a way to connect your hifi to your computer, you'll need some software to record the signal, convert it to different file types and burn it to CD. You can use almost any music production software for this, but there are some pieces of software designed specifically with vinyl conversion in mind.

Bias Peak 5 LE
- Lite version of Peak 5.0 which includes all of the main tools needed but at an amazingly low price. Incredibly powerful for converting your vinyl, cassette collection to CD. For Mac OSX.
Sound Forge Audio Studio
- Lite version of the veteran of audio editing, Sound Forge 8.0. Contains everything you need to edit your audio and burn it to CD including over 30 digital effects, and 1001 sound effects.

Bias Soundsoap 2
- The easiest way to remove tape hum, hiss, buzzing, rumble and most other types of background noise from DV. Now offers vinyl noise reducation and restoration too. For Mac & PC.
View Music Software in our Shop...