Soundware Beginners Guides: How to...
...Make Backing Tracks on Your PC.

There are several specialised software applications for making backing tracks or accompaniments to play along to. You can also make MIDI, VST or loop-based backing tracks using other music production applications. As well as the right software, a MIDI controller can make the process quicker and easier, and if you want to record your performance on top of the backing, you'll need a method of connecting your instrument or a microphone to your computer, too.
Software
Automatic Accompaniment Software
MIDI Sequencers
VST Instruments/plugins

Hardware
MIDI Controllers
Audio Interfaces

Software
Automatic Accompaniment Software
Some pieces of software are designed to automatically build an accompaniment around a chord progression. They are very user-friendly, can produce a variety of musical styles, and some also provide the option to record your performance on top of the backing. Although these are very quick and easy to use, they can be quite limiting in the styles they offer and the flexibility available.


PG Music Band in a Box
- Latest version of award-winning accompaniment software. Just type in the chords for any song using standard chord symbols (like C, Fm7 or C13b9), choose the style you'd like, and Band-in-a-Box does the rest.

SoundTrek Jammer Pro V5
- With SoundTrek's JAMMER Professional software, you can instantly create musical accompaniment and full arrangements of popular songs and original music in a wide variety of styles. JAMMER Professional turns your PC into the ultimate 256 track music studio with built-in software studio musicians.
View Music Software in our Shop...
MIDI Sequencers
You can also make backing tracks of your own using MIDI sequencing software. This takes longer and requires more musical knowledge, but is a much more flexible way to work as you have complete control over the musical elements of the backing track.

Steinberg Cubase SE3
- Steinberg Cubase SE3 offers a budget-priced music production system for composing, recording, editing and mixing your music.

Cakewalk Sonar Home Studio
- SONAR Home Studio is built with the same core features as Cakewalk SONAR 4. Its intuitive tools make it easy to record, edit, mix, and arrange professional-quality music.
View Music Software in our Shop...
VST Instruments/plugins
If you're using a sequencing application, you can make the process faster using VST instruments. Many include loops or automatic backing functions, allowing them to produce instrumental parts based on a chord pattern.

Steinberg Virtual Guitarist
- A perfect rhythm guitarist who plays both acoustic and electric guitar, including all keys and difficult chords, who never gets impatient, follows the tempo of your song, sounds better, always plays 100% tight, is always completely in tune and who doesn't need to set up his equipment or be miked up, and integrates perfectly into your VST system.

Fxpansion BFD - Not only useful as a sound source for your own drum programming, BFD also incorporates a comprehensive library of ready-to-use MIDI Grooves with different styles, feels and time signatures. The library features both programmed grooves and MIDI recordings of real drummers.

View Music Software in our Shop...
Hardware
MIDI Controllers
Using a MIDI keyboard or other controller can make using sequencing software much faster, as you can play your ideas into the software rather than using the mouse to enter each note individually.

Edirol PCR-M1
- Slim USB MIDI Keyboard Controller
E-MU XBoard 49
- Professional 49 Key USB/MIDI Controller Keyboard for PC and Mac.
View MIDI Controllers in our Shop...
Audio Interfaces
If you want to record your own performance over the backing track, you'll also need an audio interface that will allow you to connect a guitar or microphone to your computer.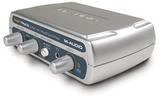 M-Audio Fast Track USB
- Record Guitar and Vocals on Your Computer—Complete with Effects.
Presonus Inspire
- Expandable 4-channel Firewire recording system.
View Audio Interfaces in our Shop...