Soundware Beginners Guides: How to...
...Record a guitar on your computer.
There are several different ways of connecting a guitar to your computer for recording. If you are unsure which would be best for you, please contact us and we will be happy to help.
Ways to Connect:
Via Computer Guitar Cable
Preamps/DI Boxes
Via USB Interface
Via Effects Unit

Ways to Connect:
Via Computer Guitar Cable
If your computer only has a minijack microphone input for recording, it is sometimes possible to connect your guitar directly to the input on your computer's soundcard using a jack to minijack lead. This lead can also be used to connect from the output of an amplifier to your sound card.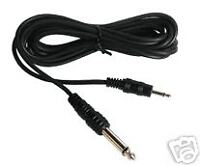 Computer Guitar Cable.


View Cables and Leads in our Shop...
Preamps/DI Boxes
In some circumstances, you might find it difficult to get a high enough level using a cable alone. If this is the case, a preamp or DI box will amplify the signal coming from the guitar and produce a better level for recording. Simply connect the guitar to the DI's input, and the DI output to the input of your computer sound card.
Examples of Preamps/DI Boxes: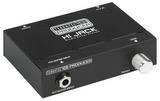 Terratec Hi Jack
- With its discrete FET preamp, this compact device boosts the signal of your pickup to line level with gain reserves of 1dB to +40dB. The purist circuit design featuring quality components guarantees extremely low-noise amplification and highest audio quality.

ARTcessories Phantom I
- Active Direct Box with Phantom Power
View DI Boxes and Preamps in our Shop...
Via USB/FireWire Interface
If your computer does not have an audio input (for example, if you are using a laptop or only have onboard sound), you can connect a guitar to a spare USB or FireWire port via an interface. This usually provides higher sound quality and lower latency times than connecting via a standard computer sound card, and some interfaces include built in effects or bundled amp simulator software.
Examples of USB/FireWire Interfaces: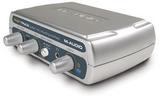 M-Audio Fast Track USB
- has an input for instruments like guitar, bass and keyboards, plus a microphone input for recording vocals or other acoustic sounds. The included GT Player Express software gives you killer effects and virtual stomp boxes so you don't need any other gear to sound great.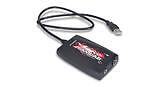 M-Audio Jamlab
- The compact JamLab interface connects easily to your computer via a simple USB connection, and features a 1/4" input for your guitar and 1/8" headphone/line output. The included GT Player Express software features amp simulation and virtual effects boxes for EQ, chorus, reverb and more.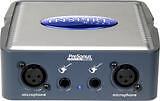 Presonus Inspire
- 4-channel Firewire recording system with two microphone/instrument preamplifiers.
View Audio Interfaces in our Shop...
Via Effects Unit
You can also connect directly from the output of a guitar effects processing unit. This can be done via a lead, but some newer units have USB ports built in for easy connection.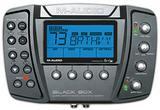 M-Audio Black Box
- Combines amp modeling, powerful beat-synced effects and drum tracks with an audio interface for computer-based recording. The Black Box can be used as a stand-alone amp-modeling and effects unit.
View Audio Interfaces in our Shop...
Recording Software
Once you have a way to connect a guitar to your computer, you'll need some software to record it. You can use almost any music production software for this, but there are some pieces of software designed specifically with guitarists in mind.


Native Instruments Guitar Rig 2
- A professional all-in-one software and hardware set-up for guitarists and bass players. A huge range of authentically emulated amps and effects are perfectly complemented by a robust foot controller boasting an integrated, studio-quality sound card.
IK Multimedia Amplitube 2
- Sequel to the guitar amp and effects plug-in, raising the standard to an unprecedented level of hi-quality emulation and extreme flexibility. Also available in budget Lite version.
View Music Software in our Shop...