Soundware Beginners Guides: How to...
...Set up a home studio.
Computer technology has made it easier and cheaper to start recording music at home. It's possible to set up a basic studio for only a very small outlay, which can later be upgraded and expanded as your skills and requirements increase. Before buying home studio equipment or software, think carefully about what you'd like to record - which instruments and in which style - and this will help you decide which areas of your setup you need to concentrate on the most. For example, if you'll be recording a lot of acoustic guitar and vocals, it's worth investing in a good quality microphone and preamp, but if you're more interested in making electronic music, it might be worth spending money on software and samples instead.
Studio Elements:
Computer
Sound Card
Software
Hardware Controller
Microphone
Headphones
Monitor Speakers
Extras

Computer
Practically all modern computers are capable of being used for recording audio. However, it's best to check the system requirements on any equipment or software you buy beforehand to ensure that it will run correctly. It's also a good idea to make sure that your system is running as efficiently as possible. View our tutorial
"How to Minimise Latency on Your PC"
for ways to get the best out of your computer when recording.
Sound Card
A good sound card is an important element of any home studio. Sound cards can be fitted internally, or you can connect external cards to your computer via USB or Firewire. Before you buy, think carefully about what you want to record, and what inputs you'll need. A good sound card doesn't necessarily need loads of inputs unless you want to record a lot of instruments at the same time, but a good range of different types of inputs is always useful. For more information on sound cards, view our
Sound Cards Tutorial
.
Examples of Sound Cards:

Edirol UA-25
- 24-bit/96 kHz USB Audio/MIDI interface with two Mic preamps and phantom power.
M-Audio Audiophile 2496
- Award-winning card with 2x2 analogue I/O 24bt/96kHz S/PDIF I/O and MIDI I/O.
Echo Indigo IO
- PCMCIA card that provides a high quality minijack headphone output and microphone input. Uses "virtual" outputs making it compatible with multi-track software.
View Sound Cards in our Shop...
Software
Next, you'll need to think about the software you're going to use to record. The range of types and brands of software can be quite bewildering, but it's easy to narrow down the selection based on the style of music you're interested in making and the budget you're working to. For more information on music software, view our
Music Software Tutorial
.
Examples of Music Software:

Steinberg Cubase
- Audio and MIDI recording and editing, available in SX (professional), SL(intermediate) and SE(budget) versions.
Propellerhead Reason
- Rack-based soft studio – very user friendly. Also available – Reason Refills: sound library expansion packs for Reason.
Sony Soundforge
- Professional digital audio recording and editing application. Available in Professional or Lite versions.
View Music Software in our Shop...
Hardware Controller
A disadvantage of computer recording compared to analogue is the lack of a "hands-on" approach to recording - having to work with a screen, keyboard and mouse can sometimes make simple tasks like inputting MIDI data more time-consuming than they need to be. However, a hardware controller like a MIDI keyboard or a USB mixer can make life easier. By creating a physical link between you and your software, hardware controllers can make computer recording faster, easier and more intuitive. For more information, see our MIDI tutorial
Examples of Hardware Controllers: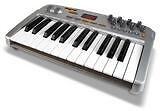 M-Audio Oxygen 8 V2
- New version of the award winning 25-Key Mobile USB MIDI Controller.
Behringer B-Control Fader BCF2000
- USB MIDI controller desk with 8 motorised controllers.
View MIDI Controllers in our Shop...
Microphone
If you're going to be recording vocals or acoustic instruments, it's worth investing in a condenser microphone, which will provide a high sound quality. Make sure that your sound card has an input with phantom power to run the microphone, though, or choose a USB condenser microphone with a built-in preamp. For more information, see our
Microphones Tutorial
.
Examples of Condenser Microphones:

Samson CO1U
- USB bus-powered large-capsule condenser.
Samson C02
- Sold as a pair
View Microphones in our Shop...
Headphones
If you're dubbing another instrument or a vocal line over a backing track, you'll need headphones so that you can monitor the backing track silently while you record.
Examples of Headphones:


Behringer HPM1000
- Multi-purpose professional headphones.
Fostex T7
- Good all-round high quality studio headphones made from ultra-light materials and packaged in a hard plastic carry case.
View Headphones in our Shop...
Monitor Speakers
A good set of speakers can improve the quality of your mixes considerably - if you can hear an accurate representation of what you've recorded, you can choose the right effects and set levels correctly. It's well worth upgrading your computer speakers - we stock a range of compact speakers designed for desktop use as well as larger, professional grade monitors. For more information, see our
Speakers Tutorial
.
Examples of Monitor Speakers: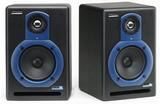 Samson Resolv 50a Active Monitors
M-Audio Studio Pro 4 Powered Monitors
View Speakers in our Shop...
Extras
Once you have a basic setup, you might need a few extra items to add the finishing touches to your studio.
A microphone stand, shockmount and pop shield can help to protect your microphone from knocks and avoid unnecessary noise on recordings:

Samson SP01 Shockmount
- Suspension shockmount for CO1, CO3, CL7 and CL8 microphones.
XXL XG100 Microphone Boom Stand
- Straight Tripod Black finished Microphone Stand with Boom.
Samson PS01 Pop Shield
- Pop shield with metal gooseneck.
View Accessories in our Shop...
If you're recording electric guitar by plugging it directly into your sound card, you might find a Direct Box helps you to get a higher level: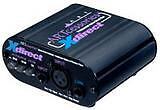 ARTcessories X-Direct
- Professional Active Direct Box
View Accessories in our Shop...