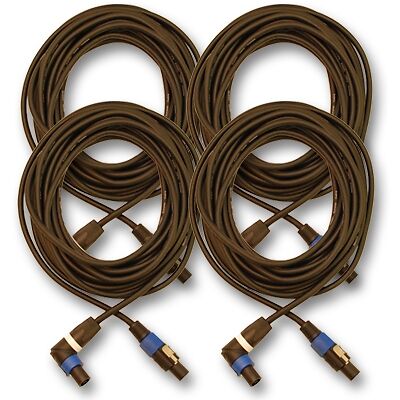 Setting up a home sound system or a car audio system can be a challenging, yet rewarding venture. Pumping out sound that captures the depths of the audio source, however, requires more than just speakers. The right speaker cables can make all the difference in a home or automobile sound system. With options that range from inexpensive second hand choices to gold plated options for premium sound, individuals are able to find cable solutions for almost any situation.
People often find that selecting a speaker cable at a traditional audio store can be overwhelming. Consumers also often cannot even find the length or type of audio cable that they actually need. With online marketplaces such as eBay, however, audio enthusiasts are able to find cables in all shapes and sizes. Considering what weight, quality, material, and length of audio cable is needed before shopping helps to cut search time down by a significant margin.
Understand Speaker Cable Needs
Before shopping for speaker cables of any kind, individuals should take a survey of the type of audio equipment the cable is used in conjunction with. The choices for more modern audio systems are actually quite a bit more narrow than for more traditional audio systems. Understanding the types of speaker cables that are compatible with a specific system prior to purchase is essential. Whether the speaker and audio system is a dual-channel system, Digital 7.1 surround sound or higher, or even analogue surround sound, different speaker cables are needed for each instance.
Digital 7.1 and Higher Surround Sound
Perhaps the most modern home entertainment system sound options are Digital 7.1 surround sound, as well as higher rated digital surround sound options. Formats supported by Digital 7.1 surround sound include: Dolby Digital Plus, Dolby TrueHD, DTS-HD, and DTS-HD Master audio. Those who have a system with one of these sound formats is likely to need Digital 7.1 surround sound rated cables. Although such systems tend to have quite a few speaker channels, such systems should be paired with a HDMI cable.
Dual-Channel Surround Sound
On the opposite end of the spectrum from Digital 7.1 surround sound is dual-channel sound. Dual-channel sound is a more classic audio option, and tends to offer a stereo sound appealing to owners of record players and traditional radios. This type of sound system format is, however, limited to left and right speaker channels. One of the benefits of dual-channel sound is its speaker cable compatibility. Those with dual-channel sound system can use HDMI, optical, coaxial, dual RCA, and even RF coaxial cables.
Analogue Surround Sound
As one of the first surround sound formats, analogue surround sound is still a popular audio format. Specific formats that are included in the analogue surround sound category include Dolby Pro Logic as well as DTS: NEO: 6. Analogue surround sound is compatible with all of the sound cables that dual-xhannel surround sound is compatible with. Those with an analogue system, however, are able to take advantage of a total of five speaker channels for a full surround sound experience.
Digital 5.1 and 6.1 Surround Sound
Both Digital 5.1 and 6.1 surround sound systems have the same sound cable compatibilities. Digital 5.1 and 6.1 surround sound systems are capable of using multi-channel RCA cables, HDMI cables, optical cables, and even coaxial cables. The difference between the two systems, however, lies in their supported formats. Digital 5.1 surround sound supports Dolby Digital as well as DTS Digital formats. Digital 6.1 surround sound, on the other hand, is compatible with Dolby Digital Surround EX as well as DTS-ES discrete formats.
Consider Sound Cable Gauges
After determining what type of cable is compatible with the system in question, considering what size gauge is most suitable, is another important element in setting up a quality sound system. Generally speaking, speaker cables come in 12-gauge, 14-gauge, and 16-gauge, but other thicknesses can be purchased as well. When determining what size gauge is needed, consider the power of the sound system the cable is used with.
Needing the Right Gauges
More powerful sound systems need a sound cable with a larger gauge. The larger the gauge, the more electrical current that can be properly filtered through the sound cable. Sound cables that have a lower gauge are designed with thicker wires and are able to deliver more power than higher numbered gauge cables. Also, those in need of a longer cable should look for 12-gauge cable to make sure there is no sound quality degradation between the audio source and the speakers.
Analogue Cable Types
Once an individual determines gauge and compatibility needs, selecting a type of cable from the list of options available is necessary to making an educated purchase. Since most systems are still compatible with analogue cables, understanding the choices available is essential. The four main analogue options include coaxial RF cables, dual RCA cables, multi-channel RCA cables, and XLR cables.
Coaxial RF Cables
Coaxial RF cables are able to transmit both a dual-channel stereo signal and an analogue video signal. This audio cable option is actually designed more for video connections such as DVD, CD, and VHS players for audio systems. Coaxial RF cables are also referred to as coax or F-type cables.
Dual RCA Cables
Dual RCA cables are one of the most popular options for setting up a home entertainment system. These cables normally come with two ends that are colour coordinated red and white. Each part of the cord connects to a single speaker channel. Dual RCA cables are best suited for use with a home entertainment centre that has a limited number of speakers.
Multi-Channel RCA Cables
This analogue option is designed to handle large, surround sound audio systems. Multi-Channel RCA cables are meant specifically for use with DVD-Audio as well as SACD sources, and communicate audio signals between two or more audio channels. Those with an analogue system that is designed for surround sound should consider Multi-Channel RCA cables as a quality option.
XLR Cables
Those who are building a professional grade audio system should consider XLR cables to be a premier speaker cable option. XLR cables are designed for use in conjunction with higher end AV receivers. The most common use for XLR cables is the connection of receivers to pre-amplifiers and power amplifiers.
Digital Cable Options
Individuals who are designing a sound system with many audio channels and more advanced equipment should consider using digital sound cables. One of the more popular and inexpensive digital options is the coaxial digital cable option. This sound cable allows for the transmission of audio to as many as six different channels. Since coaxial digital cables are the same shape and size as an analogue coaxial RF cable, consumers should remember to identify the digital option by its orange colour.
Optical cables are another popular digital sound cable option. Optical cables are designed to transmit clear, concise sound through light transfer rather than through traditional wire transfer. Both coaxial digital cable and optical cable produce high fidelity audio results. For the most advanced speaker cable on the market, consumers continually turn to HDMI. HDMI is designed to transmit sound to as many as eight different channels. Those who have a sound system compatible with HDMI should consider using such cable for a clear, rich audio sound.
Buying Speaker Cables on eBay
With just a little bit of education, consumers can purchase a quality sound cable that fits the needs of their systems. Finding the cable that best fits your needs, however, can be difficult. Consumers who use eBay are able to narrow down search results without much difficulty. To start a search on the online marketplace, simply visit eBay's home page and type in a term such as "speaker cable" into the search bar. With thousands of sellers updating listings daily, such a search result can turn up hundreds of listings.
If you are hooking up an entire sound system, it is likely that you need more than one cable. On eBay, many sellers sell bulk items and lots of item that come with enough products to meet consumer needs. Simply typing the word "lot" or "bundle" before the search term results in various groups of products that sell for one low price. Finding a bundle of speaker cables helps those building large audio systems to find all the cables they need in a single purchase.
Conclusion
Setting up an audio system can be a fun and rewarding experience, especially when the end result can be enjoyed at home for years to come. Establishing such an audio system, however, requires the right pieces and parts. Understanding what types of speaker cables are needed to properly set up a sound system is an essential part of the sound system construction process. Compatibility, size, gauge, and type are all important speaker cable features. Knowing the difference between digital and analogue options, gauge size, and compatibility allows individuals to make an educated purchasing decision.
Once a consumer knows what cable is needed to connect their audio system, finding the product for a good price is the next step. With online marketplaces such as eBay, shoppers are able to find such a product from the comfort of their own home. Some sellers on eBay even offer speaker cable lots that include everything one needs to set up a quality sound system. Find the cables that fit your system and enjoy your sound system.