The SD Association defines standard speed classes indicating minimum performance to record video. These are defined in terms of suitability for different applications
Class 2 for SD video recording
Class 4 and 6 for HD ~ Full HD video recording,
Class 10 for Full HD video recording and HD still consecutive recording
The specification defines these classes in terms of performance curves which translate into the following minimum performance levels (on an empty card).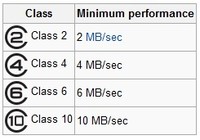 Speed Classes 2, 4, and 6 assert that the card supports the respective number of MB/sec as a minimum sustained write speed for a card in a fragmented state.
Class 10 asserts that the card supports 10 MB/s as a minimum non-fragmented sequential write speed..