Spinosaurus aegypticus
Certain dinosaur species are prone to compositing, heavy restoration – of particular note are the brittle teeth of the huge Moroccan dinosaur Spinosaurus aegypticus.
Whilst there is not one complete skeleton anywhere worldwide for this species, teeth are frequently discovered and readily available for a dinosaur hungry market.
Permineralization is not as robust as (for instance) North American counterparts with the teeth virtually always excavated broken requiring repair – this in itself is not an issue, but with the brittle enamel and dentine often too broken for adequate repair, all too often one whole tooth is manufactured from two.
The joint is then usually filled with sand, impregnated with glue and presented as a genuine original example. Some very basic composition and repair is commonly seen with Spinosaur teeth 25% to 40% comprising glue and sand with tooth size being easily increased by artificially extending the root (often covered with matrix).
Moroccan artisans may create Spinosaur bones from camel bones (both extant and extinct) – even claws may be carved and shaped (including replication of blood grooves and nutrient pores) – with genuine Spinosaur claws attracting high prices, the profit to be made from carving mammalian bone can be considerable.
Again it is essential the collector source material only from qualified dealers, preferably preparators – here at Triassica.com we have the professional experience of a United Kingdom University degree qualified biologist – indispensable for determining genuine morphology of fossil specimens, beyond the superficial similarities that a piece may present with.
Fabrication of Spinosaur material does not end with teeth and claws - frequently vertebrae and miscellaneous bones are purported as originating from the Jurassic Park favourite, whereas they may more likely represent crocodilians.
As an example of a genuine dinosaur claw from Morocco, the specimen below serves ideally - totally prepared by Triassica in house, the claw exhibits a wealth of fine, minute detail (sadly the image size allowed for eBay guides does not permit anything larger).
The blood grooves are clearly evident and defined running to the tip of the claw - numerous nutrient and blood vessel pores can also be seen.
In this instance there was no need for any repair and to preserve scientific integrity of the piece, no restoration was performed - the natural fissures, freeze cracks were retained - the proximal articulation was not built up.
The size of this particular claw was around 5" along the dorsal curve.
Note the complete absence of matrix, sand, glue, resin - frequently such medium are utilised by Moroccan artisans to cover a multitude of faults and thus increase the fossils value.
Mike Holmes BSc.DipBiolSci.CertNatSci.CertContSci.MRI.AMBCS.AMIBiol.FZS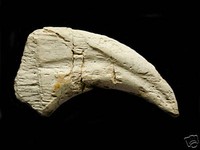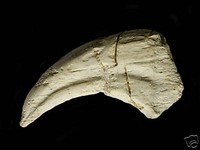 Genuine Moroccan dinosaur claw prepared by triassica.com