With the ever increasing ease to order fake products from China and the ability to market them on US and European websites such as eBay and Amazon at the touch of a button. Buyers must be vigilant when purchasing these goods and do their research before buying.
The problem that the unsuspecting buyer increasing comes across is that they are not aware of what to look for. You should always be looking at sellers feedback carefully, don't just look at the negatives, most of the time the answer is in the positives.
Some buyers will leave positive feedback when a seller is really apologetic, and then gives them an instant refund so that they don't get a negative feedback, which then leads to them being able to continue ripping you, and other people off. They're not stupid they know exactly what they're doing.
Another good way of telling that a seller is selling fakes is when they advertise that the card is a class 10 and in the description it says that the card "writes" from 6mb/sec. This would be a class 6 card not class 10. Completely counterfeit/fake, class 6 cards are considerably cheaper than class 10, and you're getting ripped off. As soon as you get the goods you should always test them, even if the seller description advertises that it writes above 10mb/sec, remember it's the write spend which determines a cards class, NOT the read…
I have had many dealings with manufacturers regarding the authenticity of products on websites such as Amazon and Ebay. To name a few manufacturers - Samsung, Kingston and SanDisk, these manufacturers have confirmed these cards are counterfeit, if you think you have bought a counterfeit item, email the manufacturer of the card and they will confirm this and take the appropriate action against the seller. Also make sure you also report this to eBay or Amazon.
Counterfeit cards are of a low quality and normally come without retail packaging, but saying that some counterfeiters will supply sellers with this. So you must contact the manufacture about this and confirm this too, I have had numerous conversations with both unsuspecting buyers who have been lead to believe the goods are genuine and also major manufacturers who seek further information with regards to sellers of counterfeit goods, their fraud teams always want to know who is defrauding them.
You should always test your product with a free software package called H2testw, this will confirm the speed at which the card runs at and if it is of full capacity. See below for an example of a fake 32GB card but actually has 2GB of free data. But this will not completely confirm if the product is counterfeit. That is why you must contact the advertised card manufacturer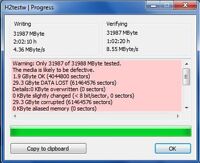 Remember you can always leave negative feedback and start a claim with PayPal and get your money back, you only have to pay for the item to be posted back recorded. Sellers can NOT leave you negative feedback.
The question you should ask yourself is, do you really want to buy cheap rubbish or do you want to spend a few extra more pounds/dollars and get the real thing? Remember if a deal looks too good to be true, it usually is!
Many thanks for taking the time to read this, I hope this helps.
Londisk Ltd.