It's a growing trend – more and more people every year are decorating their homes to celebrate Easter, and we can see why. So many gorgeous bunnies, cute chicks and decorated eggs – who could resist? We couldn't! In this spring's delicate pastel shades, choose indoor wreaths, quirky crockery and table centre pieces to brighten your home. Take a look at our Easter baskets in ice cream shades - they're perfect for eager egg hunters and make great plant pots for the garden afterwards.
Our Homes and Garden specialist, Lisa Patton, has picked a selection of her favourites.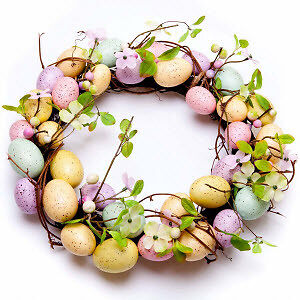 Price £21.99

This lovely speckled pastel blossom and egg wreath is from queen of decorations and celebrations, Gisela Graham.
It has a jute hanger so you can hang it easily on your door or in the window to welcome Easter guests - or why not use it as a centre piece for the Easter table? Just take note, these eggs look remarkably similar to a certain little chocolate egg (you know the one), but don't be fooled - they don't taste anything like as good!
---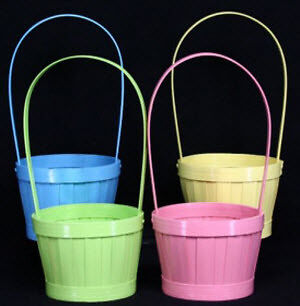 Price £3.69 each

Perfect for your little egg hunters! Watch as they dash around the house and garden searching for chocolate treasure to fill these pretty bamboo baskets.
And, after all the fun and excitement is over, use them as plant holders to brighten up a patio table or window sill throughout the summer.
---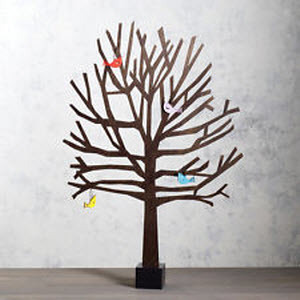 Price from £15.00

There are so many lovely hanging decorations on sale this Easter – all you need is a tree to hang them on. This architecturally designed tree is cut from poplar and is slim enough to sit on a window sill or mantelpiece with plenty of sturdy branches to decorate with beautiful birds, flowers, decorated eggs, bunnies and chicks.
The birds shown are not included but available on eBay from the seller.
---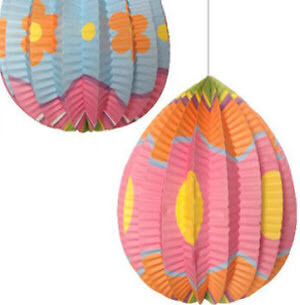 Price £2.99 for a pair

What says Easter better than a huge decorated egg! These amazing paper lanterns with their gorgeous designs will brighten up your home or garden.
They arrive folded flat and they're a doddle to assemble and hang – get the kids involved.
---