Spy earpiece working principle
Invisible earpiece is a micro sized wireless radio frequency (RF) receiver. Most of micro invisible earpieces are invisibly fits into the ear. Invisible eapriece provides complete covert communication between peoples who wear earpiece and operate audio signal sources. The excellent secret communication earpiece enables you to listen to conversations with maximum convenience and discretion in surveillance activities and other conditions which covert information exchange is needed.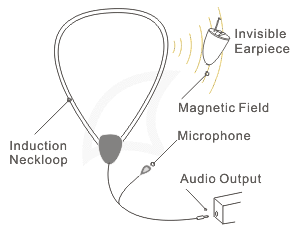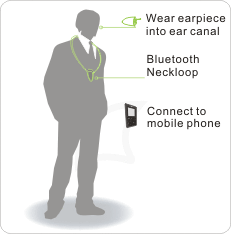 Another party send voice to receiver by mobile phone or walkie. The inductive transmitter which connect to receiver's mobile phone or walkie-talkie, will switch voices to simulate signal & send to earpiece wirelessly. Earpiece will switch simulate signal to voice then broadcast to ear by internal micro speaker. Then the receiver could hear voices from sender. Receiver could also send voice to sender by inductive transmitter if it has microphone function.
Inductive transmitter working principle
An inductive transmitter is a way of transmitting sound through a wire loop to the earpiece receiving coil. The transmitter loop coil itself consists of thousands of single core insulated wires. As the alternating current from the audio source (and amplifier) flows through the loop, it creates a magnetic field within the looped area and "induces" the receiving coil in a wireless micro earpiece within the looped area.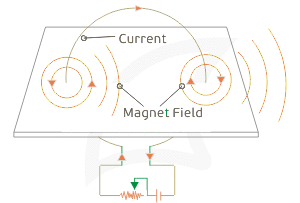 The magnetic field within the looped area is strong enough to allow freedom of movement within the looped area. The working principle of inductive loop coil is when an alternating current is passed through a wire, a magnetic field is generated around the wire. If a second wire is brought within this magnetic field, a corresponding alternatiing current is created within the second wire. That is a current is induced in the second wire.