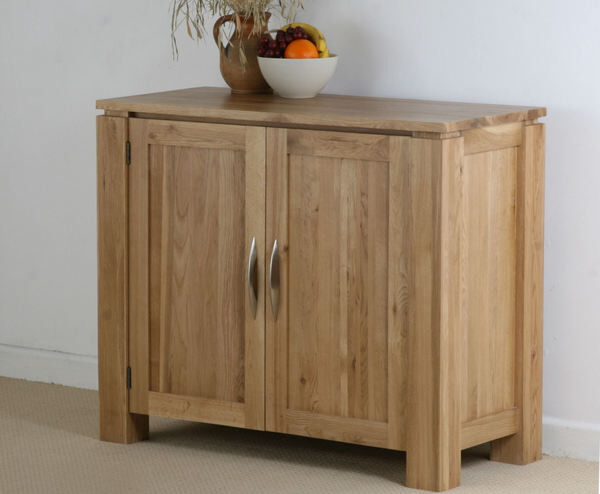 Sideboards have featured in dining rooms for centuries, evolving from crude serving stations for carving meat into the elegant, decorative and functional pieces available today. Sideboards were traditionally used to store plates, silverware, serving dishes and utensils, glassware, and table linen, but they can be used for storage and display in any room of the house. Traditional sideboards are rectangular and made from solid wood, for example oak, teak, or walnut, but modern designs include a variety of shapes and manufacturing materials. Rectangular sideboards are typically around waist height, whereas square sideboards are usually taller, due to their shape. They are mainly used for storage and display, and to give a room a contemporary feel.
When choosing a square sideboard a number of factors should be taken into account. The sideboard's purpose should be considered, whether that is serving food or storage and display. Also, its finish and look in relation to the decor in the rest of the house are important. The size and storage space required influences the type of square sideboard chosen, and some come with useful additional features. Square sideboards are available from furniture and home decor stores, and online from sources like eBay.
A Square Sideboard for the Dining Room or Kitchen
Unlike a rectangular sideboard, a square sideboard is typically found in the living room or hallway. However, it can be used in the kitchen or dining room for a contemporary option for storage and as a convenient space for serving food. If the sideboard will be used for serving, choose a top that is at a convenient height. A good way to find the ideal height is to measure the height of existing table tops or kitchen work surfaces. Add or subtract a few centimetres if needed. A good sized square sideboard may be at elbow height, making it an easy level from which to serve. The top of the sideboard should be robust enough to withstand spills and splashes, making tile, glass, or laminate ideal. Polished or delicate surfaces can be protected with heat resistant mats or serving trays. Some buyers prefer tiling the area behind the sideboard to allow the wall to act as a splash board. Ensure that there is adequate light above the sideboard to make serving and carving easy, and place the unit near to a power source in case an electric carving knife or hot plate will be used.
A Square Sideboard for Storage and Display
The height of square sideboards make these items perfect for displaying ornaments or photographs. A square sideboard in the living room can act as a media storage centre and display surface, while a unit in the hallway can be used to store outdoor clothing, keys, and clutter. Place one in the study to store stationery and electronics, or in the bedroom or bathroom to store linen or clothing. A particularly striking square sideboard can be used as an accent piece in any room.
Materials for Square Sideboards
Although sideboards were traditionally made from solid wood, contemporary pieces are available in a range of materials and finishes. High-end square sideboards are still available in solid wood, but less expensive pieces are generally made of veneered chipboard or pine. Consider investing in a traditional solid wood sideboard to create a family heirloom. Square sideboards in plastic laminates can be used to form a retro or contemporary look. Other modern materials include polished chrome, stainless steel, and high gloss lacquer. Choose clear glass to display the contents of the cabinets, or a detailed, inlaid lacquer for an accent piece. Keep the square sideboard out of direct sunlight and away from radiators to prevent warping, shrinking, or loosening of veneers.
Details and Finishes for Square Sideboards
Consider the details, such as the handles and the effect that they produce, before deciding on a particular piece. Similarly, the details and finish of the doors can be used to create a specific look. If the doors are patterned choose a design that matches other furniture, curtains, and carpets. Solid plain doors hide any clutter inside cabinets and are the most versatile as they can be matched to more themes.
Styling a Square Sideboard
The square sideboard should complement the other furniture in the room. The style, whether contemporary or traditional, should not look out of place. It should match the scale of other furniture in the vicinity. Overly large square sideboards tend to dwarf other furniture, while pieces that are significantly small become lost. Consider buying matching pieces for the dining room to give the space a feeling of continuity.
Built-in interior lights make it easier to see what is in the storage space. These lights are activated when the doors are open by a special switch and are relatively easy to install at home. Where the sideboard features glass doors for display purposes, a backlight allows the user to illuminate the items on display. Glass doors can be clear or frosted, and can feature additional ornamentation. A sideboard with glass doors may not be the best option in a home with small children and solid doors should be considered in this case. Wine lovers should consider choosing a square sideboard with an integrated wine rack. Some units also have drop-down doors for addition workspace, although these may be at a level that makes them impractical.
Sizing a Square Sideboard
Before shopping, measure the space that the sideboard will occupy by measuring the desired width, height, and depth. Even though the sideboard is square, measure both the height and width available. Hinged doors need space in front of the cabinet in order to open fully and are the most convenient as they allow users to see the inside of the cabinet. If space is restricted, opt for a unit with sliding doors.
Storage Space for a Square Sideboard
Square sideboards have an advantage over rectangular sideboards as they are typically taller, and therefore have more storage space. The storage options, including varying numbers of drawers, cabinets, and shelves. Consider the height and depth of shelves and the size of drawers. Measure the biggest and widest items that will be stored and add a centimetre or two to calculate the minimum shelf depth and height. Remember to take serving dishes and utensils into account when taking these measurements. If the sideboard will be used to store cutlery, look for lined drawers to protect the finish on silverware.
Buying a Square Sideboard on eBay
Buying on eBay is a simple process. Type a search phrase, such as "white square sideboard" into the search field, which is available on every page, to see the listings available. Narrow your search results by choosing the most appropriate category and the desired features and dimensions. If you would like more control over your search results, use the advanced search function. Look for local sellers to keep postage and packaging costs to a minimum or to arrange a local collection.
Before You Buy on eBay
Evaluate the item and the seller before committing to a purchase. All the information that you need to do this can be found on the item listing page, which is accessed by clicking on an individual listing. This page displays information including bidding and buying options, the item's full description, and the seller's accepted payment methods, location, and feedback details. Use the "Ask a question" link to contact the seller with any questions that you have about the listing.
eBay' s seller feedback system is designed to allow you to shop with confidence. Click on the number next to the seller's username to see what other buyers have said about a specific seller's products and customer service. Check the detailed seller rating for more information about aspects such as the accuracy of the item description in the listing and the seller's communication. This section includes comments from buyers and lists the items sold in the past.
Conclusion
Square sideboards are considered more contemporary than rectangular ones. Traditional sideboards are made of solid wood, but square sideboards are available in a range of finishes and materials. These include veneered chipboard, polished chrome, stainless steel, colourful plastic veneers, and high gloss lacquers. These units are no longer restricted to the kitchen or dining room and can be used for storage and display in any room in the house.
The square sideboard should match and complement the furniture around it. The finish, material, style, details, and size should match the existing decor. Consider a plain design as this is easier to integrate with other furnishings, or choose an ornate design as an accent piece. Glass doors allow users to display the contents of the cabinet, but are not recommended for those who have small children in the home. Adding a backlight creates illumination for display purposes and makes it easier to see inside the cabinets. Square sideboards are available with open shelving for those who prefer this to cabinets.
When choosing a square sideboard, ensure that the piece chosen fits into the space by measuring the available area. Consider choosing cabinets with sliding doors if space is at a premium. The sideboard should be big enough to accommodate all the items that will be stored inside it, and shelf depth should also be taken into account. Additional square sideboard features include interior lights and integrated wine racks.