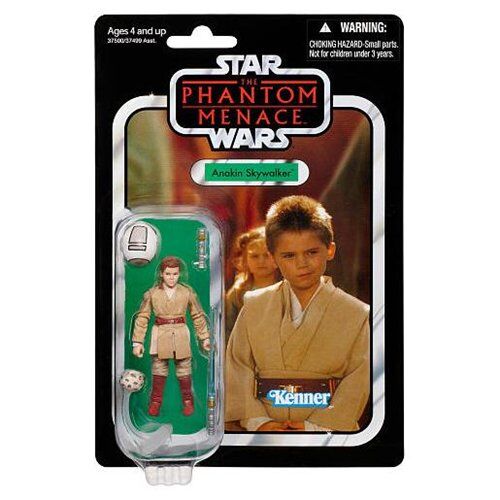 There are around 40,000 different action figures known up to present time. Of these, over 10% are Star Wars figures, making this the leading line-up of figures by far. As the Star Wars film franchise continues to grow, more figures and playsets continue to be produced. This is why Star War Action figures continue to be Number One on eBay.
This gives collectors interested in Star Wars a galaxy of choice – probably too much choice unless they are very clear, focussed and well informed. The purpose of this guide is to make collecting Star War Figures rewarding, not confusing. To get a perspective, a little history helps.
The Star Wars Revolution
The first toy to be sold as an "action figure" was G.I. Joe, launched by Hasbro in 1964 - 11.5 inches high and with clothes which could be changed to suit his mission. The action figure description was a neat piece of marketing to position him as different from a doll and meant for boys.
The popularity of GI Joe and Palitoy's Action Man in the UK was confined to pre-teen boys, but the impact of the movie Star Wars in 1977 opened up new horizons. With the huge success of the film, action figures made by Kenner based on the characters flew off shop shelves.
Their design made them more collectible. They were 3.75-inch in height and instead of being a single character with clothes that changed for different purposes; different sets of characters were introduced, each with their own outfits. Major shortages of particular characters soon arose, such as the Darth Vader and Han Solo figures and low production figures made for playsets such as the Cantina.
Variations in individual characters began to appear. The first Jawa had a vinyl cape, but the manufacturers soon decided that because of his reduced size they could afford a cloth cape. As a result, vinyl-cape Jawas became something to seize upon. Scarce figures gained resale value from fans wanting to build up a collection. Thus the collectible action figure market was born. It has grown and grown.
Vintage Value
The original wave of figures, which didn't hit stores until almost a year after the movie opened, consisted of 12 key characters from the movie, referred to as "12 back" figures, named after the original blister cards that showed all 12 figures on the back.
Today, these figures are some of those most sought after collectibles on the market for which avid fans will pay hefty prices.
From the first figures mailed out in the Early Bird Set in 1978 to the final run on Power of the Force figures in 1985, Kenner ruled the toy aisles with their classic Star Wars action figures. In that period Kenner produced 96 different action figures in their Star Wars, Empire Strikes Back, Return of the Jedi, and Power of the Force lines. Below is a list of every figure released, in alphabetical order.
2-1B Medic Droid
4-LOM
8D8
A-Wing Pilot
Admiral Ackbar
Amanaman
Anakin Skywalker
AT-AT Commander
AT-AT Driver
AT-ST Driver
B-Wing Pilot
Barada
Ben (Obi-Wan) Kenobi
Bespin Security Guard (African American Version)
Bespin Security Guard (Asian Version)
Bib Fortuna
Biker Scout
Boba Fett
Bossk
C-3P0
C-3P0 (with Removable Limbs and backpack)
Chewbacca
Chief Chirpa
Cloud Car Pilot
Darth Vader
Death Star Droid
Dengar
Emperor
Emperor's Royal Guard
EV-9D9
FX-7
Gamorrean Guard
General Madine
Greedo
Hammerhead
Han Solo
Han Solo (Bespin Costume)
Han Solo (Carbonite)
Han Solo (Hoth Gear)
Han Solo (Endor Trench Coat)
IG-88
Imperial Commander
Imperial Dignitary
Imperial Gunner
Imperial Hoth Stormtrooper
Jawa
Klaatu
Lando Calrissian
Lando Calrissian (General Costume)
Lando Calrissian (Skiff Guard Disguise)
Lobot
Logray
Luke Skywalker
Luke Skywalker (Battle Poncho)
Luke Skywalker (Bespin Fatigues)
Luke Skywalker (Hoth Costume)
Luke Skywalker Jedi Knight Costume)
Luke Skywalker (Stormtrooper Armor)
Luke Skywalker (X-Wing Pilot)
Lumat
Nien Nunb
Nikto
Obe Wan Kenobi
Paploo
Power Droid
Princess Leia Organa
Princess Leia Organa (Bespin Costume)
Princess Leia Organa (Boushh Disguise)
Princess Leia Organa (Hoth Costume)
Princess Leia Organa (Combat Poncho)
Pruneface
R2-D2
R2-D2 with Pop-up Lightsaber
R2-D2 with Sensorscope
R5-D4
Rancor Keeper
Rebel Commander
Rebel Commando
Rebel Hoth Soldier
Ree-Yees
Romba
Snaggletooth
Squid Head
Star Destroyer Commander (aka Death Squad Commander)
Stormtrooper
Teebo
TIE Fighter Pilot
Tusken Raider
Ugnaught
Walrus Man
Warok
Weequay
Wicket W. Warrick
Yak Face
Yoda
Zuckuss
Finding a Niche
With almost 4,000 different collectibles available, it is a challenge for collectors to know where to start and how to go on. The objective is to find a niche that is tight enough to enable one to build the collection, complete each series or strand, keep costs down and add value. This could be, for example, be a particular character. Even then care is required. There are hundreds of figures named Obi Wan Kenobi!
Given the size of the Star Wars action figure universe, and the number of different figures for many of the characters, the best way to find particular figures is to identify the series that contains the targeted figure. Then click to see just that series, and then search for the figure's name just within that series.
What to Pay
As with any collectable, the harder a prized action figure is to find, the money a buyer has to pay. The range of action figures on the market can be classified as Regular, Chase, Super Chase, Variant and Custom.
Regular
This is the standard issue, bought new with the figure pictured on the packaging. Beware of overproduced mass market figures. Even in mint carded condition they are unlikely to increase in value for a long time.
Chase
This is a version of the regular figure which has been modified in some way by the manufacturing company, for example in clothing, pose or accessory, so-called because its scarcity will stimulate the collecting community to chase it.
Super chase
This is a further modification of the chase figure produced in very limited quantities to create an artificial scarcity.
Variant
A variant is a different form of the regular figure arising from an error in the manufacturing process or because of a decision to change something in the manufacturing process. For example, the Jedi Knight's light sabre was originally telescopic, but this was vulnerable to breakages so it was replaced with a single piece.
Price guides can help identify what such figures are worth. Online price guides have the flexibility to reflect changes. The largest is Collector Action Figures with value ranges for over 35,000 action figures, carded and loose, arrived at with the benefit of collectors' feedback.
Do keep a budget in mind. No one wants their hobby to eat up their spare cash. Writing down a budget and sticking to it is the best way an enjoyable hobby can be affordable, too.
Where to Search
One of the most satisfying parts of collecting action figures is the thrill of discovery
There is a huge selection of Star War action figures to choose from on eBay. Simply type in what you are looking for, press "search", and check the results. This is a great way to find carded figures, international figures and rare variants. Look out for people who are selling off parts of or even their entire collections. This can save a lot of time and money when starting off on a new series.
Action on eBay
Collectors can find what they're looking for and place a bid or buy it outright with the "Buy it now" option. But as with any product, the action figures category has guidelines which experienced buyers understand. Here are some of them.
1. Save time
Search use common action figure collectible keywords like "loose", "MIB" (mint in box), "complete" etc.
2. Look
A seller's description can only go so far, so look at every single picture, and ask, if not satisfied, for a more detailed picture or one from a different angle.
3. Ask
A good seller will be happy to answer questions such as: are any of the accessories reproductions? Are the joints tight? eBay provide the opportunity to be inquisitive.
4. Leave feedback
Once the action figure arrives, it's good to leave feedback for the seller. This helps the seller's rating and therefore their success as sellers.
Buying Star Wars Action Figures on eBay
Now that you know which Star Wars action figures you want, you can find them quickly and easily on eBay. To start shopping, go to the Sports and Leisure category. Click the Toys & Games then the Action Figures portal then Star Wars Theme.
While shopping, don't forget Animals & Dinosaurs, Anime & Manga, Comic Book Heroes, Designer & Urban Vinyl, Fantasy, Historical Figures and Military & Adventure.
Categories
The Categories list on the left side of each page will help narrow down listings by item type. There are for themes such as: Wrestling ,Doctor Who ,Batman, Power Rangers, Action Man and Marvel Legends .
Product Finder
Use the Action Figure Finder to quickly narrow down item listings by brand, model and condition (new or used).
Keyword Search
Search eBay listing titles for specific words. For example, if looking to find New Action Figures, type the keywords "Action figures New" (without quotation marks) into the Search box. Click, "Search title and description" to expand r results. Visit eBay's Search Tips page for more tips on searching with keywords.
If you can't find exactly what you want, try browsing eBay Stores or tell the eBay Community what you're looking for by creating a post on Want It Now, or save a search on My eBay and eBay will email you when a matching item becomes available.
Buy Star Wars Action Figures with Confidence
Make sure that you know exactly what you're buying and understand how eBay and PayPal protect you.
Know the Item
Read the details in the item listing carefully.
Remember to add delivery costs to final price. If buying a high value item, check that the seller will insure it until it is delivered.
For more information, click the "Ask seller a question" button on the seller's profile or the "Ask a question" link at the bottom of the item listing page.
Always complete a transaction on eBay (with a bid, Buy it Now or Best Offer) otherwise you will not be covered by eBay Buyer Protection.
Never pay for an eBay item using an instant cash wire transfer service like Western Union or MoneyGram. These are not safe ways of paying a stranger.
Know the Seller
Research the seller to feel safe and positive about every transaction.
What is the seller's Feedback rating?
How many transactions have they completed?
How many positive responses do they have?
What do buyers say in their Feedback?
Are they positive about the seller?

Most top eBay sellers operate like retail shops and have a returns policy.

Do they offer a money-back guarantee?
What are their terms and conditions?
Buyer Protection
In the very unlikely event that you do not receive your item or it is not as described, eBay Buyer Protection covers your purchase price plus original delivery cost.
Conclusion
Star Wars action figures have been a staple of figure collectors since the first toys hit store shelves in 1978. The last few years have seen a huge resurgence in interest in collectible Star Wars figures. Collectors who played with them as children are not now grown-ups that have never lost their love for the films nor their hunger for more detailed and accurate figures based on the movies.