What You Need To Start Up a Catering Business?
Planning for a catering business start-up or inaugurating your own chain of restaurants in London or elswhere? Well, you need to ascertain the type of food service you want to provide, the style of food you will prepare and the type of cuisine you will be serving. The commercial kitchen must-haves should be specialized according to the varying needs of chefs, restaurateurs and caterers. The requirement of a chef can be different from that of a catering company that will require mobile equipment for kitchen. So, it is advisable to look for online catering equipment suppliers that provides complete solution for commercial catering.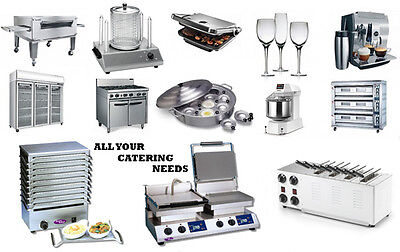 Basic Commercial Equipment to Start Up a Catering Business
In order to meet the demand of the marketplace, you need to equip your kitchen with the latest professional catering equipment according to the nature of your business. The following must-have products should be included in the kitchen of all catering professionals and restaurateurs:
Kitchen hobs: kitchen hobs are indispensable in a commercial kitchen to meet with the additional cooking capacities. This small-scale cooking instrument features one to four burners that can be effectively used to meet the increased demand in foods service. This mobile and lightweight cooking equipment is ideal for caterers, restaurateurs and small establishments that serve hot food items.
Chargrills: Chargrills will allow you to heat a food faster and add a specific charcoal-grilled flavour to the food. Instead of buying messy lava rock charcoal grills, it is better to go for electric or gas options and preferably the one that can render humidity to the food without allowing it to dry.
Griddles: Commercial griddles are important for every commercial kitchen especially the ones that includes bacon, chicken, eggs, hamburgers and pancakes. You can also go for flat top grills that can be used to toast buns and breads. The heating controls of the griddle allow different foods to be heated at once.
Food warmers: Food warmers are important to manage the lag time between completing a dish and finally serving it. You can go for heating lamps, bain maries, food warmer showcase cabinets and chafing dishes to keep the food warm and suitable to be served at anytime.
Ovens: Choose ovens according to the scale and type of business. Smaller models can easily accommodate a few baking pans while a large scale oven can bake multiple racks of baking pans.
It is advisable to buy
professional catering equipment
from reputed suppliers and choose your cooking instruments wisely after going through the product details.