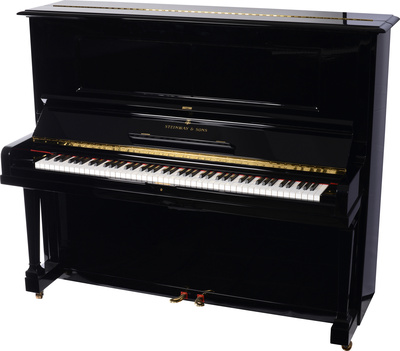 Steinway manufactures a range of high-quality pianos, including upright pianos. Buying a piano is an investment and it is important to research the different types and models to ensure that the piano bought suits individual requirements.
About Steinway Upright Pianos
Pianos are a type of string instrument. With regards to construction they are placed in the group known as zithers because the strings are attached on a body. Various types of acoustic piano exist, but the most common are the grand piano and the upright piano. There are also digital pianos, which use electronic signals instead of strings to generate sound.
Acoustic and Upright Pianos
Acoustic pianos such as grand pianos and upright pianos create sound by setting in motion a chain reaction caused by the movement of the keys. The key action lifts a lever connected to a felt-covered hammer, which then strikes one or more metal strings. The strings vibrate, and these vibrations are transmitted to a soundboard which vibrates in turn, amplifying the vibrations and generating sound.
Upright pianos have upright frames and strings, in contrast to grand pianos which have horizontal frames and strings. They are also known as vertical pianos. Whether a grand piano or upright piano is chosen often comes down to available space and budget. Grand pianos take up more space and are more expensive. They are louder with better sound quality due to the larger soundboard, longer strings and more responsive action. However, high-quality upright pianos are far preferable to low-quality grand pianos and, as a leading manufacturer of quality pianos, Steinway produce a range of superb upright models. In contrast to studio pianos, upright pianos are taller. Console pianos are even shorter with shorter hammers.
Steinway Pianos
Steinway has been manufacturing fine-quality pianos since 1835. Their pianos have graced the White House and various other notable residences, and Limited Edition models have been designed by artists such as Karl Lagerfield and Louis Comfort Tiffany. Steinway pianos are the choice of nearly all concert pianists around the world, and pianists to play exclusively on Steinway pianos include Harry Connick Jr. and Billy Joel. Today Steinway has factories in Hamburg, Germany, and in New York City, where both grand and upright pianos are manufactured.
Choosing a Steinway Upright Piano
Considerations when it comes to purchasing a Steinway upright piano include its height and width, construction, touch responsiveness, and price.
Height and Width
A piano's height is the distance from the floor to the top of the piano. Both the height and width of a piano have important effects on the instrument's tone and volume. Taller pianos have longer strings and larger soundboards, resulting in a louder, richer sound. Some upright pianos have even longer strings and bigger soundboards than some grand pianos. Steinway upright pianos are full-size uprights with a rich, full tone and excellent volume.
Construction
The various elements that make up a Steinway piano are manufactured to exacting standards with regards to quality and construction. These components include the case, plate, soundboard, bridges, strings, wrestplank, keys, and pedals.
The Case
The case is the outer cabinet of the piano. It is the most visible part and Steinway piano cases are beautifully made to enhance the appearance of any room in which it is situated. Cases also need to be strong to bear the weight of other components, and Steinway upright cases are made with high tensile spruce beams and multi-laminated rims of hard rock maple.
The Plate
The cast iron plate of a piano is the backbone, providing exceptional strength to support the tension carried by the strings. In upright pianos the case sits vertically at the back of the instrument, next to the soundboard. Plates are often polished and embellished.
The Soundboard
Soundboard crowns are curved to generate pressure against the strings, while ribs provide the strength to hold this position. Steinway pianos have a patented tapering design that gives them superior sound response. The soundboard needs to be made of high-quality wood to transmit and amplify sound to its optimum, and Steinway soundboards are made from the highest-quality Canadian and Alaskan close-grained Sitka spruce. This high tensile wood gives Steinway pianos outstanding acoustic properties.
Bridges
Bridges at the top of the soundboard transmit the strings' vibrations to the soundboard. Steinway bridges are made from laminated maple with a solid cap. They are individually measured and fitted for precision. Both the quality of the materials and the curved design ensure superb tone.
Strings
Steinway strings are made of high carbon steel to give them the strength to withstand high tension and frequent playing as well as resistance against humidity and extremes of temperature. Bass strings are made of steel wound with copper to increase their weight. Most pianos have three strings for tenor and treble keys and one or two strings for bass keys. Strings should be of uniform diameter to ensure a smooth, even tone. Steinway tuning pins are made of superior steel with nickel-plating to give added protection against corrosion.
The Wrestplank
The wrestplank, also known as the pin-block, holds the tuning pins in position. Wrestplanks are laminated to give them strength, and Steinway wrestplanks are made of quarter sawn hard rock maple blocks. Because the wrestplank has an important role in keeping the piano's tune, it is important that it is made to the highest standards from superior materials.
Keys
Modern full-size pianos have a keyboard with 88 keys. Keys are usually made of spruce with a coating applied to the surface. This coating provides protection and makes keys more durable and long lasting. Steinway keys are made from Bavarian spruce and the key action components of maple.
The keys then strike a hammer, which strikes between one to three notes. Hammers need to be correctly positioned and quick to respond. Strings also have dampers which dampen their vibration.
Pedals
Upright pianos typically have two pedals, which are used to soften notes and provide sustain. Some upright pianos have three pedals.
Touch Responsiveness
Pianos differ when it comes to touch responsiveness, some having a lighter touch while others have a more resistant action. Which is better comes down to individual preference, though more responsive pianos allow for quicker and more expressive playing. Touch responsiveness can be adjusted to some extent.
Style
The appearance of a piano is an important element, and Steinway pianos are manufactured to high standards with regards to aesthetics. They are made with various finishes, including polished ebony, mahogany and white and satin walnut. This gives choice from which to select a model that will complement and enhance the room's decor, whether traditional or contemporary in design.
Steinway Upright Pianos
The two models of Steinway upright piano manufactured in Hamburg are the V-125 and the K-132. The versatile V-125 has a distinctive Steinway sound coupled with superb touch responsiveness, while the majestic K-132 offers extended height, rivalling many grand pianos with its potential to deliver rich sound and volume.
V-125

High polish finish – Ebony, Mahogany, White

Satin finish - Walnut

Height 125 cm

Width 152.5 cm

Depth 67.5 cm

K-132

High polish finish – Ebony, Mahogany, White

Satin finish - Walnut

Height 132 cm

Width 152.5 cm

Depth 68 cm
Find a Steinway Upright Piano on eBay

Upright pianos are listed in the Musical Instruments section on eBay. To go to this page, go to the eBay home page, scroll over All Categories to the left and select Musical Instruments from the menu. Select Keyboard/Piano. Then select Piano followed by Piano under Type. Under Sub-Type select Upright and under Categories select Upright Piano. There are then options to select new upright pianos and used upright pianos.
To search specifically for a Steinway upright piano, carry out a search using the search function at the top of the page. This can be done either from the Piano categories or directly from the eBay home page. Simply type in terms such as "Steinway upright piano" or "Steinway vertical piano" and press Search.
Conclusion
Steinway is a high end manufacturer of pianos, known for their attention to detail and quality when it comes to materials, construction and design. The various elements of an upright piano affect its sound quality and volume. Taller pianos will give a greater sound due to their larger components. The elements of a piano, such as its case, plate and soundboard are required to be strong to withstand tension and hold other components in position. Buying from a reputable brand such as Steinway ensures the materials are of superb quality, resulting in a piano that will give superb sound for many years of use.