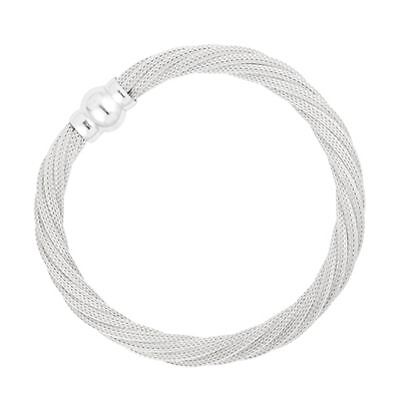 Sterling silver bracelets are distinguished from true silver by the fact that other, less precious metals are combined with the silver to make it stronger and tarnish less quickly. Because of the reduced silver content, sterling silver bracelets are generally less expensive than full silver varieties. Some shoppers may be able to reduce the cost even further by shopping for sterling silver bracelets online, on websites such as eBay.
Sterling silver bracelets come in many types and varieties, and it is important for shoppers to be able to distinguish the different varieties, as each is suitable for different uses and occasions, and each accommodates different wearers' preferences and styles. Those shopping for sterling silver bracelets should try to match the type of bracelet they purchase with their own style and needs. The various types of sterling silver bracelets can be organised based on shape and clasp type, and include chain, medallion, charm, beaded, cuff, bangle, omega, and multi-stranded varieties.
Sterling Silver Bracelet Shapes
The most common way to organise the different sterling silver bracelet types is by their shape or wear style. Chain, charm, beaded, bangle, and omega varieties are usually relatively thin and small, making them subtle accessory options. Multi-stranded, link, and cuff varieties are generally thick and heavy on wrists, making them substantive enough to be worn as a solo accessory, and for this reason are usually more expensive.
Sterling Silver Chain Bracelets
Sterling silver chain bracelets, as the name implies, are simply chains made of sterling silver links. These chains may be simple or complex, featuring different link shapes, designs, or weaves. Sterling silver chain bracelets also come in many different gauges, from those featuring thick, heavy links to those featuring delicately small ones.
Sterling Silver Medallion Bracelets
Sterling silver medallion bracelets are similar to chain bracelets, but with a significant differentiator. Each link in the 'chain' of link bracelets features its own design, which are cast or stamped, and may carry gems or stones. For this reason, each of the links or medallions is usually significantly larger than the links in traditional chain bracelets.
Sterling Silver Charm Bracelets
Sterling silver charm bracelets usually feature sterling silver chains as the base. But attached to the links of the chains are dangling charms, which are cast or cut into any imaginable assortment of shapes and styles. These sterling silver charms are often added over the course of a lifetime, and can represent important life moments or memories, places visited, interests, or hobbies.
Sterling Silver Beaded Bracelets
In many cases, sterling silver beads are woven over bands to create bracelets. These beads are printed with designs, enameled for colour, or set with gems or stones. Sterling silver beaded bracelets can introduce a pleasant complexity to what might otherwise be a simple design.
Sterling Silver Cuff Bracelets
Sterling silver cuff bracelets are thick, wide 'cuffs' of sterling silver usually stamped with patterns and detail work or set with stones or gems. Rather than being held in place with clasps, these bracelets are not joined to form a full circle, instead a small gap is at the underside. Wrists are usually slid into this gap from the side, and the bracelets rotate for the proper orientation. The width of wearers' hands usually keeps these bracelets from sliding off.
Sterling Silver Bangle Bracelets
Sterling silver bangle bracelets operate much like cuff bracelets, only they are far thinner, usually no more thick than small chains or beaded bracelets. Some bangle bracelets are manufactured so that by applying pressure around the bangle, wearers can tighten them somewhat to fit more securely around their wrists. These are good options for those who enjoy the style of cuff bracelets but find the weight of them too heavy.
Sterling Silver Omega Bracelets
Sterling silver omega bracelets are bracelets which feature small sterling silver scales threaded tightly over a wire. This is different from beaded bracelets in that the scales are typically unornamented and far stiffer to wear.
Multi-Stranded Sterling Silver Bracelets
Multi-stranded sterling silver bracelets are of almost any of the above types of bracelets. The key differentiator is that there are simply multiple strands each connecting to the same clasp as opposed to a single strand. This provides the illusion that the users are wearing multiple bracelets, but with the ease of needing to operate only a single clasp.
Sterling Silver Bracelet Clasp Types
Sterling silver bracelets feature any of a wide number of clasps. The main types are toggle, lobster, spring ring, hook, and no-clasp varieties, each of which has different benefits and drawbacks for the wearers.
Toggle Clasp Sterling Silver Bracelets
Toggle clasp sterling silver bracelets feature a simple hoop on one end and a T-shaped metal bar on the other, which is meant to be slid through the hoop. Tension while in use holds the bar of the T-shaped end across the diameter of the hoop so that the bracelet remains on. Toggle clasp bracelets are a good choice for those with limited dexterity or poor vision, as they are easy to operate without assistance, but are not necessarily as secure as other types of bracelet clasps.
Lobster Clasp Sterling Silver Bracelets
Lobster clasp sterling silver bracelets feature a small hoop on one end and an oval-shaped, fairly thick clasp on the other. The clasp operates by use of a very small lever, which is depressed to open a jointed segment of the clasp. When released, the clasp snaps shut. Lobster clasp bracelets are more secure than toggle or hook clasp varieties, but can take significant dexterity to operate when employed in a small size. Lobster clasps are relatively common in sterling silver bracelets.
Spring Ring Clasp Sterling Silver Bracelets
Spring ring clasp sterling silver bracelets operate very much like lobster clasp sterling silver bracelets, with the key difference being the hook part of the clasp is circular rather than oval and is usually far thinner and smaller. The operation of this clasp is also different, with a very small spring acting to keep the clasp closed until depressed with the use of a small toggle, rather than a simple lever. These clasp types require a great deal of dexterity to operate, and they can be easily damaged by harsh astringent cleaners or tarnish.
Hook Clasp Sterling Silver Bracelets
Hook clasp sterling silver bracelets feature a small wire hook on one end of the bracelet and a similarly sized small metal hoop on the other. To fasten, wearers simply loop the hook through the hoop. This variety of clasp requires relatively little fine dexterity, and is less prone to sticking or breaking than lobster or spring ring clasp sterling silver bracelets.
No Clasp Sterling Silver Bracelets
Some types of sterling silver bracelets, such as bangle or cuff varieties, feature no cuff at all and are meant to simply slide over hands or wrists. These types of bracelets are ideal for those with relatively poor dexterity or eyesight and those who have difficulty clasping bracelets on their own wrists.
Buying Sterling Silver Bracelets on eBay
Shopping for sterling silver bracelets on eBay is easy even for those new to using eBay. First, go to either the eBay homepage or any of eBay's internal pages. Look for the search bar and click it. Type in the words, phrases, or terms which most accurately describe the type of sterling silver bracelet you want to purchase. Good examples include "sterling silver bangle bracelet&" and "Tiffany & Co sterling silver cuff bracelet&". When you have finished typing, press enter to see all of the eBay items which match your search terms. Creating relatively general searches increase the amount of results your search receives. You can then choose to organise the list of items based on price, location, brand, or style.
If you see an item which looks promising, but would like to contact the seller to ask specific questions, simply find and click the "Ask a question" link on the item's listing page. This link guides shoppers through the process of directly communicating with an item's seller.
Conclusion
The wide array of sterling silver bracelets can be organised according to shape or clasp type. The most common bracelet shapes include chain, medallion, beaded, cuff, bangle, charm, omega, and multi-stranded varieties. Chain, beaded, bangle, and omega types are usually smaller, and therefore lighter and cheaper. Cuff, medallion, and multi-stranded types are larger, heavier, and more expensive than other options. Most of these bracelets may feature any of the different clasp types, which include lobster, spring ring, toggle, and hook clasp, or they may even be claspless. The different clasps have different levels of reliability and security. Those wanting to ensure their bracelets absolutely do not fall off may want to invest in bracelets with lobster or spring ring clasps.
Whatever type of sterling silver bracelets that shoppers ultimately decide to purchase, they may be able to find quality bracelets online at far cheaper prices than most retail stores. Websites like eBay usually have impressive selections of fine sterling silver bracelets which are greatly reduced in price.