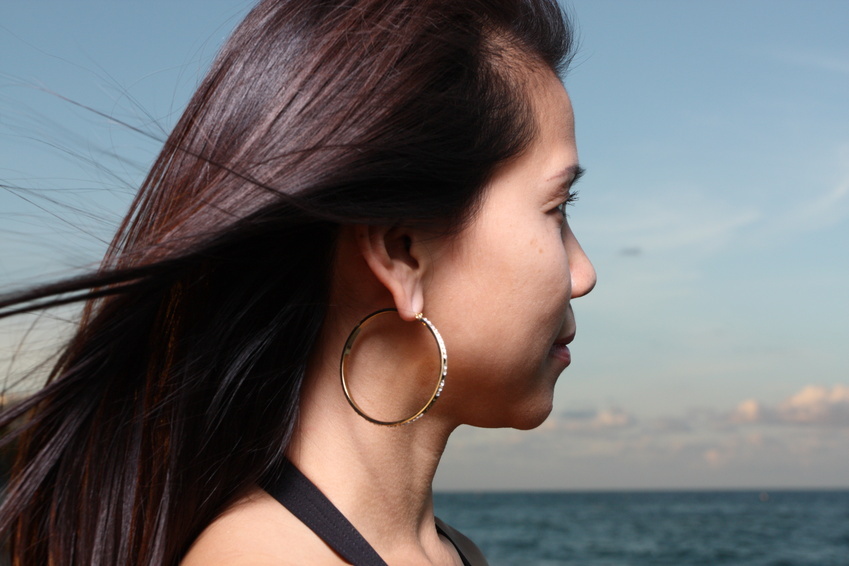 Sterling silver jewellery is a popular choice for many because of its durability, quality, look, and price. Before buying any pair of sterling silver hoop earrings, be sure to know a bit about sterling silver and its grading, know how to identify authentic sterling silver, choose the right sized hoops, and be aware of the various types of hoop earrings available.
Reasons for Choosing Sterling Silver Hoop Earrings
Sterling silver is a high grade of silver containing 92.5 percent silver and only 7.5 percent other alloys, usually copper. Mexican silver, with a silver content of 95 percent and Britannia silver, with 95.8 percent pure silver, are two other types of silver of a higher quality. Fine silver, which is 99.9 percent pure silver, is usually too soft to make objects from, hence the need to mix in another alloy. Sterling silver is an attractive metal that is durable and suitable for everyday wear. Sterling silver jewellery is less likely to tarnish than other types of silver that contain a higher percentage of alloys, and those with sensitive skin usually find sterling silver does not cause irritation to their skin.
Identify Authentic Sterling Silver Hoop Earrings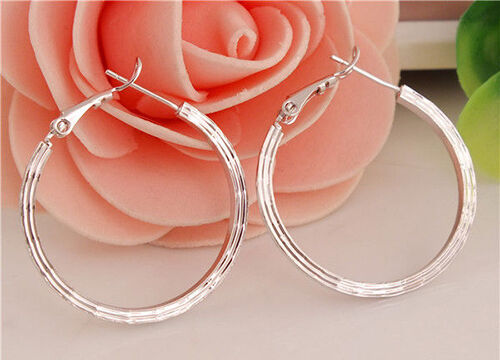 Sterling silver is identifiable by the hallmark stamp, 925, .925, or S925. This refers to its 92.5 percent pure silver content. Most sterling silver jewellery should have this hallmark stamped somewhere inconspicuous. On earrings, the stamp is usually around the clasp or on the inside of the hoop. A magnifying glass may be necessary to see the hallmark as it is often very small and difficult to find or read. Another easy way to quickly identify authentic sterling silver jewellery is to use a magnet. Silver, along with gold and platinum will not attract to a magnet.
Choose Sterling Silver Hoop Earring Sizes
Sterling silver hoop earrings come in a wide range of sizes. It is important to note that the size of the earring affects its weight. Those who do not normally wear heavy earrings should be wary of buying large hoop earrings. Small 8 mm hoop earrings are lightweight and suitable for any occasion. Larger 20 mm hoops look great with any up or down hairstyle, while larger 40 mm hoop earrings look great with hair worn up and off the neck. Large hoops, like 50 mm and 60 mm sizes are suitable for some occasions, but may be impractical for wearing to work.
Types of Sterling Silver Hoop Earrings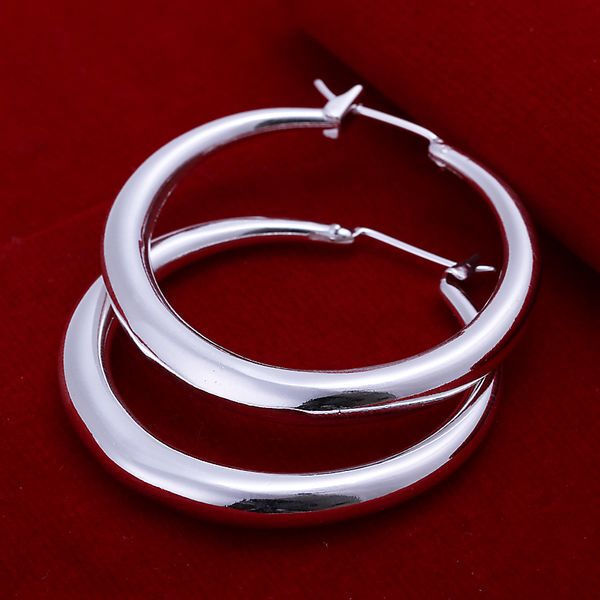 Many types of sterling silver hoop earrings are available, including oval hoop earrings, wire loops, and crystal hoop earrings. Various closure types help to keep the earrings in place, including post clasp, post and hinge, hook, and clip closures. The type of closure one chooses depends on availability and personal preference.