Snake chains make the perfect pendants. Slip your favourite silver charm onto this tightly coiled chain to create a pretty necklace, or wear it alone for a touch of elegance. When you are shopping for a silver snake chain, opt for sterling silver instead of a silver-plated chain to ensure your jewellery lasts longer. Because of the variety of silver snake chains, decide which chain to purchase based on type, length, and width of the chain.
Chain Length

You may like wearing your necklaces close to your neck, or you may enjoy your chains looser and lower. Choose which look you are aiming for when you start shopping for the perfect silver snake chain. There are several common lengths when it comes to buying a chain. The starting length is a 16-inch chain, which is the shortest chain length option. For a chain that dangles right above your chest, choose a 20-inch or 22-inch chain. For mid-chest, opt for a 24-inch chain. The longest snake chain is 30 inches, which reaches almost to the bottom of your chest. For a fashionable look, this is a great layering piece to wear with shorter chains.
Chain Width and Type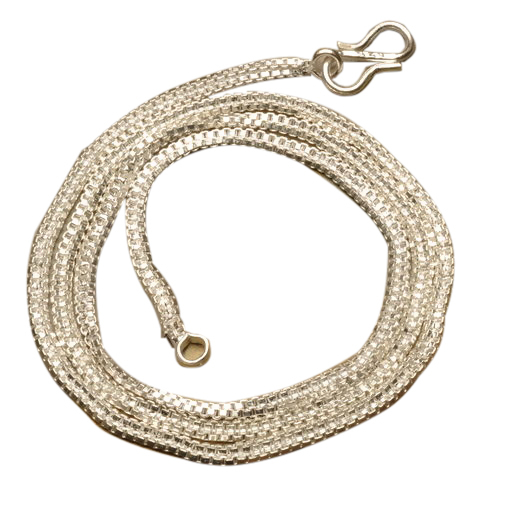 When most people think of snake chains, they envision round, coiled jewellery, but there are a couple of snake chain styles to pick from. Aside from the traditional silver snake chain, there is the flat snake chain. The flat snake chain has tight coils just like the original snake chain, but it is flat. It is wider than a regular snake chain and has a more visually striking appearance. Some snake chains have a braided appearance and a width in between regular rope chains and flat chains. Original snake chains are smooth and flexible. The chains come in different widths for a unique look. A thin snake chain is a 1 mm chain, and the chains get thicker as the millimetres increase. If you are adding a charm to your snake chain, a 1 mm chain is a good option. Another option is a 2 mm chain, but if you seek a thicker chain, there are 3 mm and 4 mm snake chains available.
Sterling Silver Sophistication
Sterling silver is durable. Make sure your snake chain is genuine sterling silver and not silver plated, which is silver layered over a less quality material to create a chain. There are a few ways to tell if your chain is actual sterling silver. All sterling silver jewellery is marked. Generally, you will find the marking on the clasp of the chain. If the chain does not have a mark, it may be silver plated. It may be marked with an S or with a .925, which is the minimum amount of silver a piece should have to qualify as genuine sterling silver. Silver-plated jewellery is also shinier than sterling silver.