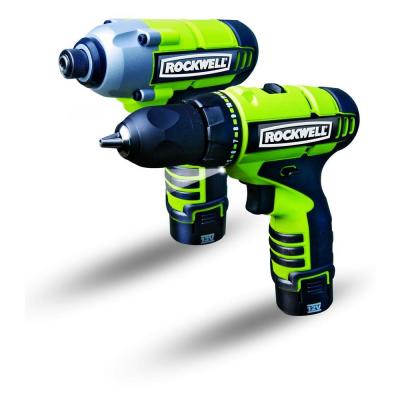 Technological advances and product innovations have transformed auto repair shops from oil-soaked garages to sleek, state-of-the-art computer run businesses. This is not to claim that mechanics do not soil their shirts or stain their pants with oil. The point is that the technological revolution in the automotive industry includes a dramatic change in the types of tools and equipment used to repair or renovate automobiles. No longer do mechanics slide under a car and remove a lug with a spanner.. They typically raise a car on an automated platform and utilise a power wrench to remove lugs and bolts. The revolution from manual tools to power tools and equipment has also changed how do-it-yourselfers work on automobiles.
One of the biggest changes for do-it-yourselfers involves where they can find power tools and equipment to stock their garages. Do-it-yourselfers can now go online and find what they need on eBay. Before they search for power tools, such as those by Black & Decker, and equipment online, do-it-yourselfers should learn about the factors that influence a buying decision and the power tools and equipment they should buy to form the foundation of their garage inventory.
Power Tools and Equipment Overview
Power tools and equipment operate on a power source that typically involves electrical current. Many power tools utilise electric motors that operate within the tool, and do not require a cord to attach to an electrical socket. Cordless power tools are especially convenient for automotive maintenance and repair, as corded power tools can cause accessibility problems. Other power sources that fuel power tools include steam, wind, and moving water.
Automobile mechanics classify powers as either portable or stationary. Portable power tools sold on eBay are handheld devices that provide users with more flexibility than stationary power tools. Cordless portable power tools, such as drills,, are the choice for mechanics to access tight spots under a car or under the hood. However, portability can mean a sacrifice in speed and accuracy, as numerous stationary power tools outperform their portable counterparts. For automotive work, stationary power tools work best for large metalworking projects that require more than one person to stabilise sheet metal.
Power Tools and Equipment Buying Factors
Deciding upon what matters the most for stocking up a garage with eBay power tools and equipment involves listing buying factors, and then ranking the factors in terms of importance. For some users, safety is clearly the paramount power tool factor, while other power tool and equipment users rank accuracy over durability. Regardless of how consumers rank the following power tool and equipment buying factors, the ultimate decision maker often comes down to a matter of cost.
Safety
While finances can reduce power tool and equipment options, they should never supplant safety as the most important factor. Consumers should look at safety and finances this way: is it worth the risk of severing a finger to save a few extra pounds? Large power tools, such as table saws, present the highest safety risks. Large power saws should have blade guards to prevent a serious injury. Another safety issue addresses ergonomic concerns, especially for portable, cordless power tools. Repetitive drilling or screwing motions can cause hand and wrist injuries. Look for portable power tools on eBay that possess soft grips.
Accuracy
Professional auto mechanics place accuracy near the top of their power tool and equipment wish list. Do-it-yourselfers should also place a high priority on accuracy to compensate for the inevitable small drilling, sanding, or nailing errors.
Speed
There is a misconception amongst many do-it-yourselfers that accuracy and speed are two mutually exclusive power tool attributes. In fact, maintaining consistent speed directly influences power tool accuracy. Rotation speed also impacts friction, heat, and coverage area. For instance, power polishers sold on eBay that operate on higher speeds work best for large vehicles.
Vibration
While power tool and equipment vibration can be a safety concern, vibrating power tools also produce inferior work. This is particularly true for cordless power tools that operate on an internal motor. The motor can vibrate strongly enough to disrupt the power tool, which causes uneven cuts and compound applications. Vibration is a significant concern for automotive detailers who search for power tools and equipment on eBay.
Small Area Access
Automotive maintenance and repair often requires mechanics and do-it-yourselfers to gain access to tiny crevices under the hood or under the car. Handheld power tools purchased on eBay can offer easy access to difficult-to-reach spaces, but users should look for lightweight, handheld power tools that do not cause a loss of directionality.
Multi-Purpose
Do-it-yourselfers concerned about cost should search for automotive power tools on eBay that work for other applications. For instance, look for an automotive power screwdriver that can double as a wood screwdriver.. The only extra expense derives from the different screws used for each type of job.
Storage
Stocking up the garage with useful power tools and equipment requires do-it-yourselfers to consider storage issues. Garages tend to be places where people store items that they rarely use or never plan to use again. Not only should power tools and equipment purchased on eBay be easy to store within a garage, users should also organise their tools by storing hand tools on labelled shelves.
Types of Power Tools and Equipment to Stock in the Garage
One of the benefits of buying power tools and equipment on eBay is that many power tools serve multiple purposes. For instance, a power screwdriver not only fastens a loose car air hose connection, it also quickly fastens a false door to a door frame. As with home projects, power tools and equipment can be used for quick car maintenance jobs or large-scale auto refurbishing projects. The following chart lists the common power tools and equipment that play a significant role in automotive work.
Power Tools and Equipment

Description

Drill

Corded or cordless to create holes that fasten metal pieces together

Drill sets include the most commonly utilised bit sizes

Adjustable torque settings recommended to allow users to work with different types of materials

Perfect tool for attaching loose screws

Steel cut-off saw

Known as steel chop saw

Portable and hand operated

Composite friction disc cuts through thick metal held tight by a vise

Recommended for cutting through high-grade automotive exterior metals

Radial arm saw

Circular saw blade that mounts on a horizontal arm

Adjustable control either shifts blade or piece of metal

Suggested for jobs that require accurate cuts on long metal pieces

Router

Come with a wide variety of bit types and sizes

Utilised for cutting, carving, sanding, and grinding

Available as handheld or table-mounted power tool

Used by mechanics for shaping and hollowing smaller metal pieces

Sander

Handheld tool that smoothes automotive finishes

Uses compressed air to prevent car surface scratches

Includes belt sanders for hard-to-reach areas and power buffers for large vehicles

Utilised for automotive restoration projects

Handheld, air compressed operated

Low vibration

Produces power without battery use
Shopping for power tools and equipment to store in a garage requires careful research. Mechanics and auto part shop sales professionals typically recommend that do-it-yourselfers consider name brand power tools. Name brand power tools and equipment carry reputations for providing users with superior performance and possibly extended product warranties. Moreover, consult with an automotive industry professional for advice about which types of power tools and equipment to purchase for specialty jobs.
Conclusion
There are several reasons why the number of do-it-yourself mechanics has increased over the last 10 years. First, the recessed economy has caused an influx of do-it-yourselfers who want to save money on repairs and maintenance. Another reason, which is one that has permanence, is that technological advances have produced a generation of easy-to-use and efficient power tools and equipment. Do-it-yourselfers can perform many of the same tasks performed by professional mechanics because power tools have simplified automotive repairs and restorations.
Stocking a garage with power tools and equipment involves beginning with buying the essential power tools. Most mechanics agree that a solid power tool and equipment foundation begins with a multi-bit drill, some type of power saw, nail driver, router, and sander. From there, do-it-yourselfers can expand their power tool and equipment inventory to include specialisations tools. Do-it-yourselfers can find high-quality power tools and equipment on eBay, but first, they should learn about the factors that lead to a power tool and equipment purchasing decision. Safety is the paramount buying factor, followed by accuracy, speed, durability, low vibration, weight, and finally, easy storage in the garage.