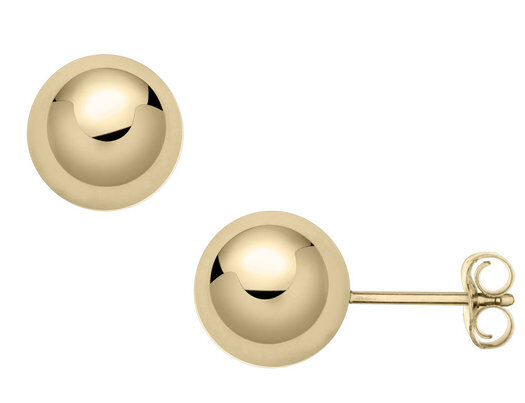 Stud earrings are a timeless addition to any ensemble, and they come in an almost endless arrangement of varieties. But all stud earrings can be grouped together by their simple shape, which makes them universally small, light, and easy to wear. Stud earrings feature small ornaments, such as pearls, gems, or acrylic or plastic images, which are affixed to the head of the simple earring stems. Stud earrings are small enough that they typically leave the lobes of the ears exposed.
Though almost all clothing and fashion retailers offer stud earrings, many shoppers may find that purchasing stud earrings online through websites such as eBay can reward them with greater selections and cheaper prices. But wherever shoppers turn to do their buying, selecting a quality set of stud earrings is a simple process. Buyers should look for stud earrings with small ornaments in a design or finish to match an outfit or other jewellery, and they should ensure that the earrings feature relatively short stems with rounded ends and balanced backs.
Types of Stud Earrings
Stud earrings are differentiated from other types of earrings because of the types of posts or stems used. Stud earrings feature straight posts, which are secured in place with separate earring backs. The ornament of the earrings are placed on the opposite end of the posts, and are typically small enough that the lobes of the ears are still visible around the earrings.
Gemstone Stud Earrings
Gemstone stud earrings feature one or several gemstones placed in settings on the heads of the earring studs. Gemstone earrings are generally matched with other jewellery. Precious gemstone stud earrings are usually paired with precious metals such as gold, platinum, or silver. Buyers should shop for gemstone earrings with this fact in mind, and understand that these are likely to be the most expensive of the stud earring varieties.
Faux Gemstone Stud Earrings
Those who prefer the look of gemstone stud earrings to other varieties, but are unwilling or unable to pay the generally higher price which true precious gemstone earrings command, may wish to consider faux gem stud earrings. These are usually made of plastics, acrylics, or other materials.
Pearl Stud Earrings
Pearl stud earrings usually feature a single pearl or several pearls in a cluster, and they are often paired with pearl bracelets or necklaces. As with gemstone stud earrings, pearl stud earrings are oftentimes prohibitively expensive, and like gemstone stud earrings, the pearls used come in a wide variety of sizes. Most pearl stud earrings are set into the stems so that no metal is visible. And as with gemstones, most pearls are inset into earrings fashioned from precious metals such as gold, silver, or platinum.
Faux Pearl Stud Earrings
As with faux gemstones, many manufacturers produce faux pearls for use in stud earrings. These are generally made of plastics, and they are lighter and cheaper than true pearl stud earrings. In some cases, faux pearls are also fashioned from carefully shaped mother-of-pearl, which can provide a heftier weight and more realistic appearance than plastic faux pearls.
Metal Stud Earrings
In many cases, die-cast or moulded metal ornaments are placed on the stems of stud earrings. These are found in almost any conceivable shape or size. Metal ornaments are enameled to hold various colours. However, metal stud earrings are generally heavier than most other types of stud earrings, and are more expensive than most plastic or wooden varieties. Nickel, steel, gold, silver, platinum, and pewter are all typically used. Many stud earrings are also fashioned with the use of metal alloys, which are combinations of multiple metal types. Those with metal allergies should purchase earrings with a metal content known not to aggravate those allergies. In many cases, earrings safe for those with metal allergies are typically clearly marketed as such.
Plastic Stud Earrings
Many stud earrings are decorated with plastic or acrylic ornaments which run the gamut in design, from simple shapes to complex designs of franchise characters. Plastic and acrylic stud earrings are the cheapest and are the most numerous types of stud earrings. They are also light enough that they do not stretch ear piercings. Plastic stud earrings are available in every conceivable colour. Some plastic stud earrings may even mimic metal finishes. Shoppers should make a point to try and purchase dyed plastic stud earrings rather than painted plastic stud earrings, as paint can peel or chip away from the plastic over time.
Wooden Stud Earrings
Increasingly popular as an option for earrings, wooden stud earrings are available in the same wide arrangement of shapes and colours of plastic stud earrings, but are typically more environmentally friendly. Wooden stud earrings are also popular for those desiring a more natural or tribal aesthetic to their jewellery.
Other Types of Stud Earrings
There are many other materials which are used to craft stud earrings, though they are far less common than the above types, and are often rather expensive because of that rarity. Bone, horn, rubber, shell, stone, fibre, and even glass may be used either for the full bodies of the earrings or to act as ornaments on metal earring stems. Individuals with severe metal allergies may prefer stud earrings fashioned from these materials. Individuals wanting to source their earrings from recyclable or renewable resources may also find that fibre, bone, or horn options as good complements to wooden options. In recent times, many prominent jewellery manufacturers have begun to offer stud earrings featuring these alternative materials.
Quality Stud Earrings
When buyers have identified the type of stud earrings they wish to purchase, they should begin the hunt. But all shoppers should familiarise themselves with the hallmarks of comfortable, quality stud earrings. In general, when attempting to identify the hallmarks of a quality pair of stud earrings, buyers should look to the prongs, the stems, and the backs.
Stud Earring Prongs
In most cases, stud earrings featuring pearls or gemstones which are held into place with small metal prongs. Quality prongs should not feel rough or sharp when one brushes the pad of their fingers over it, and the gem or pearl should not feel loose to the touch. When viewed from straight on, one should not see any part of the metal setting but the prongs. The prongs should also look evenly-spaced, and may be found in either wire or die-cast options.
Stud Earring Stems
Stud earring stems are the long portions of the earrings which slide through the piercings. Individuals should ensure that the stems of the stud earrings they purchase are correctly sized, as overlong stems can rub against the scalp uncomfortably. Stud earrings to be worn on lobe piercings should be 11 millimetres for most individuals, while stud earrings worn in piercings located elsewhere should be shorter.
Stud Earring Backs
The backs of stud earrings are those parts of the earrings which affix over the studs behind the earlobes, and help to keep the earrings in place. A quality set of stud earrings features backs which are sized proportionately to the earrings' ornaments. This acts to keep the earrings balanced when in use, rather than allowing heavy or large ornaments to sag downward.
Buying Stud Earrings on eBay
Using eBay to buy stud earrings is quick and easy, even for those unfamiliar with the eBay software. First, go to the eBay homepage or any of eBay's internal pages, and locate the search bar. Click the search bar and type in the words or phrase which describe the type of stud earrings you would like to purchase. Some examples include "pearl stud earrings" and "wooden stud earrings". Typing a relatively general search returns a higher number of results. When you have finished typing, press enter to view all of the eBay listings which match that description. You can then choose to organise the search results by colour, brand, price, and metal type.
In the event that you see an item you like, but need more information than is provided in the listing, simple look for the "Ask a question" link. This guides you through the process of communicating directly with an item's seller.
Conclusion
Stud earrings, as with most jewellery, come in an almost innumerable number of types and varieties. Generally, pearls, gemstones, cast metal, plastic, or wooden ornaments are commonly used. The vast majority of stud earrings are light and small enough that they make an ideal choice for those with sensitive ears or piercings. Naturally, stud earrings featuring precious gemstones, precious metals, or real pearls are likely to be far more expensive than those using alternative materials. Before purchasing a pair of stud earrings, buyers should be sure to double-check the quality of the items by determining the stem lengths and the back sizes.
Whatever type or variety of stud earrings shoppers decide to purchase, the majority of fashion and accessory retailers are sure to have many options in stock. However, individuals may find that shopping online at websites such as eBay may reward some with stud earring options at far cheaper prices than can be found at traditional retail venues.