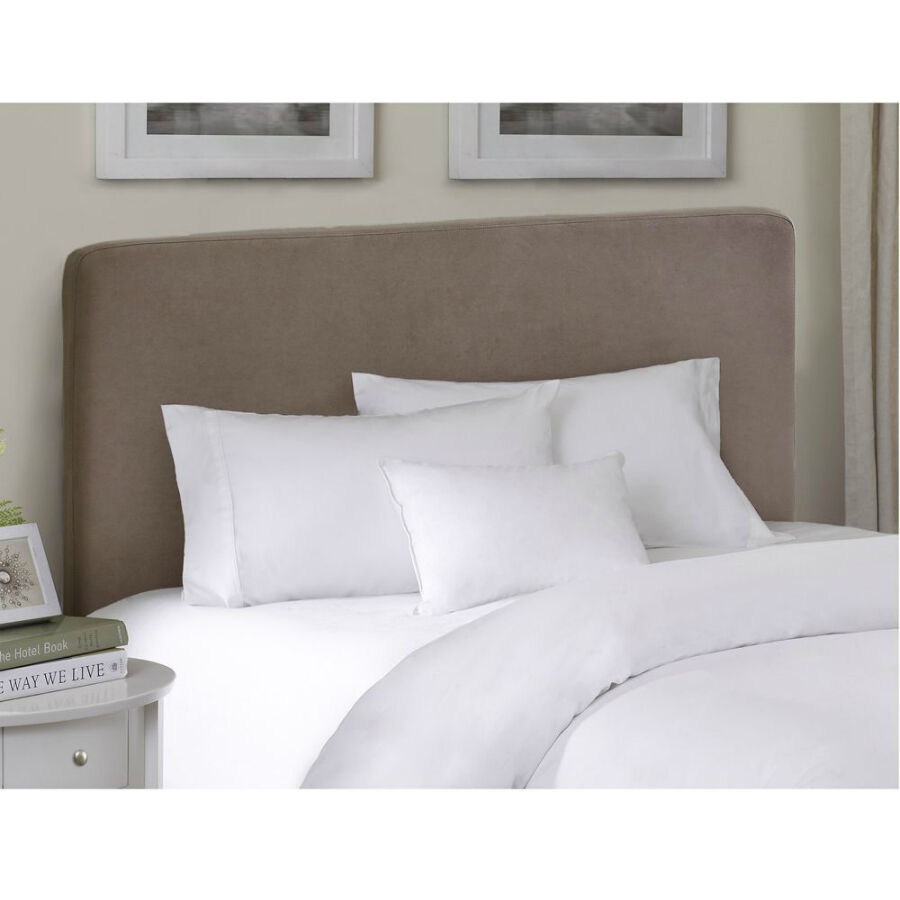 When styling a bedroom, an element that adds a lot of design to both small and large rooms is the headboard. The main focus of any bedroom is the bed. A good way to decorate and add support to the bed is with a headboard. With a smaller bedroom, a headboard is an easy way to add decoration without taking up too much space.
There are a wide variety of headboard styles and materials to choose from. The suede headboard is a headboard covered in a soft, suede material. It is comfortable to touch, and some styles have a bit of cushion to lean on when sitting up in bed. When choosing a suede headboard, there are many things to consider, including the size of the mattress and bed frame, options for footboards, pricing, style and colouring matching, and the structure. eBay has a wide variety of suede headboards to choose from, available in many different styles and colours.
Structural Support for Suede Headboards
Headboards are either free-standing, attached to a bed frame, or mounted on the wall. A free-standing headboard supports itself and therefore does not need to be attached to a bed frame. Other headboards need to be attached to a bed frame or the wall in order to stay up. If a bed frame is already purchased or if the bed does not utilise a bed frame, make sure that the headboard being purchased can suit whatever the situation may be. Also, check any extra tools and structural supports required for the headboard before purchasing.
Another option for headboard support is to mount it on the wall. This option offers a tremendous amount of support, but such a headboard is not the easiest to move around the room. The headboard needs to be unscrewed from the wall each time the bed is relocated around the room. This leaves holes in the wall where the headboard was previously mounted. If the buyer wants to avoid putting holes in the wall, a free-standing or bed-frame support headboard are better options.
Mattress Size
Double check the sizing of the headboard as headboards are designed to fit a specific mattress size. The headboard structure and size vary depending on the size of the mattress and bed frame. A headboard that fits both a full and a queen mattress has a variety of holes so that the legs can be resized to fit both mattress sizes. However, this is not true for all headboards, so make sure to check the headboard size before purchasing.
Typical Mattress Sizes
It is important to know the approximate measurements for the mattress in order to correctly size the headboard. Below is a chart with approximate mattress sizes.
| | | | | |
| --- | --- | --- | --- | --- |
| Bed Size | Single | Double | Queen | King |
| Measurements (cm) | 91 x 90 | 140 x 190 | 150 x 200 | 180 x 200 |
Furthermore, it is important to check a specific brand's sizing when a headboard has been decided upon in order to ensure correct headboard sizing. If a headboard is too large for the mattress and bed frame, it might look odd and out of place.
Suede Headboard Styles and Colours
Because the bed is the main focal point of the bedroom, a headboard alters the tone, style, and colour of a room drastically. Evaluate the bedroom before deciding on the best colour. Note certain tones, colours, and patterns that are dominant in the room. When styling the bedroom, for a softer effect, use more neutral, solid tones. Styling for a more modern or urban tone may be achieved with bolder colours or patterns.
Button-Tufted Suede Headboards
A popular option for suede headboards is having one with button tufts. Button tufts come in a variety of sizes, spacing, and buttons. The buttons are made in the same material as the rest of the headboard or have different colouring or material to add more variety to the suede headboard. There are various button-tufted options that should be noted when browsing suede headboards.
Padded Suede Headboards
Suede headboards come with a lot of padding, a little padding, or no padding. Padded headboards are great for individuals who like to sit up in bed a lot, making it more comfortable to do so. It is a much softer option to lie back against. Most suede headboards offer some padding, but the thickness does vary. Take note of the amount of padding a headboard has if this is a concern.
Suede Headboard Colours
One of the advantages of choosing a suede headboard is the wide variety of colours that are available. Matching a suede headboard to a room is easy because it comes in virtually every colour. This sets the suede headboard apart from wood, metal, or various other headboard materials. The tones of the colours vary as well, with both softer, more neutral tones being available as well as very bold or bright tones. Decide on a colour that matches the bedroom in order to create a space that is stylistically similar. Some suede headboards even come in different patterns although most of the headboards available come in solid colours.
If the bedroom has a more neutral colour styles with lots of greys, browns, and white, adding a pop of bold colour with the headboard results in a stylish, modern effect. Matching the headboard with a few select pieces in the room ties the style of the room together.
Suede Headboards Size
When deciding upon a headboard size, keep in mind the size, style, and colour of the room to match with a proper headboard size. Suede headboards are available in shorter, smaller options. A shorter headboard may be preferable if there is a window or an art display behind the bed. Shorter headboards allow more wall space while still adding support to lean on as well as add more decoration to a bedroom.
Suede headboards also come in taller sizes. Remember to keep in mind ceiling height when choosing a headboard as some headboards are extremely tall. If a suede headboard reaches the height of the ceiling, it adds a commanding tone to the bedroom.
Headboards do not need to be rectangular although that is the most common option. They are also available with waves or a-symmetrical cut-outs. Different styles and sizes have different stylistic effects on a bedroom. Oversized headboards tend to be more bold and sophisticated, while smaller headboards represent more of a minimalistic style.
Matching a Footboard with the Headboard
An optional feature when picking out the headboard is the footboard. Although footboards are not necessary to have with a headboard, they are something to keep in mind when purchasing a headboard. It may be more difficult to find a matching footboard after the headboard is already purchased. Headboards and footboards sometimes come in a matching set.
How to Buy a Suede Headboard on eBay
Once you have measured the bed, the wall space, and ceiling height of the bedroom, you are ready to purchase your suede headboard. Suede headboards are available in furniture stores or online. eBay has a wide variety of suede headboards to suit a variety of bedroom styles with many colour options also available. To begin your eBay search, start on the home page. Type in
"suede headboard" in the search box. Different sizes, types, and styles of headboards will show up in the results. The number of results can sometimes be overwhelming. To address this issue, you can reduce the amount of results by adding in other keywords to narrow the search, such as "tall" or "short", which will make the browsing experience more manageable. You can also explore matching furniture options as eBay has virtually anything for sale.
Depending on the size of the headboard you want as headboards tend to be rather large and weigh a quite a bit, you may want to look for sellers in your area. You can do this by entering your postcode to narrow the search. You can make arrangements to pick up the item from the seller as this will save money on postage.
Conclusion
A headboard can add a lot of style and colour to a room, and it is a great way to spice up both small and large bedrooms. Suede headboards are typically padded, allowing individuals to be comfortably when leaning back while sitting up in bed. Suede headboards are also soft to touch and allow for a more relaxed feel. Suede headboards are available in a large selection of colours.
Headboard sizing is important, so it is important to know the mattress size as well as ceiling height and wall width when picking out a suede headboard. Headboards come in different shapes, and the outline of the headboard can affect the style of the bedroom's décor, so that should be taken into account. Some headboards having matching footboards, and footboard options should be explored to ensure that they match. eBay has a wide variety of suede headboards for a lot of different room designs and styles in a variety of different colours.