Add a caption
Click the image to see our Mason Heritage Pudding Basins!
Ingredients
For the Pudding
175g dates (stoned)
1/2 tsp bicarbonate of soda
1 tbsp coffee essence
75g Softened Butter
200g Light Soft Brown Sugar
2 large eggs
175g self raising flour
75g walnuts, chopped

For the Sauce
175g light soft brown sugar
115g butter
6 tbsp double cream
50g chopped walnuts
Method
Step 1
In a medium sized bowl, soak the dates with 175ml of boiling water along with the coffee essence and bicarbonate of soda. Leave them to cool completely. Pre-heat the oven to Gas 4, 180 Centigrade.

Grease the pudding basin with butter. In a large mixing bowl, mix the butter and sugar with an electric whisk until smooth. Beat in the eggs one by one continuing to mix until smooth.

Fold the flour and chopped nuts into the mixture and add the cooled dates mixture, including the water. Mix well with a wooden spoon until smooth and evenly combined. Pour into the pudding basin and cover with greased foil.

Step 2
Bake in the oven for one hour 20 minutes. Check if cooked by inserting a knife or skewer, if it comes out clean the pudding is cooked.

Step 3
To make the sauce tip the brown sugar, butter, nuts and cream in a saucepan and gently heat and continually mix the ingredients together until smooth. Bring to the boil and remove from the heat and allow to cool.

In the meantime turn out the pudding. Always use oven gloves when handling a hot pudding basin. Loosen the pudding all round using a palette knife then remove the pudding onto a plate (the best technique is to place a large plate on top of the pudding and invert it, shaking it gently). Serve with the sauce.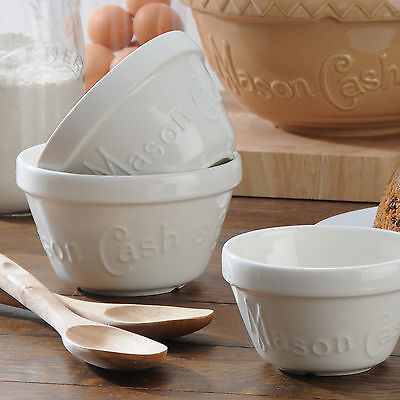 Mason Cash Heritage Pudding Bowls
Made from high quality durable stoneware, Mason Cash Pudding Basins are ideal for home made steam pudding recipes. The protruding rim of the basin allows a lid to be tied and maintained throughout the steaming process and the embossed exterior provides additional grip.
Get yours at our eBay store. Click
here