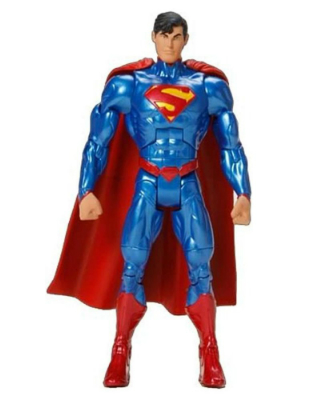 If any character deserves to be moulded into the form of an action figure it is Superman. The original superhero was created by Jerry Siegel and Joe Shuster in 1932 and first appeared in DC comics in 1938. This eBay guide aims to help buyers pursue their interest in action figures, specifically Superman action figures.
This is Superman's biography according to D.C. Comics.
The most recognised superhero in pop culture, Superman has been elevated to mythic folk hero status. Rocketed to earth from the dying planet Krypton, baby Kal-El was found by a farming couple who names the boy Clark Kent and raised him as their own. Discovering his enormous powers, they instilled in him strong moral values and inspired him to become a hero.
Superman has super-everything – strength, speed, flight, invulnerability as well as his renowned X-Ray and heat vision. The most powerful being on the planet, his amazing abilities are also a melancholy reminder of how different he is from the people he's dedicated to protect.
A universal icon, Superman means different things to the many diverse people he inspires. He's an alien, an immigrant from a faraway land looking to help; a country boy fighting the never ending battle for truth and justice.
Superman as an action figure
The term "action figure" first appeared in 1964. It was then that toy manufacturers Hasbro launched G.I. Joe - 11.5 inches high and with clothes which could be changed to suit his mission. The description "action figure" was a neat piece of marketing to position him as different from a doll and meant for boys. To qualify as an action figure a toy must a small scale representation of "a character known for vigorous action such as a soldier or superhero" (Oxford English Dictionary).
The first Superman action figure certainly fitted the bill. He was produced in 1973 by Mego (along with Batman, Robin and Aquaman) as one part of the World's Greatest Super Heroes line of figures. An original Mego Superman is 8" high and poseable. He should come with blue jumpsuit with cape and emblem attached (early emblems were paper stickers, later issues were fabric stickers) and two red, plastic boots.
Collecting Superman Action Figures
The choice of Superman action figures is vast. Even before the definitive Mego figure the Ideal Novelty and & Toy Co. produced a 131/2 inch wooden jointed body version. Since Mego, year after year new versions have appeared up to the 2013 Justice League Superman 6.8 action figure from DC Collectibles.
Manufacturers also include Mattel (famous for Barbie), Kenner (famous for Star Wars action figures). In variety they range from a Lego Superman to the Sideshow Collectibles Hot Toys Movie Masterpiece 1/6 scale model Collectible Figure of Superman as played by Christopher Reeves, produced in 2011 and fetching £205 in 2013.
Where to start
Whether collecting for enjoyment or financial gain, without a clear direction it's easy to get lost or discouraged with so much choice. It is also far too easy to pay too much and end up with a box of mismatched figures of questionable value. On the other hand, with a plan the pursuit can be very fulfilling as each acquisition brings the collector nearer their goal.
Niche
Within the overall Superman category, the focus can be on a sub-topic. For example:
Superman from a particular manufacturer
other collectable characters in the Superman universe such as Lex Luthor, Superwoman, Supergirl, Superboy, Bizarro, Skeletor, Lois Lane
figures from particular artists such as Alex Ross, George Perez or Ed McGuiness
The objective is to find a niche that is tight enough to enable one to build the collection, complete each series or strand, keep costs down and add value.
Condition
The golden rule for collecting action figures is never to take them "off the card", the cardboard backing on which they are enclosed in a see-through plastic bubble. Doing this devalues the figure quite a bit, although if that figure is rare enough – like a Mego Superman - it will still be worth a substantial amount.
Whether to buy new or second-hand is the next decision. To keep to a budget, the best bet would be to go for second-hand figures and save buying the new ones for especially attractive figures. The advantage of buying new is, of course, that the figures are in mint condition and stand the best chance of increasing in value provided they are kept carefully in a place where they will be protected from dust, temperature variations and sunlight.
Grading
Do figures which are not in gem mint condition have any long term value? That depends on just how close to mint they are. There are various scales which collectors use to assess potential buys. The Collector-ActionFigures "C-Scale runs from C-10 (Mint) to C1 (Very Poor) and is very exacting.
Rarity
As with any collectible, the harder a prized action figure is to find, the more money a buyer has to pay. The range of action figures on the market can be classified as Regular, Chase, Super Chase, Variant and Exclusive.
Regular. A regular action figure is the standard issue, bought new from a shop or on-line outlet with the figure pictured on the packaging. Beware of massively overproduced mass market figures, as these, even in Gem Mint Carded condition are unlikely to increase in value for a long time.
Chase. A chase is a version of the regular figure which has been modified intentionally in some way by the manufacturing company, so called because its scarcity will stimulate the collecting community to chase it. The alteration can be in the clothing, pose or painting of the figure to create a special collectors' version. For example, Superman figures from DC Direct were reissued with enhanced colours.
Super chase. This is a further modification of the chase figure produced in very limited quantities to create an artificial scarcity.
Variant. A variant is a differing form of the original figure resulting from a mistake or change in the manufacturing process.
Exclusive. The Superman back catalogue is full of special editions, such as the Artist Signature Series and the 25,000 limited edition of Superman with see-through cape obtainable by sending in proofs of purchase of Kenner products.
What to Pay
With a continually expanding choice of Superman action figures in different conditions and degrees of rarity, it's easy to get carried away or confused in making a buying decision. A lot of information on market prices can be found by looking at "Completed items" in eBay's advanced search.
Do keep a budget in mind. No one wants their hobby to eat up their spare cash. Writing down a budget and sticking to it is the best way an enjoyable hobby can be affordable, too.
Buying Superman Action Figures on eBay
Now that you know which Superman action figures, you want you can find them quickly and easily on eBay. To start shopping, go to the Sports and Leisure category. Click the Toys & Games then the Action Figures portal then Superman Theme.
While shopping, don't forget Animals & Dinosaurs, Anime & Manga, Comic Book Heroes, Designer & Urban Vinyl, Fantasy, Historical Figures and Military & Adventure. There's also some memorabilia from the Batman vs Superman film.
Categories
The Categories list on the left side of each page will help narrow down listings by item type. There are links for themes such as: Wrestling ,Doctor Who ,Batman, Power Rangers, Action Man and Marvel Legends .
Product Finder
Use the Superman Action Figure Finder to quickly narrow down item listings by brand, model and condition (new or used).
Keyword Search
Search eBay listing titles for specific words. For example, if looking to find New Superman Action Figures, type the keywords "Superman Action Figures New" (without quotation marks) into the Search box. Click, "Search title and description" to expand the results. Visit eBay's Search Tips page for more tips on searching with keywords.
If you can't find exactly what you want, try browsing eBay Stores or tell the eBay Community what you're looking for by creating a post on Want It Now, or save a search on My eBay and eBay will email you when a matching item becomes available.
Buy Superman Action Figures with Confidence
Make sure that you know exactly what you're buying and understand how eBay and PayPal protect you.
Know the Item
Read the details in the item listing carefully.
Remember to add delivery costs to final price. If buying a high value item, check that the seller will insure it until it is delivered.
For more information, click the "Ask seller a question" button on the seller's profile or the "Ask a question" link at the bottom of the item listing page.
Always complete a transaction on eBay (with a bid, Buy it Now or Best Offer) otherwise you will not be covered by eBay Buyer Protection.
Never pay for an eBay item using an instant cash wire transfer service like Western Union or MoneyGram. These are not safe ways of paying someone you do not know.
Know the Seller
Research the seller to feel safe and positive about every transaction.
What is the seller's Feedback rating?
How many transactions have they completed?
How many positive responses do they have?
What do buyers say in their Feedback?
Are they positive about the seller?

Most top eBay sellers operate like retail shops and have a returns policy.

Do they offer a money-back guarantee?
What are their terms and conditions?
Buyer Protection
In the very unlikely event that you do not receive your item or it is not as described, eBay Buyer Protection covers your purchase price plus original delivery cost.
Conclusion
There could not be a more classic choice of action figures than Superman. Whether collecting the latest editions or vintage characters, the search can be both challenging and rewarding. Its intricacies can be intimidating for the beginner, unless they are already fans of the Man of Steel. But for the experienced collector it's a chance to win the respect of fellow enthusiasts.