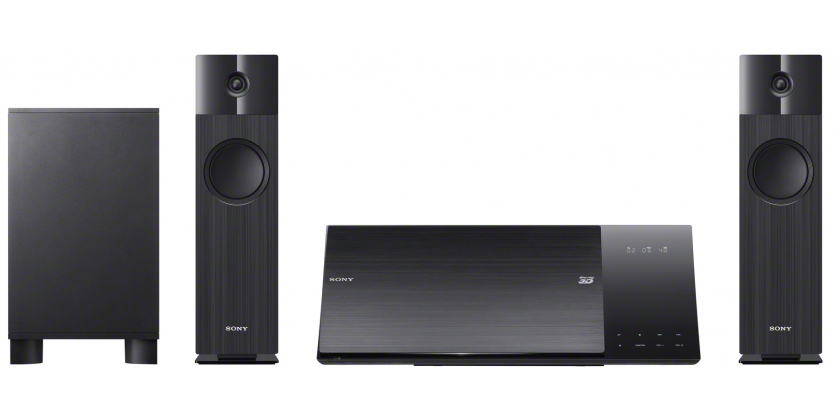 The days of mono and even stereo sound are long gone. Today the consumer expects a totally immersive audio experience when listening to their favourite music, watching a movie on their TV, or playing computer games on their PC. Home audio technology is advancing, with the result being that surround sound systems offer listeners realistic sound effects that put the listener in the centre of the action. Surround sound systems have become more affordable and a buyer can now purchase a set of surround sound speakers for just a few hundred pounds.
Before a buyer begins their search for surround sound speakers, they should familiarise themselves with how surround sound works and the different system configurations. They should be aware of the different types of speakers that make up a surround system and consider whether a wireless or wired system is better suited to their needs. Surround sound speakers are sold at electronics shops on the high street or in the audio visual departments of most major department stores. However, the widest selection of surround sound speakers is to be found on eBay.
What Is Surround Sound?
Surround sound works by using multiple speakers positioned around the listener to create a wide soundscape. This means that the listener can hear moving sound sources in the film or computer game, such as a moving car approaching from the far left, passing by the center of action and moving away towards the right. To do this, the sound is recorded on different channels and ideally each speaker transmits the sound of a separate channel. For real surround sound, a minimum of five speakers is required: front center, front left, front right, back left, and back right.
What Does Each Speaker Do?
The most common configuration is 5.1 surround sound. This configuration uses five speakers for five different channels of sound, positioned as mentioned above, plus a subwoofer for the low frequencies or bass. The chart below describes the function of each speaker:
| Speakers | Position | Function |
| --- | --- | --- |
| | Directly in front of the listener, usually below the TV, stereo installation or computer screen | Reproduces most of the dialogue in a film and some of the music |
| | To the front left and right of the listener, usually beside the TV or screen | Reproduces the music score, some of the dialogue, and the special sound effects, such as moving sound sources |
| | Behind the listener, to the left and right | Reproduces background noises such as rain and wind; works in conjunction with the front speakers to create directional effects |
| | Somewhere in front of the listener; location not so important as bass is felt throughout the room | Reproduces the bass, or Low Frequency Effects (LFE) channel. makes the viewer 'feel' explosions and earthquakes as well as hear them |
The easy solution when looking for a surround sound system is to buy a complete set,, such as a home theater in a box. This way the buyer can be certain that all speakers work together and produce a high quality sound. The other option many audiophiles prefer is to buy each speaker individually..
The main consideration when setting up a surround sound system is that the different speakers should be voice-matched. This means that all speakers should have a similar timbre or tonal quality and share the same harmonic characteristics. The easiest way to do this is to stick with the same brand and preferably even the same product line of speakers. Otherwise the sound may appear disjointed. One more consideration when buying speakers individually is that the front speakers are the most important. So, if working within a budget, the buyer should spend a larger share of their budget on the two front speakers.
Virtual Surround Sound
Apart from the standard 5.1 configuration, there are many more configurations available. These usually have more speakers, even up to a 10.2 configuration, with ten speakers and two subwoofers. However, when it comes to choosing a sound system configuration, quality should always trump quantity. It is usually better to invest in few good speakers than in 10 speakers that are subpar. If someone wants to expand their system they can always do it later on, provided their amplifier can support these additional speakers.
On the other hand there is also something called virtual surround sound. Virtual surround sound can produce surround sound using just two speakers or even a single row of speakers called a digital sound projector, or sound bar. Virtual surround sound systems use complicated software algorithms based on an analysis on how the human brain perceives sound to simulate surround sound effects. Some sounds are projected to the back wall of the room so that they sound like they are coming from the rear. The biggest drawback to virtual surround sound is that to maintain the illusion of surround sound, the listener must not move from the 'sweet spot'. This is the point where the surround sound is perceived to be best. This spot depends on the size and shape of the room. The buyer should avoid low-end virtual surround systems as the sounds effects they produce can be disappointing.
Types of Surround Sound Speakers
Speakers usually incorporate different drivers or sound producing devices. A tweeter driver reproduces high frequencies, a mid-range driver handles mid-range sounds, and a woofer reproduces the lower frequencies. These three drivers are usually incorporated into standard speakers. A subwoofer is a separate speaker that reproduces the bass. The enclosure or cabinet of a speaker should be solid and inert to avoid annoying resonances. There are different types of surround sound speakers to choose from.
Floorstanding Speakers
Floorstanding speakers are big and usually in the shape of a tower. They have the advantage of possessing an optimised cabinet for better sound, but they are bulky and less appropriate for buyers with limited living room space.
Bookshelf Speakers
Bookshelf speakers are smaller and can be placed on bookshelves or special stands. They can still provide decent sound as they are normal three-way speakers.
In-Wall and In-Ceiling Speakers
In-wall and in-ceiling speakers are another choice. They are inconspicuous and do not interfere with the interior decor of the room. However, they can be complicated to install and connect.
Satellite Speakers
Satellite speakers are small speakers used together with a subwoofer. They are usually good enough to serve as rear speakers but the quality of sound they emit is not the best when used as front speakers.
Buying Considerations for Surround Sound Speakers
The first thing a buyer should do is determine how powerful the speakers need to be. For decent sound in a medium sized room, a 50-watt RMS power per channel/speaker should be sufficient. For a large room, 150 watts RMS per speaker may be required. The total power of the speakers should be matched to the amplifier output power, otherwise sound quality may be poor. One more thing to watch out for when buying speakers individually is that they should have input jacks matching those of the amplifier.
Most surround sound system use wires to connect the speakers, but wireless configurations are also available. Wireless means that there are no cables connecting the speakers to the amplifiers. However, speakers still need to be individually powered. When choosing a wired solution, the buyer should always use the proper gauge speaker cables to avoid deterioration of the sound quality.
For novices, it is wise to start with a small surround sound system and build up their system as they gradually learn more and start to value the quality of surround sound. And, of course, it is always good to read as many reviews as possible before making a purchase.
How to Find Surround Sound Speakers on eBay
eBay offers a wide variety of surround sound speakers. To find the speakers you are looking for just go to the eBay homepage,, type 'surround sound speakers' in the search bar and press 'Search'. You can then refine your search further using criteria such as configuration, form factor, brand, connectivity, price range and more. If you know exactly what you are looking for, you can also start off with a more specific search query, like 'surround sound bookshelf Sony speakers'.
When you have found a speaker or set of speakers you like, you should first of all have a good look at all the photos posted in the item description, especially if the speakers have been listed as used. You should also carefully read the payment and postage conditions. If you have any questions about the speakers or any other matter, it is a good idea to contact the seller directly. You can do this by going to their profile page and clicking on the contact link.
Conclusion
There are many different configurations of surround sound systems. The basic, real surround sound configuration is the 5.1 configuration. This consists of a front central speaker, mainly responsible for the soundtrack and dialogue, two front side speakers that handle most of the music and directional effects, two back speakers to reproduce background sounds and enhance the sense of surround sound, and a subwoofer for the bass. There are also virtual surround sound speakers using just two speakers or a soundbar. They are usually cheaper but they do have their drawbacks. The safest solution for inexperienced buyers is to go for a complete out-of-the-box surround sound set instead of trying to match a variety of individual speakers.
As far as the speakers themselves are concerned, the different types of speakers include floor standing, bookshelf, in-wall or in-ceiling and satellite speakers. Wireless speakers are also available. With this configuration, the buyer does not have to lay and more importantly hide a tangle of cables. It is important to keep in mind that it is better to buy a few top-notch speakers than a bunch of cheaper, subpar speakers.