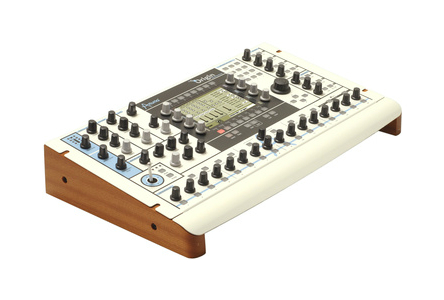 It is no understatement to say that from the moment they burst onto the music scene, synthesisers changed modern music forever. From a relatively small electronic box, the most amazing sounds and rhythms burst forth, and the world of music was never the same again.
Originally a prohibitively expensive instrument, over the years the price of a synthesiser has dropped a great deal, and it is now an affordable instrument available to everyone, with a wide range of manufacturers and models providing options suitable for beginners right up to professional gigging musicians.
History of the Synthesiser
The first commercially available sound synthesiser was produced by Robert Moog in the mid 1960s. The name was quickly shortened, firstly to synthesiser and then to synth and the instrument quickly became popular, with The Monkees being one of the first popular music bands to use one.
From the 1990s, synthesisers also began to appear in the format of a computer program in a PC and, from then on, they became probably one of the most important instruments in the music industry. With the power to sound like virtually any instrument imaginable and the ability to create almost any type of music, the synthesiser came of age and dominates the way music is made today.
What to Look for When Buying a Synthesiser
There are a wide variety of makes and models of music synthesiser, but this guide will be looking mainly at the standard keyboard-style variety and their particular features.
With so many different brands of synthesiser available, in a wide range of formats, it is a very good idea to do some research before buying, especially as some features that are important for an experienced musician may not be quite so suitable or necessary for a total beginner. If in doubt, it is certainly advisable to consult the manufacturer or seller with any questions about the product. They may be skilled musicians, able to offer advice from their experience.
This buying guide will take a look at some of the main features of a synthesiser and the main points that anyone looking to buy one should be considering.
Monophonic or Polyphonic
A monophonic synthesiser is capable of playing only one note at a time. If more than one key at a time is held down, it will only play one of the notes. This means it is not possible, for example, to play an instant chord. However, polyphonic synthesisers are capable of playing more than one note at a time so when two or more keys are held down at once, all of the selected notes will be heard simultaneously. Most standard keyboard style synthesisers are now polyphonic.
Keyboard Size
Synthesiser keyboards come in many different sizes, from one octave (8 notes) up to 88 keys – the size of a standard piano keyboard. Purchasers should think carefully about the range of notes they require from their keyboard. Consideration should also be given to the keyboard's feel. Some come with keys that have been weighted to give them the feel of a proper piano and trained piano players will probably prefer this type of keyboard. Anyone else will probably be satisfied with a standard synthesiser key.
Portability
Size was touched upon in the previous section, relating only to the size of the keyboard – but thought should also be given to the overall size and weight of the synthesiser if it is going to be moved around a lot, perhaps being taken to gigs or shows. If the synthesiser is going to be moved around regularly, then it is worth considering buying a travel case to prevent knocks and accidental damage (see Accessories section below). Remember to check the weight of the case to ensure the instrument can still be transported easily.
Sound Variety and Quality
Different synthesiser types and brands will produce different sound qualities. If the technical quality of the sound is important to the purchaser, it is worth researching which brands are considered to produce the best sound. Also, look into what variety of sounds are available on the synthesiser. If a model has over 200 different sounds available, but perhaps only 10 of those may be of regular use, then this may indicate that a different model with different types of sounds may be more suitable.
Microphone
If the synthesiser player wishes to sing while playing, it is possible to buy a synthesiser with a built-in microphone for amplifying and/or recording the musician's voice.
Synthesiser Accessories
There are a range of accessories to consider alongside the purchase of a synthesiser. For example, as suggested above, if the instrument is going to be moved around regularly, a hard transport case is an excellent idea to keep it from being damaged in transit. A synthesiser stand is another useful purchase and these come in a variety of options, including collapsible or fixed. It is also possible to buy a lighting kit to illuminate both the synthesiser and music stand in a dark venue. Finally, although most synthesisers contain a small integral speaker, anyone planning to use their synthesiser professionally may wish to consider buying an amplifier and speaker system to enable the output from the synthesiser to be heard.
How to Buy a Synthesiser
Although they are considered to be a fairly specialised piece of equipment, synthesisers are available from a number of high street stores. They are also be available from more specialist musical instrument outlets, who may have a greater range on display, allowing prospective purchasers to try a number of different synthesisers before deciding which is right for them. It is also often possible to buy them via online advertising boards.
Looking for a Synthesiser on eBay
To view all the synthesisers for sale on eBay at any one time, the first place to look should be the section containing musical instruments. Select the heading All Categories on the left hand side of the page and then select the option for Musical Instruments. There are two main areas within Musical Instruments to consider. In the category for Electronic Keyboards, many simple synthesisers which are suitable for beginners can be found. They are located via Musical Instruments and then selecting Keyboard/Piano then Electronic Keyboards. Alternatively, purchasers looking for more professional and technical equipment should click on Pro Audio Equipment and then select Synthesisers and Sound Modules from the left hand menu.
All the synthesisers that have been listed for sale in each category are now available to view on the page in a list form. If looking for a particular type of synthesiser, or one from a particular manufacturer, there are options in the left hand menu to allow the search to be refined further.
It is possible to refine the search to show only new synthesisers, or alternatively purchasers may wish to consider a used or manufacturer refurbished instrument. Each of these options can be selected from the list on the left hand side of the page.
Finally, it is recommended that prospective purchasers also do a simple search using the general search box at the top of the eBay home page. Typing 'Synthesiser' in here will bring up all listings that have not been listed in the correct listing.
Conclusion
A synthesiser is a very personal choice on behalf of the purchaser and if the right one is purchased it will give years of happy music-making to the buyer. Some people may be looking for a professional studio-level machine, while others will be looking for a simpler instrument on which to learn. This guide should help buyers understand what to look for and what to consider when looking for their own system, and where to look to buy it.