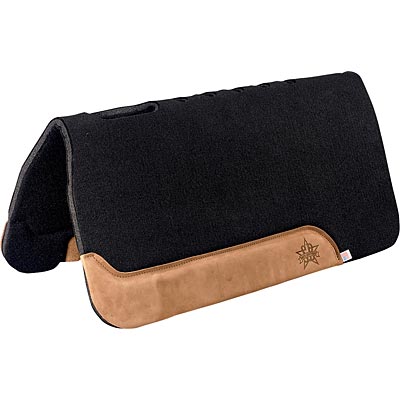 Saddle pads sit beneath a horse's saddle. They have several functions, from soaking up moisture and evenly distributing the rider's weight across the horse's back, to enhancing the appearance of the tack and identifying the horse and rider at shows. Saddle pads are available in natural as well as synthetic materials, each having their own performance benefits. Synthetic pads generally offer the benefits of being lightweight, durable, easy to maintain and relatively inexpensive compared to traditional materials like sheepskin.
There are many different terms for saddle pad, including saddle blanket, numnah and saddle cloth, and they also come in various styles, including those suited for English style riding and Western style riding.
Both English and Western synthetic saddle pads can be found on eBay in a variety of modern, high-tech materials and a range of different sizes to suit any horse and saddle.
The level of choice that exists on eBay in terms of sizes, materials and shapes can make buying a saddle pad a difficult decision. However, great care must be taken in choosing a synthetic saddle pad since they – like natural pads – can change the fit of a saddle, resulting in problems of discomfort and injury to the horse if not fitted correctly.
Materials
A variety of synthetic materials are used in the manufacture of saddle pads found on eBay, each offering slightly different performance abilities.
Synthetic Fleece Saddle Pad
A popular fabric choice for manufacturers and riders alike, since it emulates the look of traditional sheepskin but at a much lower price. The man-made fibres of synthetic fleece do not matt as easily as wool and also don't shrink in the wash, making them machine washable and easy to maintain. Because synthetic fleece pads do not matt easily, a good quality one may even achieve a longer lifespan than a low quality traditional sheepskin fleece.
Neoprene Saddle Pad
The major benefit of this material is that it is waterproof. Neoprene saddle pads keep the horse's back protected from rain, and also means the pad is easy to maintain. The disadvantage of any synthetic material is that it is not as breathable as its natural counterparts, but neoprene saddle pads overcome this with a 'waffle'-like construction that helps to keep the horse cool during long rides, as well as cushioning the horse from the saddle. Another advantage of neoprene is its 'stickiness', which helps to keep saddles from slipping.
Closed Cell Memory Foam Saddle Pad
Foam saddle pads consist of foam that is moulded and wrapped in a nylon cover.
Memory foam is particularly good at moulding to a horse's back and unique contours, while the nylon mesh that wraps the foam provides air flow to cool and dry the horse's back.
Gel Saddle Pad
A relatively high tech material when compared with felt or fleece, gel saddle pads will disperse the shock from impacts and rapidly return to their original shape. Gel inserts in pads are usually placed between the layers of the pad, whether that pad is made of foam, neoprene or any other material. A major advantage of gel saddle pads is that the high-performance nature of the gel means that they can be relatively slender and yet provide the same protection as a far thicker pad. This means that they are less likely to radically alter the fit of a horse saddle, which can ruin the comfort of the horse and even lead to injury. A gel pad may only be about 1/4inch at the thickest points and weigh about a pound. The gel is positioned where the bars of the saddle make contact with the horse's back to provide extra protection from the saddle's pressure points. A gel pad often features anti-slip backings and unlike traditional fleece pads, they are generally contoured to the shape of the horse's back.
Types of Saddle Pad
Western Style Saddle Pads
These pads are usually rectangular or blanket-shaped, with an average measurement of about 35 inches square.
| | |
| --- | --- |
| Contour saddle pad | High withered and sway-backed horse |
| Cutout saddle pad | High withered horse |
| Swayback saddle pad | Sway-backed horse |
| Straight saddle pad | Wide-backed flat-backed and mutton-withered horse |
| Round saddle pad | Short-backed horse |
Saddle cloth
It is useful to note that saddle cloth has two meanings. In Australia, it refers to a standard saddle pad but in the USA it means a thin and lightweight blanket that is placed over a heavier pad. It is usually only used for decorative purposes, particularly under the saddles of race horses.
English Style Saddle Pads
English saddle pads or 'numnahs' are usually thicker than Western pads, and made from layers of foam sandwiched between tougher outer covers. They are cut to the shape of the saddle and as such are usually sized to the saddle rather than the horse. Synthetic fleece numnahs are particularly popular for some disciplines such as eventing and show-jumping because of their luxurious appearance and cushioning qualities.
| | |
| --- | --- |
| Numnah | Follows the shape of the saddle, offering a neat outline. |
| Half-numnah or half-pad | Sit in the saddle's gullet and leaves the flaps free from padding, so the rider can stay in close contact with the horse. |
| Front riser pad | Lifts the front of the saddle over the horse's withers and can improve the fit of the saddle. |
| Rear riser pad | Raises the back of the saddle to achieve a better fit. |
Sizing the Saddle Pad
Unlike with buying a saddle, where the size of the horse and the rider must both be carefully assessed, saddle pads are fitted to the horse and the saddle. The rider's size is largely irrelevant.
Western Style Saddle Pads
Sizing to the horse is largely an aesthetic decision. A short-backed horse with a long saddle pad will look inelegant.
| | |
| --- | --- |
| Short back | 30 inches |
| Medium-length back | 32 – 36 inches |
| Long back | 38 inches |
Sizing to the saddle is more important than sizing to the horse. The pad must be longer than the saddle as otherwise it will get caught underneath it and become uncomfortable for the horse, as well as being unsightly.
| | |
| --- | --- |
| Smaller saddles, e.g. Barrel saddles | 30 - 34 inches |
| Larger saddles, e.g Roping saddle or Cutting saddle | 36 - 38 inches |
If a shorter saddle, such as a barrel saddle, is being used on a long-backed horse, many people opt for a long saddle blanket of about 36 inches, for aesthetic reasons.
English Style Saddle Pads
When fitting a numnah is important to fit the pad to the saddle rather than using the height of the horse as a guide. If you are buying both a saddle and a numnah online but from different suppliers it is a good idea to buy the saddle first. Numnahs come in several sizes, usually:
| | |
| --- | --- |
| 15 inches | Pony |
| 15.5 – 16.5 inches | Cob |
| 17 inches and over | Full size or Horse |
Numnahs are cut to suit different shapes of English saddle, some of which have more forward-oriented flaps than others. When buying on eBay be sure to look carefully at the images to ensure that the numnah is the right shape for the saddle.
How to Buy Synthetic Saddle Pads on eBay
If you are buying a synthetic saddle pad on eBay, it is helpful to take and request as many measurements as possible to judge whether a saddle pad or numnah is the right size for the saddle and the horse.
To search for synthetic saddle pads, type into the search box 'synthetic saddle pads'. Some buyers have a good idea of the type of product they want to buy, such as 'synthetic fleece numnah 17"'. Using the search feature will help you find exactly what you want.
When searching through listings, carefully review all the data. Make sure the item matches what you had in mind. Review all available photographs of the product. Also use the Ask the Seller function if you require further clarification on any points. eBay's Buying Tips page has more information and tips on conducting the purchase.
Once you are ready to buy, either place a Bid, Buy it Now, or put down your Best Offer. Buying with PayPalwill ensure the transaction will go smoothly, as eBay users are protected by the Buyer Protection Program.
Conclusion
Synthetic saddle pads are generally regarded as a less expensive alternative to numnahs or pads made from natural materials. However, some synthetic products also offer enhanced performance abilities when compared with traditional materials like sheepskin and felt.
When buying a synthetic saddle pad from eBay it is important to consider what function the pad will fulfill. If it is to identify a horse or pony at a show event, then a thin saddle cloth in a distinctive colour may be appropriate. However, if the pad's job is to improve the fit of a saddle then a gel or a riser pad may be best. Note that pads should never be used long term to improve the fit of a saddle as this can cause problems for the horse. Above all, consider the type of saddle that the pad will be used with, as this will dictate the shape and size of the pad.