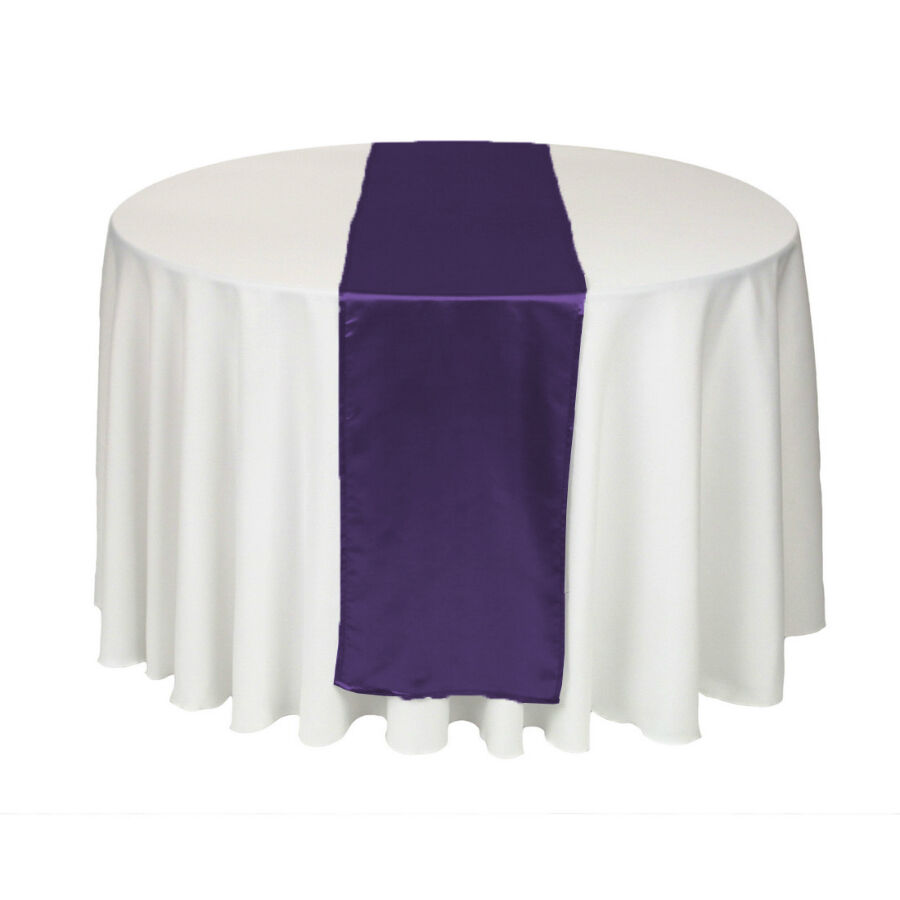 A table runner is an essential item for decorating and properly setting a table. A table runner is the sheet of material which is laid accross a dinner table, adding to the setting, and may often be specific to the occassion.
Choosing the Right Table Runner
Being that there are uncountless options available, not to mention an incredible range of events where such decoration is required, trying to find the most appropriate table runner may prove overwhelming. Narrowing down the search to make an informed choice is often wiser than just picking the prettiest design.
The Length
A table runner needs to run the length of a table at least. Remember to measure the table where the runner will be used and use that as the minimum measurement for the length. Longer lengths will look great as long as the draped ends do not exceed the height of the table. Do take care to ensure the end drapes do no interfere with seating. If chairs are only at the sides of the table, the length of the table runner is irrelevant. However, dining with carver chairs at the ends of the table, it is best to keep the draped ends of the table runner short. They should not dangle in to the lap of a diner seated by them. It is perfectly acceptable to have a table runner that is just short of the table length as it looks just as decorative and will not interfere with diners' comfort or be impractical. Widths are varied and depend only on personal taste. A narrower strip will give the illusion of a longer table and a larger room. Vertical lines running the full length of the table runner will also add to the effect and these may be produced through a printed pattern or a delicate trim of flowers or trailing leaves edging the fabric. Horizontal stripes will give a broader effect to the appearance of a table. These may be achieved through large blocks of colour with floral or bold geometric designs.
The Colour and Design
Decorative, practical, and less prone to receiving spills as they are centred on a table, table runners are a wonderful opportunity for coordinating a dining set with existing decor. They are small enough to store easily, making them ideal to have as a collection to serve different occasions or celebrations. Match them with chair covers or pads, tie a matching bow or tassel to chair backs to complete a look. Where a table runner has tasselled ends, curtain tie backs in various sizes provide an ideal means of bringing a look together through themed decoration. As they are the same shape and style, it is possible to choose a contrasting colour, or another accent to enhance the setting. If the table runner is protected by coasters and place mats when dishes are placed upon it, there are seldom any spills or stains that land on the fabric. Small stains and marks should be dealt with as soon as possible. If candle wax lands on the table runner, wait for it to set and then scrape away the residue. For fabrics which are suitable for ironing, use an absorbent towel and a warm iron to melt the remaining wax in the fabric which will transfer to the towel like a blotter.
Designs for Entertaining
Beaded table runners can be made to look stunning. Faux rhinestones and crystals reflect light well and lift an ordinary piece of furniture to something exquisite. These mats of apparent gemstones are usually backed on to fabric so there is no concern about the surface of a table being scratched. For snow scenes, princess parties, baby showers, weddings, or festive decor, a table laid with such a runner looks opulent and expensive.
Gold and Silver Designs
Metallic table runners with silvery or golden tones often match with the trim detail in expensive china dinner sets. Using only one colour, they provide an understated elegance which still looks fantastic after the table has been cleared. Some quality paper table runners are hard to differentiate from genuine silk and offer an inexpensive solution to catering for large parties or if simply to ring the changes without a great deal of expense.
Everyday Designs
Ethnic and rustic table runners add a suggestion of extensive travel to a decor theme. Bright jewel colours or earthy mixes are all available and each suggests its own style of appropriate accompaniment for table top decoration or coordination with soft furnishings such as cushions, throws, and curtains.
Fabric Range
Being small items, table runners can be made from an immense variety of materials and fabrics. For rooms where the table runner will receive a lot of wear, it is important to consider how easy it is to maintain its good looks. Natural fabrics like cotton, silk, and linen may be plain weave items or they may have additional embellishment through lace, beads, tassels, or embroidery. These decorative effects look fabulous when the table runner is new, but when the item requires laundering, those beads, tassels, lace, or embroidery might need special care and attention. Tassels are seldom suitable to be placed in the tumble drier, so after washing a tassel-ended table runner, it is best to air dry the table runner flat to prevent the tassel fringe from tangling or knotting. Below is a chart showing a variety of fabrics and materials popularly used for table runners and how to care for them, which may influence purchase choice when their maintenance is a consideration.
Table Runners Care Chart
Material

Care and Maintenance

Machine Wash

Wipe Clean

Specialist Care

Use the acrylic cycle on a machine

Use the cotton cycle on a machine appropriate for the colour

Use a tightly wrung cloth with light detergent

With care on a gentle wash, do not tumble dry

Use a tightly wrung cloth without detergent

For stubborn stains consult dry cleaner

Hot wash, separate from mixed colours

Use a tightly wrung cloth with light detergent

Use the synthetic cycle on a machine

Use a tightly wrung cloth with light detergent

Use the synthetic cycle, check to see if cold wash is recommended

Silk Blend

Hand wash or dry clean

Some loose surface soiling may be wiped away with a tightly wrung cloth. Do not soak or get overly wet.

May be suitable for dry cleaning

Use a tightly wrung cloth with light detergent
Accidents can happen if pets or small children reside in a home and the table runner is left in a laundry basket. Also, when decorating, writing, or working at the table, substances other than foodstuff may accidentally stain a table runner. Remember to consider the fabric being treated and be aware of mixed items where applique work has been used, as it might be a different fabric to the main design. When dabbing or flushing any article, it is easier to see progress if the item is blotted with a clean, non-colour transfer cloth, or kitchen roll, between episodes. Always check manufacturer's guidelines and recommendations for care and follow their instructions.
How to Find Table Runners on eBay
When visiting eBay, several filters refine searches as they are made. To find table runners, follow this search path to quickly find table runners. Starting on the All Categories page, click on Cookware, Dining & Bar followed byTableware, Serving & Linen and then Table Runners. Once on the page showing the listings for table runners, decide which features are desired and filter appropriately. For example, a table runner checked as cotton blend will return this page. To find an embroidered table runner, type the words into the search bar at the top of any page and click go to see what is currently on offer.
Conclusion
Table runners may sit permanently on a table as part of the decor and as such, may receive abuse or stains from activities at the table. Taking care of the table runner will guarantee longevity and the charts included have shown some simple tips on keeping them looking good even when accidents have occurred in situ or when stored in a laundry basket. Always follow manufacturer's guidelines and instructions when treating a table runner. Table runners are available in a range of materials. They may be patterned with embroidery, decoupage, and applique or printed in a variety of designs and colours. The best effect is to have an accent colour which the table runner picks up on, either through the colour scheme in the room or perhaps the dinner china being used. For special occasions, gold and silver bring a touch of glamour and can be made more glitzy with the addition of tea lights, floral arrangements, elegant crackers, and centrepieces with elements of gold or silver. Organza ribbons that team with a dominant colour are a great way to wrap napkins or decorate dining furniture. Plain table runners may be self-patterned through their weave or texture giving them versatility for a range of settings indoors or outside. They too will benefit from coordinating extras to make a table a designer's dream.