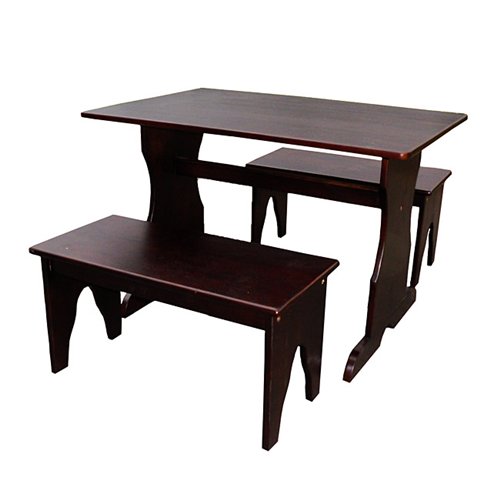 A table and bench set makes a compact and convenient solution to the need for family-sized dining spaces. Although the starting point for many people is indoors, in a dining room or a kitchen, a bench set is also a popular item for outdoor occasions like barbecues. They are also a familiar sight at beauty spots and picnic sites.
Typically, the style of a table and bench set is bold and rustic, which means that it can be expected to be resilient and durable in most circumstances. Another association, also referencing the idea of simplicity, is with the religious and scholarly lifestyle in which large-scale table and bench sets are used to furnish refectories. Perhaps a more unwelcome association might be with the communal dining areas of a prison.
This guide covers both indoor and outdoor table and bench sets. Because these items are normally made from wood, consideration is given to ethical sourcing of timber. Because they are bulky, there will be tips on local sources, including advice on how to make an improvised table and bench set.
Indoor Table and Bench Sets
When it comes to indoor table and bench sets, it is not unusual for items to come into most people's idea of a high price range, meaning in excess of a thousand pounds. These items are not unusual but nor are they commonplace or stereotyped. Instead, they tend to be hand-made and more importantly hand-finished, handcrafted items, and accordingly, they can be highly prized. While there is merit in keeping such items purely for ornamental use, there is no reason why they cannot be serviceable and functional, provided that care is taken to protect surfaces from hot and sharp items, which is to say, food and cutlery. A tablecloth and place mats do the job well and can easily be found on eBay.
For most people though, a more modest price range is appropriate. All the same, there are examples available at every price point down to the bargain basement. The same advice about general care of exposed surfaces applies although the value of the object has a bearing on how much attention should be paid to the matter. Additionally, in the middle price points, other materials besides wood are more common, and metal, glass, or plastic finishes can be expected to be much easier to keep and maintain.
There is one further consideration about indoor table and bench sets that tends not to apply to their outdoor counterparts. Often, they are designed to occupy spaces that might be called nooks, alcoves, or recesses. They might, as a result, be composed of a coordinated set of benches and chairs, which can be arranged to best suit the space.
Outdoor Table and Bench Sets
In the nineteenth century, the famous domestic authority Mrs. Beeton envisaged a picnic for forty persons provisioned as follows: "A joint of cold roast beef, a joint of cold boiled beef, 2 ribs of lamb. 2 shoulders of lamb, 4 roast fowls, 2 roast ducks, 1 ham, 1 tongue, 2 veal-and-ham pies, 2 pigeon pies, 6 medium-sized lobsters, 1 piece of collared calf's head, 18 lettuces, 6 baskets of salad, 6 cucumbers."There are another three paragraphs, but one thing she does not mention is seating accommodation: half a dozen table and bench sets would have been ideal.
Mrs. Beeton would undoubtedly have had plenty of servants on hand to carry them, but for most of us in the present day, this is a cumbersome and unwieldy item that is probably going to stay in the same place for the great majority of its useful life. The most common type of outdoor bench and table is not exactly a "set"because it is made in a single piece, with sloping legs that the benches are attached to. These are particularly unwieldy items, and are usually shipped in kit form for assembly at the location where the finished item can be sited and used.
There are, though, table and bench sets that are designed specifically for portability. They are usually separate with trestle legs that fold away when the units are to be stored or moved. Being light by design, this style is less robust than solid wooden models. That need not be a drawback, provided that weather conditions are favourable.
Wood Care
Wooden outdoor furniture periodically requires attention, not only to keep the weather at bay but also to protect it against fungal infection, woodlice, and the like. Ordinary maintenance involves washing down the surfaces, frame, and legs with warm, soapy water periodically. How frequently depends on variables, such as climate, setting, weather, level of usage, and so on. If the table is near trees, for example, then bird droppings might be a problem. Other things being equal though, a wash-down every month or two should be sufficient.
When more intensive care is required, washing down remains the initial step. After that, let it dry, and then rub down any damaged surfaces with medium to fine sandpaper. Once the damage has been attended to, wash down again, allow to dry, and then apply a treatment. If a paint finish is required on a previously unpainted table and bench set, then several coats are advisable: a primer, an undercoat, and at least one top coat. Otherwise, the wood can be treated with varnish or wood seal. Give the unit a good two days or more before using again so that the new finish can fully harden.
Ethical and Sustainable Wood
An issue that concerns many people when buying new wood products is the source of the wood. Is it ethically sourced, and is it sustainably sourced? The two issues are related but not identical. The concept of an ethical source is less about the welfare of the trees and more about the welfare of the workers involved in harvesting it in the context of broader economic and welfare issues in the developing world in particular.
The concept of a sustainable source, on the other hand, is about the welfare of the trees at a local level and of the biosphere at a global level. A sustainable source is a responsibly managed forest area where the rate of harvesting is managed in order that it does not exceed the rate at which the forest is being replenished with new growth. Much of the wood that is familiar in traditional British furniture, such as mahogany and teak, come from tropical rainforests that are difficult to manage responsibly for a variety of reasons. Scandinavian pine, by contrast, is responsibly managed and ethically impeccable.
Buying a Table and Bench Set Locally
Since table and bench sets are often bulky items, local vendors often suit buyers better than online alternatives. Home and garden stores are a reliable port of call for outdoor sets, and when an aging table requires attention, these are the places to go for the materials to effect a repair.
Turning to second-hand items, the traditional place to look would be the local newspaper. Nowadays, classified advertising is as likely to be found online. There are several trading sites that function more like classified ads than auctions in the eBay style. Alternatively, the major charities in larger cities often have a dedicated furniture shop where bargains can often be found.
Improvised Table and Bench Sets
One approach that can be fun is browsing for items that between them can make up a table and bench set. The types of shop likely to be helpful are the ones that stock clearances from old town houses and former public buildings. Sometimes, they are indistinguishable from antique dealers although their prices should be lower.
Buying Table and Bench Sets from eBay
To find table and bench sets on eBay, start with a search from the home page. "Table bench set &"can be expected to produce results for both indoor and outdoor items. Note that it is not necessary to include topic neutral words like "and"in your query. From the initial set of results, you can click on one of the categories that the results are sorted by, either at the top level, or on a sub-topic if one is specific enough to suit your needs. Alternatively, or additionally, you can choose one or more of the filters that enable you to refine your search by qualifiers, such as condition, location, price and so on.
While searching, you can mark items to watch. If something is in an auction, this is a handy way of keeping an eye on the price as the deadline approaches. If the idea of assembling an improvised table and bench set appeals to you, this is also a good way of keeping track of the elements you need.
eBay sellers also offer a range of do-it-yourself items that may come in handy when it is time to refurbish an old table and bench set. A home page search using a term such as "wood care&"should guide you to some relevant materials, while brushes, tools, sandpaper, and other necessary items can also be found quite easily.
Conclusion
A table and bench set can be a compact solution to the need for dining furniture. It can also be a stylish option on a larger scale, either in the form of a high craft showpiece, or else as a characterful, robust and rustic object of affection. Out of doors, it enhances a barbecue lifestyle while affording a surface that can be put to a variety of other work-related or leisure pursuits when the weather demands it.
Most table and bench sets are solid, durable, and made from wood. Wood is also a forgiving material that can sustain several refurbishments during its useful life. Modern buyers are often concerned about ethics and sustainability when buying wood products. Reassuringly, it is unlikely that a newly bought item will come from anywhere other than a well-regulated source. Older, and especially antique pieces, are more likely to have come from a source that would now be regarded with caution, but a buyer might well take the view that there is not much that can be done about that now. Maybe the best thing is simply to give the object a good home.