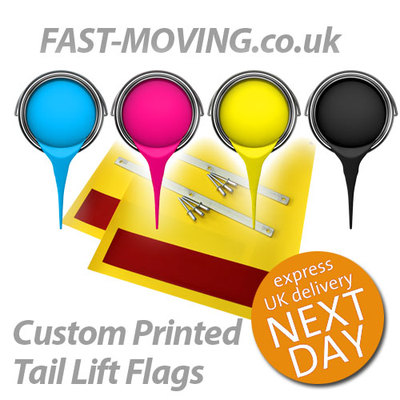 Tail lift platform marker and warning flags are used within the tail lift industry to show the sides of a tail lift platform that is being used.
Health & safety regulations state that tail lift platforms should be clearly marked to prevent personal injury to operators and individuals walking past the deployed tail lift system.
It is also a legal requirement that platforms are visible in low light conditions. Tail Lift Warning Flags offer offer a solution to this problem. As tail lifts are normally manufactured from steel or aluminium they can cause serious accidental injury.
Tail lift platform marker and warning flags are usually facricated from heavy duty UV protected PVC for maximum visibility and durability. They feature reflective strips, attached with adhesive with the PVC providing excellent durability in harsh conditions.
Warning flags are normally attached to the rear of vehicles with aluminium fixing strips. When the tail lift is not deployed the flags also offer great branding possibilities for tail lift repair agents or vehicle owners with the addition of a printed logo.
Adding corporate branding is simple - designs can be printed in single or multicolour formats directly onto the flag. We always recommend that vector source images are used as opposed to bitmaps as they can be scaled up and down with no loss of quality. Stationery designers and vehicle livery printers should be able to supply you with your logo in CMYK vector format. Common vector file formats include Adobe Illustrator, Encapsulated Postscript and PDF. Pantone colour can be specified where it essential that a precise colour match is required.
The industry over recent years has also started to embrace the use of tail lift platform and marker warning lights. There are various different products on the market and the added illumination provides increased safety benefits over conventional flags.
Some products incorporate sensors that trigger the illumination and/or flashing of the lamp when the platform is tilted. Whilst more expensive than flags, these lighting systems can prove to be very cost-effective in the long-run as they are a more durable alternative.
Fast-
moving
can supply a selection of tail lift flags and lamps suitable for use with products from different tail lift manufacturers. Please call us on 01733 558224 for further information.