Tamiya produces an extensive range of high-quality, authentic, exquisitely detailed remote control tank kits for you to assemble at home. These tanks are available in numerous scales, and from different countries and various conflicts and time periods. Tamiya RC tanks are great gifts for any RC model enthusiast, and knowing what options are available allows you to select the model kits that best meet your modelling preferences.
Tamiya RC Tank Scale Model Sizes
Tamiya remote control tanks are available in two different scales, 1/16 scale models and 1/35 scale models, with the 1/35 being the smaller of the two. The 1/35 models are the most popular choice for military remote control model vehicles because they allow for easy building and the insertion of motors and mechanical parts. Additionally, the most common human figures are 54 mm tall, and provide the ideal size ratio to accompany the 1/35 scale models.
German Tamiya RC Tanks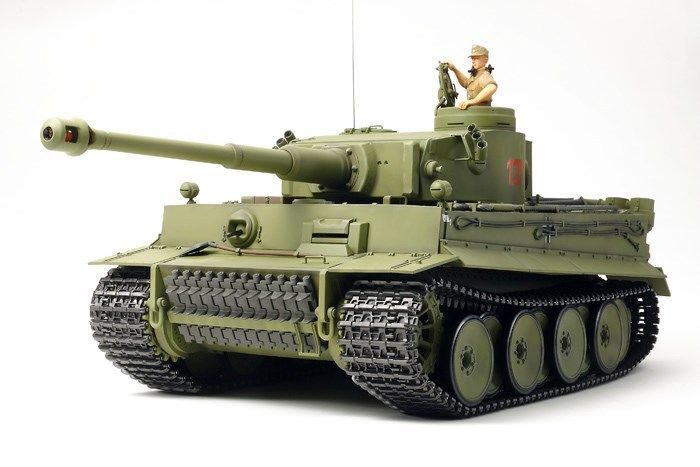 The German Tamiya RC tanks are among the most popular Tamiya models, and there is an extensive selection of both 1/16 and 1/35 models. The German Panzerkampfwagen IV, also known as the German War Horse, is a common choice, and features a moving upper gun turret which can complete a rotation in just 25 seconds. The turret gun elevates 12 degrees and depresses 5 degrees for realistic movement. This particular model operates four AAA alkaline batteries. When crossing different terrains, you can adjust the tension of the tracks via your remote control to get more traction on hilly terrain.
Russian Tamiya RC Tanks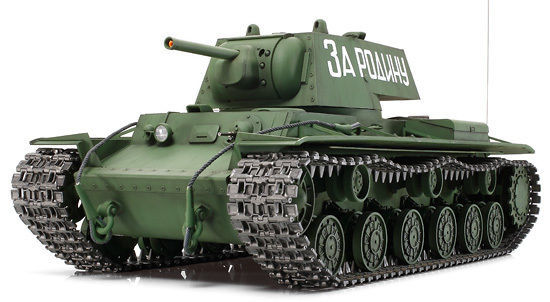 Measuring 44 cm in length, the Russian Heavy Tank KV-2 is a 1/16 scale replica of the tank in use during the Winter War of 1939. The KV-2 features a 360-degree turret rotation and realistic digital sounds, including engine noises from a digital recording of an actual KV-22. The drive sockets and suspension arms feature durable metal construction for a solid, long-lasting build. The gun features an LED light in the gun which flashes to simulate firing.
US Tamiya RC Tanks
A very popular model from the 1/35 Tamiya remote control tank range, the US MFA3 Sherman Tank measures 17 cm long. With full turret rotation and main gun elevation, the US MFA3 Sherman Tank also features realistic sounds, including engine sounds, weapon firing noises, and explosion sounds, for an authentic audio experience. The tank operates using four AAA batteries and boasts an LED light that flashes different colours to indicate the tank status during battle.