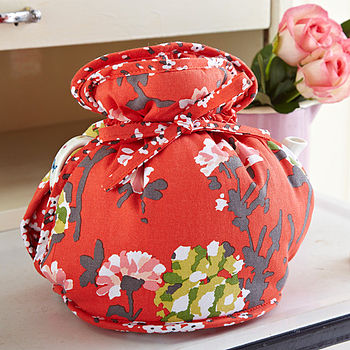 Fun and traditional, tea cosies fit snugly over teapots to keep the tea inside warm. They are an alternative to other methods of keeping tea warm, such as placing the teapot over a heated stand or a tea light and stand, or constantly refilling the pot with hot water. Tea cosies date from the mid 19th century and were originally used for afternoon tea, where pots were often required to be kept warm for long periods. Some tea cosies can keep tea warm for two hours or more. Tea cosies are also decorative items and may match in with other kitchen and serving linen. Many tea cosies are handmade.
Choosing Tea Cosies
Every tea afficionado knows that choosing the right tea cosy is a decision not to be entered into lightly.
Type
There are two basic designs of tea cosy. The first does not have any openings, is usually in the shape of a wide U or semi circle and covers the entire teapot. It is removed when the tea is poured. This is the best basic design for heat retention as there are no gaps from which heat can escape and steam in also retained. These tea cosies are especially suitable for occasions where the tea is poured infrequently. They often come in one size and the tea cosy does not have to exactly fit the teapot, although a tighter fit is best. However, they are slightly more inconvenient in that they have to be removed and then replaced when tea is served. This style of tea cosy is generally made with fabric and often quilted. The second basic design of tea cosy fits snugly over the teapot and has openings for the spout and handle. This is an attractive design that allows tea to be served without the need for removing the cosy, making them more suitable for occasions where tea is poured frequently. This style is often knitted or crocheted. There are variations on these two basic designs, including drawstring quilted tea cosies that have openings for the handle and spout. Other quilted tea cosies have a removable, washable pad inside the cover and/or removable bases. Many tea cosies are in novelty designs, such as the shape of animals or birds, and many have various decorative embellishments. Some ingenious designs incorporate parts that cover the spout, such as elephant trunks. Tea cosies might also be reversible, giving two different designs for variety.
Material
As diverse as the types of tea cosies themselves, the materials used to make them vary widely.
Fabric Tea Cosies
Fabric and quilted tea cosies are usually made of materials such as cotton, linen or cotton blends with a foam or polyester stuffing. Cotton tea cosies are usually machine washable and can be ironed on a warm setting, but always check the manufacturer's care instructions. Cotton polyester blend tea cosies are usually machine washable and can sometimes be ironed on a cool setting, though others are not suitable for ironing. Again, always check the manufacturer's instructions. Tea cosies with a more generous stuffing will have better heat retention. This style of cosy usually has a little handle or loop at the top to make removing the cosy safe and easy. Other features to look out for include a full lining and removable pads or pockets. Fabric tea cosies are available in various sizes, though specific cosies are often only available in one size. Typical sizes are 24 cm to 28 cm x 32 cm x 36 cm.
Conclusion
There are two basic designs of tea cosy. The first is U or semi circle shaped, fits entirely over the teapot and is usually made of fabric. The second fits over the teapot tightly, has openings for the spout and handle and is usually knitted or crocheted. There are variations on these basic designs. Typical materials include cotton and cotton polyester blends, wools including luxury wools, and acrylic. Other materials and embellishments include lace and embroidery. There are numerous styles of tea cosy available, from traditional to smart contemporary designs and from quirky novelty designs to beautiful handmade designs. There are also "make your own" tea cosy sets for crafters. Tea cosies are available in sets with matching items. The perfect tea cosy will bring charm and character to the table as well as carrying out the important function of keeping tea warm.