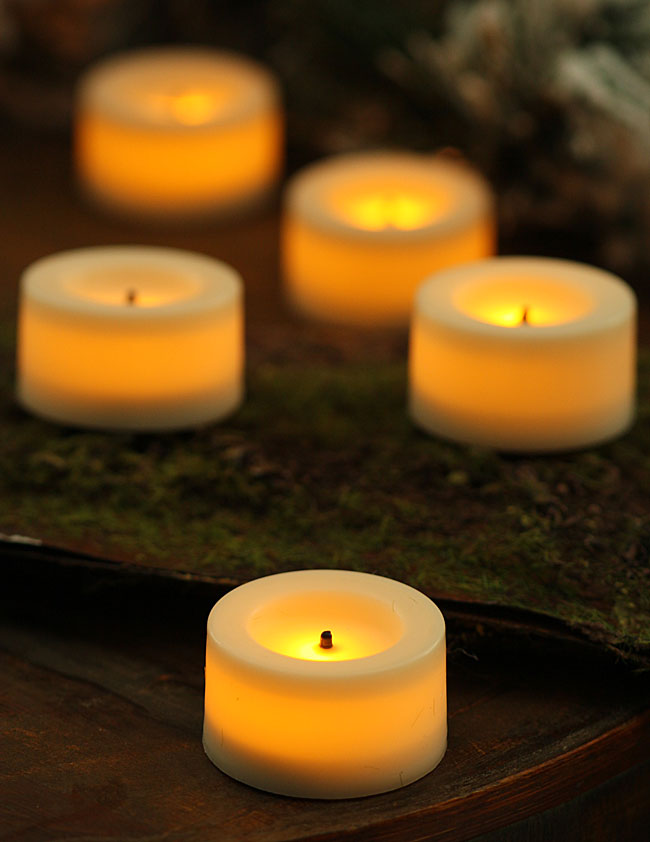 Tea lights are small candles that give off a soft glow of light. The name comes from their original use of warming a teapot. Tea light candles can be used alone or, often more effectively, in groups. Whether used for decoration, atmosphere, or more practical purposes, tea lights are an inexpensive way to bring natural light to a room. A standard tea light candle is approximately 38mm in diameter by 16mm tall. Some may be larger or taller, a few will be smaller, and others may be formed into different shapes. Tea lights should always be placed in a holder and should not be left unattended when lit.
Types of Tea Light Candles
Tea lights have an average of four hours burning time, although some will burn for longer. Tip: to extend burn times keep candles in the freezer. Most tea light candles are made from paraffin wax, but many are available in soya wax, beeswax, and even battery operated with no wax at all. Tea lights usually have either a metal or plastic cup so the wax melts freely, but some tea lights (such as floaters) are made without cups. Being small and inexpensive, most tea lights are sold in packs of at least four.
Paraffin Wax Tea Light Candles
Paraffin is the most commonly used wax for tea lights. Unless another type of wax is specified, it can be assumed that the candle is made from paraffin. Paraffin holds colour and scent well, and these standard tea light candles are ideal for all situations and decors.
| | |
| --- | --- |
| Standard white unscented tea lights. Tin cups. | Suitable for use in essential oil burners and for fondues. A group of lights can be used as a display in holders. These are generally the most inexpensive tea lights. |
| Standard white unscented tea lights in clear or coloured plastic cups. | Same uses as tin cup candles while offering more versatility for display. |
| Coloured unscented standard tea lights in tin or plastic cups. | Suitable for practical use and for display when colour is required. |
| Heart shaped tea lights in tin or plastic cups. Scented or unscented. | Attractive display for weddings or Valentines Day celebrations. |
| Flower shaped tea lights. Usually presented in clear plastic cups but may be tin. Scented or unscented. | Suitable for display. Can also be used for practical purposes. |
| Large cupped tea lights. Scented or unscented. | Often have a burn time of 8-10 hours. Suitable for a variety of uses. Citronella tea lights are particularly useful for keeping insects at bay. |
| Gift boxed standard tea lights. Scented or unscented. | Gift boxed candles often have clear plastic cups and may include a holder. Ideal as gifts or if wanting a holder to be included. Often have a longer burning time than budget tea lights. |
Soy (Soya) Tea Light Candles
Soy wax is considered, by some, to be more environmentally friendly than paraffin and releases scent evenly. Soy wax is a simple choice if wishing to make own candles. Soya tea light candles are nearly always scented, often heavily so. Burn times vary with four hours being the most usual.
| | |
| --- | --- |
| Multi coloured tea lights. | Usually sold in packs with clear (reusable) or tin cups. A wide variety of scents available. Scents are often matched to the colour of the candle, but this is not always the case. |
| Fragrance free soya tea lights. | White or coloured. Normally available in packs. Suitable for use in burners if liking soy wax, but not the scent. |
| Gift packed soy candles | Choose from a large array of scents. Suitable as gifts or simply for the home. |
Beeswax Tea Light Candles
Beeswax has its own natural scent, reminiscent of honey. Sometimes a candle maker will add additional complementing fragrances as well. Beeswax is known to be a natural air freshener. While beeswax tea light candles are readily available in the natural golden colour, other colours may also be found on eBay.
| | |
| --- | --- |
| Natural beeswax in tin cups | Often sold in packs of 6 or more. Suitable for general home use. |
| Natural beeswax in clear cups | Suitable for display. Cups are usually reusable. |
| Refill beeswax tea lights for cups | Place into clear cups. Sensible economy if already owning cups. |
| White or other coloured beeswax tea lights. Sometimes scented. | Good if enjoying the smell and eco-friendly benefits of beeswax, but looking for a different colour or scent. |
| Scented beeswax tea lights | Often vanilla based, but other scents may be found. Often handmade. |
Battery Powered (LED) Tea Light Candles
These candles are suitable for when wanting the ambience, and sometimes fragrance, of a tea light candle without the dangers of a real flame. Most LED Tea Light Candles come with a flickering candlelight affect. LED candles do not need to be placed in a container and do not need replacing.
| | |
| --- | --- |
| Colour changing LED tea lights | Make attractive displays for Christmas or other festive occasions. Usually sold in sets of 4, 12, or more. |
| Single colour packs | Readily available in white, though other colours are also available. Suitable for ambient displays of a single colour. |
| Scented LED tea lights | Vanilla is the usual scent used. |
Floating Tea Lights
Some floating tea lights will float alone while others come with containers to place them in. As a general rule, standard tea lights are too small to make and effective display in ponds or pools but they may be placed in larger lanterns or flower containers for a magical affect. Floating tea lights make an attractive display for table centrepieces in the dining room, living room or hallway. They can also be used in the bathroom to create a romantic atmosphere. Attractive wide dishes or bowls make a start for a display. Gems, coloured pebbles, flowers, and ribbons can also be used to create interesting bowl displays. A single tea light candle in a glass of water, plain or coloured, can also look beautiful and make interesting guest favours for weddings.
| | |
| --- | --- |
| Elliptical floating tea lights without a cup | Available scented or unscented in a variety of colours. Suitable for displays and weddings. |
| LED floating tea lights | Some require floating on a film place on the water while others are completely waterproof. Found in a variety of colours and pack sizes. |
| Shaped floating tea lights | Flowers, hearts, and water-themed shapes can be used in any display. |
| Holders for tea lights | A wide variety of shaped or coloured holders are available to turn standard cupped tea lights into floaters. Choose to suit taste, occasion, or decor. |
Accessories for Tea Light Candles
Holders and burners of all kinds can be found on eBay, or in other stores to display these sweet candles. Reusable cups for tea lights are also readily available and can be a good choice for budget minded shoppers who like to use tea lights often. If interested in making own tea lights, then find waxes, wicks, colourings, cups and fragrances in abundance.
| | |
| --- | --- |
| Tea Light holders | A vast array of holders can be found to suit every taste, room, and occasion. |
| Cups for tea lights. Clear, coloured, or tins. | A variety of sizes available. |
| Tea Light Candle Making Kits | Suitable if considering to make homemade candles. Instructions are usually included. Eco soya wax is readily available, as are standard paraffin wax kits. |
| Wicks for tea lights | Tabbed wicks available in standard and larger sizes. May be paraffin or soy prepped. |
| Waxes for tea lights | Available in a number of forms, sizes, and types of wax. |
Finding Tea Light Candles on eBay
Browers can begin in the candles and candlesticks section of eBay or directly enter tea lights in the search bar. Simply browsing through listings is an interesting place to start if not sure what to be looking for while using the search bar or side tabs may be more suitable if looking for something very specific. Be advised to look at shipping options. Free shipping, local delivery discounts, combined shipping discounts, and bulk buying are all options that are often available. It is possible to find both tea lights and holders from the same seller. If looking for large orders, such as for weddings or other major events, then make contact with the seller and ask questions. Few places provide the wide variety of tea lights that can be found on eBay.
Conclusion
Tea light candles are generally the most inexpensive of all candles and serve a variety of purposes. With four hours or more of burning time, at their most practical they can be a useful item in times of a power outage. At the other end of the spectrum, tea lights can create a warming or romantic ambience with scents tailored to suit any mood or occasion. Every home has a place for at least a few of these delightful little candles. Fortunately, they are easy to find on eBay.