Choosing Your Television
Whether you're after a full 3D cinema experience or a smaller 26 inch TV for the kitchen to cook along with Jamie Oliver, there is a television to suit all needs and budgets. We can match your requirements to the perfect TV with the specification that you want, ensuring an awesome viewing experience from the comfort of your living room. With so many choices and options, it's worth taking the time to read through our buying guide to understand some basics.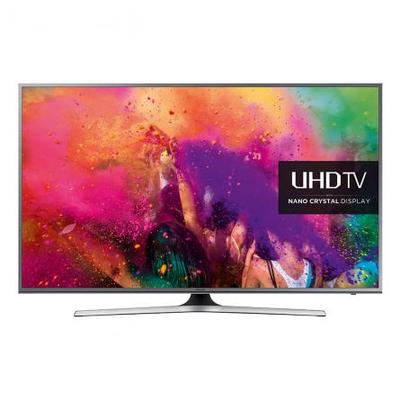 LED,LCD Or Plasma?
While LED (Light Emitting Diodes) TVs are the most common, LCD (Liquid Crystal Display) and Plasma screens are also popular. Plasma, LCD and LED technology refers to the way in which the image is projected onto the screen. Plasma TVs are completely flat and produce exceptional detail and vibrant colours by being lit 'at once' instead of scanned around the entire screen.
Whats the difference?
LED

LED TVs share much in common with LCD TVs, but instead of utilising a cold cathode lamp for the backlight, they use many low power LEDs (light emitting diodes). Because LEDs are tiny compared to traditional bulbs and use less energy they also tend to be much slimmer so can often save on space.



Plasma

The glass of a plasma TV screen is filled with minute pockets of gas behind each pixel, which are each superheated to produce light. They shine through coloured filters to produce the defined image on screen; one of the benefits that a plasma screen offers is the accuracy of colour and saturation.



LCD

LCD television screens employ methods to control each pixel in the display. LCD TVs are illuminated by a powerful backlight, which shines through a series of liquid crystal display (LCD) filters that are dyed red, blue and green. The crystals move to allow light through pixel-sized points to create the on-screen picture. There's very little real difference in image quality between LCD and plasma screens these days.
3D Televisions
3D Televisions

We perceive depth because the left eye and right eye each captures a subtly different image. The brain processes the two different images into a single image enabling us to perceive the world around us with a sense of depth. The principle behind 3D television is, in theory, relatively simple. Footage of the same image is recorded from two slightly different perspectives; either from two different cameras, or a camera with two lenses, the two different images are displayed and then shown to the left eye and right eye.



There are two types of 3D technology:



Passive

Much like the cinema experience, passive 3D uses polarising, non-powered glasses, which are cheap to buy and replace. This is great if you have a family, as the glasses can get broken by over enthusiastic youngsters!



Active

Uses more advanced technology, which requires the glasses to be powered to communicate directly with the TV. The TV synchronises the images with the glasses to ensure your eyes get the correct picture and arguably create the most intense 3D experience at the highest resolution.
Smart Tv
Would you like to get more from your TV? Do you want to use your TV for catch-up services like BBC iPlayer, or to view movies on demand? Would you like to organise your digital photos or download music? Then a Smart TV is for you.

Smart Televisions integrate the Internet and Web 2.0 features to provide a hugely interactive experience. Also known as connected TVs, Smart televisons provide features which include Web browsing; video-on-demand (e.g. BBC iPlayer) and video streaming via services such as YouTube, Love Film and Netflix; Internet radio from services like Rhapsody and Pandora; Social networking from sites like Twitter and Facebook; apps and games and many more. Smart televisions are also typically set with a sharing functionality called DLNA. DLNA certified TVs enable the sharing of movies, photos, music and similar multimedia content from other DLNA-compliant PCs, tablet computers, smartphones and similar devices.
Ultra HD- 4K
Ultra HD (UHDTV, 4KTV) – the very latest in TV viewing

Ultra HDTV (also known as Ultra High Definition / UHD / UHDTV / 4K / 8K) takes image clarity to a whole new level with pixel resolution that's four times sharper than its predecessors and the current high definition televisions in the market. Whether you're watching sports, movies or playing games, the viewing experience is amazing.

Currently there are 2 forms of Ultra HD, 4K and 8K; both have an aspect ratio of 16:9. 4K Ultra HD has a resolution of 8.3 megapixels, which is roughly equivalent to 4K cinema or 4 times the number of pixels in Full HD format. 8K Ultra HD produces an astonishing 33.2 megapixels, which is roughly the equivalent of an IMAX film or 16 times the pixel resolution of Full HD. It's not affordable for everyone, of course, but the 4K technology has been taken up by all the major manufacturers. This has meant a considerable amount of competition in a short amount of time and 4K sets are now a similar price to many Full HD TVs. With many more affordable 4K TVs being released upgrading makes sense.
Energy Efficiency
Energy labels help consumers choosing products which save energy and thus money. They also provide incentives for industry to research, develop and invest in energy efficient product designs.

90% of appliances now sold in the EU are in class "A" – the best existing class. However, new technologies would allow reducing by half the energy consumption of an A-class product. The EU has therefore decided to extend the scale upwards with three new classes: "A+", "A++", and "A+++" for products with a better than A-performance.



• Energy labels include the following information:

• Ranking of products according to their energy efficiency consumption on an A to G scale, the A class (green) being the most energy efficient appliances and the G class (red) the least. Once the majority of products in a certain category reach class A, up to three classes (A+/A++/A+++) may be added on top of class A (in that case, the colour of class A becomes yellow as green is always the colour of the best class).

• Annual energy consumption or energy consumption per cycle

• Other information which relates to the use of energy or other resources: e.g. water consumption, volume of the appliance etc.



Energy labels are mandatory for all appliances sold in the EU market.The Energy Labelling Directive facilitates the labelling of products so that the power consumption of one make and model can be compared to another, allowing consumers to make an informed decision that includes energy efficiency.