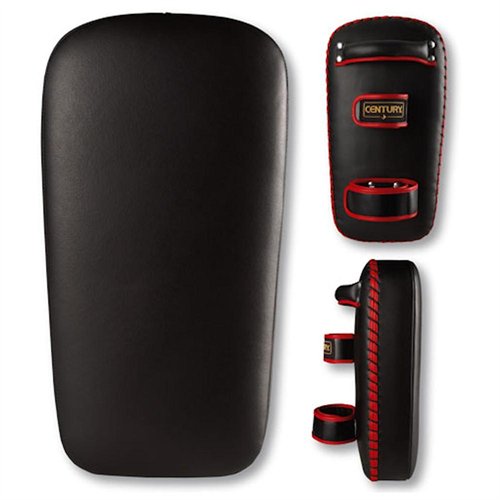 Thai kickboxing is combat sport that originated in Asia but has grown in popularity all over the world. It involves two opponents in competition against each other where various specialised techniques are used to win the fight.
For training purposes, different pads can be used to assist with striking technique. They fit on various parts of the body so combatants can practice varying kicks, punches, elbows and knees on a sparring partner or trainer.
For amateur Thai boxers from the UK who compete in the sport, there are a number of different pads available from a selection of outlets. One of these is eBay,, a site where both independent sellers and professional stores list their items. There are plenty of Thai kickboxing pads to cater for the UK market and available at low cost prices.
Thai Boxing: a Background
Kickboxing in Thailand is traditionally known as Muay Thai and is a massive part of the country's culture, both locally and nationwide. It is popular with both competitors and spectators alike due to its looser restrictions. All eight limbs can be used (arms, elbows, knees and feet) to inflict damage on an opponent, and the referee does not involve himself too much in breaking up the action.
As in traditional boxing, a win can be awarded via a knockout or technical knockout, as well as being decided on points. In this instance, the fighter who connects with the greatest amount of blows and shows a mastery of the striking techniques will determine the winner.
For those looking to get into the sport, a lot of practice is required before competitive bouts can be fought in. Thai boxing pads can help with this, in learning the various skills to strike an opponent and protect yourself when being countered.
Thai Boxing Pads
Due to the necessity to practice different striking motions, pads are needed to protect various areas of the human body. Thai pads are particularly thick and substantial; this allows the competitor to fully go for it in practice sessions without fear of hurting the trainer.
The table below highlights some of the main different types of Thai kickboxing pads:
| | |
| --- | --- |
| Type of Thai Boxing Pad | Description |
| Focus Mitts | A common and widely used Thai Pad, focus mitts are used on either or both hands of the trainer. Different techniques can be worked on, predominantly for punching. |
| Forearm Pads | The most predominant type of Thai pads are forearm versions, which are held in the hand and down the forearm. They can be used in numerous ways to practice kicking and punching. |
| Thigh Pads | To practice kicks to the thigh area, larger thigh pads can be utilised by the trainer and provide a big surface area for combatants to aim for. |
| Low Leg Kick Pads | Different kicks are used in the sport, so practising mid to lower leg-kicking drills can be used with these types of pads. They are often uses in pairs, so alternating blows can be achieved. |
| Shin Pads | Whereas shin guards can be used in actual Thai boxing matches, shin pads are used for training purposes. They are designed to curve around the shin for maximum protection. |
| Belly Protector | Belly protectors can be used to provide a big surface area to hit, geared towards training up knees as well as kicks. Sizing is perhaps more important when coming to buy belly pads. |
Specifics of Thai Boxing Pads
There are further aspects to consider before buying certain Thai kickboxing pads. As well as the body position where the pads will be placed, also look out for the following things:
Size
For trainers or instructors who regularly use Thai pads, the sizing of them is crucial to get right. This applies more to belly and thigh pads that can fit completely differently on heavier and lighter people. Sizes should be displayed in terms of their length, width and sometimes depth. There are often small, medium and large options to suit most people.
Quantity
The vast majority of Thai pads will come in pairs, but make sure to check, especially when buying on a site like eBay that this is the case. If being sold individually, check if the pad has been manufactured for a right or left sided person.
Design
Many pads are shaped in a curved manner, which can help trainers position them during routines. The curvature also provides more of a target for fighters to strike, and sometimes target logos are incorporated into the design to make this more achievable.
Materials
The material used for a Thai pads' exterior is usually leather , and the interior is commonly foam. Synthetic materials are also commonly used to make up the padding for which fighters will strike. The key aspect is for both trainer and combatant to feel comfortable but protected too. Pads that are soft and have plenty of cushioning are preferable.
Colour
There isn't really any limit to the colour of the pads to go for; it won't have any effect on training but many can be sought out in regards to personal preference. Many are commonly found in traditional blacks, reds and blues.
Straps
Velcro is the predominant method of fastening pads to the body, with some straps having hook and loop technology to make them fit tighter around the arm or leg. They should provide quick and easy access but feel comfortable when fitted; double-straps can assist with this.
Brand
There are a number of manufacturers who produce Thai pads at a high-level. Which one to go for can simply come down to personal preference instead of a difference in quality. The leading brands include Gel, Twins, Sandee and RDX .
Cost
The price of investing in Thai kickboxing pads can vary due to a number of factors such as the type of pad, size and materials used. Some hand-focused mitts can be found for under £15 , whilst a pair of forearm or thigh pads should cost no more than £100. If buying on eBay, especially if using the auction buying format or prepared to buy a used pad, they can sometimes be acquired for much less than the market average.
Buying Thai Kickboxing Pads on eBay
- Although growing in popularity, Thai boxing isn't the most popular martial arts sport in the UK. Because of this, sometimes finding sport stores which sell specialist Muay Thai pads can be difficult. Buying online eliminates this concern, especially as many are listed on eBay on a regular basis by numerous sellers.
- Some professional sports and fitness outlets use the site to sell their goods. They will undoubtedly provide a lot of information about the pads and their specifications. For independent sellers, moving on second-hand goods then take more care reviewing the description and ask questions if necessary.
- If looking to find some Thai kickboxing equipment on eBay the next section will explain further how to bring up some suitable items that can eventually be bid on.
Conclusion
Thai boxing is a growing pastime in the UK where many competitors will train on a regular basis, either for fitness reasons or to progress professionally in the sport. During this process, special Thai pads are needed to provide a comfortable and useful way to practice striking an opponent.
Pads should be as secure as possible for both trainer and fighter in terms of fitting comfortably onto the body, and should provide a high level of shock absorption when struck. Choosing the correct size is important when coming to buy, so research the items that are available on the market.
Shopping online will provide more choice to potential buyers than on the high street. eBay in particular has an abundance of Thai kickboxing pads for all areas of the body at some potentially low prices.