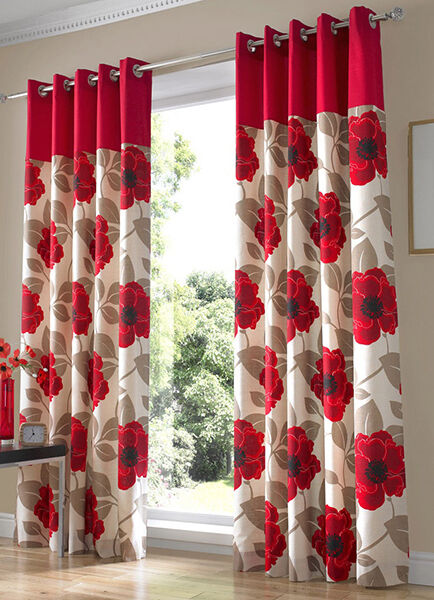 Curtains offer both function and style to a room, and can be found in a wide array of styles, materials and designs. Curtains can offer privacy, decoration and light limiting for sleep, while purely decorative options are also available, and can be paired with net curtains, blinds or used alone. Many people choose to purchase readymade curtains, which are an affordable choice, though care must be taken to ensure they properly fit the intended window, while some pay more for custom made curtains.
A good alternative can be to make a pair of curtains, and this can be a cost effective choice if a person has the time. Making a pair of curtains offers the chance to match curtains precisely to your needs, both in the size of the window, and style and materials. There are a number of essential tools for making curtains, and these can all be found on eBay.
Tape Measure
* A simple but essential tool, the tape measure is invaluable in all kinds of fabric work, as well as other D-I-Y tasks.
* Retractable tape measures are available, which offer convenience by quickly reeling in the tape measure into a small container.
* Tape measures can be found which feature metric and imperial measurements, or both, meaning that it is possible to find a tape measure which meets any particular needs.
* Telescopic measuring sticks can also be useful for curtain making. These larger tools can be an effective way of quickly measuring a window for curtains.
* Set squares can also be useful for some of the measuring that is required when making a pair of curtains.
Cloth Markers
* Cloth markers are pens, often soft tipped, designed specifically for use with marking fabric for cutting.
* These often feature bright, bold colours, meaning that any drawn lines can be easily identified against coloured fabric, minimising the chance of accidentally cutting incorrectly.
* Cloth markers are affordable and often available in large sets featuring an array of colours.
* Some cloth markers feature erasers, which mean any errant lines can be removed before the fabric is further worked with.
Table Clamps
* When working with large sheets of fabric, table clamps can be a highly useful tool.
* These tools can be used to clamp down the corners, or other parts, of a piece of fabric to keep it still and flat out, making working with it much easier.
* Table clamps can feature a variety of different designs and materials, including wood and different types of metal, and some are available which are specifically designed for certain materials, such as wool.
Staple Gun
* While making curtains, it can be necessary to staple parts of the fabric and for this a staple gun is needed.
* Staple guns are widely available and can offer a variety of features and designs, for example staple guns which feature handles designed for additional comfort.
* Manual staple guns require the user to press in a handle in order to push a staple into the fabric.
* Also available are electric staple guns, which can make the process of stapling fabric much faster and more efficient, though are often more expensive.
Staple Remover
* When making curtains, or other projects which involve working with fabric, it is often necessary to eventually remove staples. A staple remover is a highly useful tool for this, as well as removing errant staples.
* Staple removers offer the ability to remove staples quickly while removing or reducing the risk of damaging or tearing the fabric or other material that the staple has been placed in.
* Smaller staples featuring a hinged design are available and often used for paper products, while those designed for use with fabrics are often larger, and feature a bigger handle.
Glue Gun
* Glue guns are highly useful tools for curtain making, as well as all kinds of projects which require working not only with fabric, but other materials as well.
* Glue guns are generally electrically powered, and heat up glue to soften it before it can be applied.
* The design of the glue gun often ensures that the glue can be easily and accurately applied, and many glue guns feature a comfortable pistol grip design.
* Glue guns can be easily refilled with glue gun sticks, which are affordable and widely available.
Safety Cutter
* A safety cutter is a kind of knife that is highly useful for crafts, curtain making and working with fabric in general.
* Designed with an emphasis on safety, these cutters feature a blade that is almost fully enclosed, along with a blunted end.
* Many safety cutters feature a retractable blade, meaning that the blade can safely be stored into the handle when the cutter is not in use.
* Rotary safety cutters are also available. These feature round, rotating blades which can make cutting large pieces of fabric a smooth and effective process.
Tracing Wheel
* A tracing wheel can be a highly useful tool for making curtains and sewing fabric, and is particularly useful for outlining patterns.
* Tracing wheels consist of a handle and a rotating wheel, which can either be smooth or feature metal teeth. The wheel is used to delineate where the fabric needs to be sewed, and will often perforate the fabric to aid in this.
* Tracing wheels can be used with or without tracing paper, upon which a pattern may be drawn.
Thread Snips
* Thread snips are useful for all kinds of sewing and embroidery.
* They are similar to scissors, with smaller blades and much longer handles.
* Thread snips are highly useful for cutting off loose ends of thread, a task for which fully sized scissors can be too cumbersome.
* A wide range of thread snips are available, featuring different materials and handle designs.
Stitch Ripper
* Stitch rippers feature a hooked end which is useful for unpicking stitching, which can be invaluable to undo any mistakes.
* Stitch rippers are available in different sizes. Very small, easily stored away stitch rippers can be found which often include claps which cover up the hooked end in a similar way to that of a pen.
* Larger stitch rippers are also available which feature larger handles which are often designed ergonomically, and can increase the comfort and ease of use for the user.
Scissors
* Scissors can be useful for a wide range of tasks in curtain making as well as all kinds of other projects.
* Scissors are available in a range of sizes and shapes, and can be useful for cutting tracing paper, threads, and other materials.
* Specifically designed fabric scissors are available. Often large in size, these scissors are designed to cut through fabric without causing it to fray, though should not be used on other materials as this can dull the blades.
* Embroidery scissors are useful for embroidering, with smaller blades that allow for precision cutting which can be needed for delicate embroidery.
* Embroidery scissors often feature very small, curved blades with sharpened tips.
Pattern Hooks
* Pattern hooks can be useful if a number of pattern pieces need to be kept together.
* Pattern hooks are often made out of wire, and are used to hold together pattern pieces, particularly if large numbers of the same pattern are to be used.
* These hooks are available in a number of different sizes, and can feature a variety of designs, from simple to more ornate.
How to Buy Tools to Make Your Own Curtains on eBay
There are many different tools that are useful for making curtains, as well as a range of other fabric and D-I-Y projects, which can be found on eBay. Many of the tools needed for curtain making can be found through the Sports, Hobbies & Leisure portal, in the Crafts category. Other tools can be found under the Hand Tools section, in Business, Office and Industrial.
Items can be arranged by categories such as price, condition, distance to seller and type. The Auction and Buy it Now buying options are also available, offering flexibility in how curtain making tools can be purchased.
Key information about a tool is often prominently displayed in the item listing, making it easy to quickly see if it meets any specific requirements. Further information is accessible on the item page, including information about the seller such as feedback ratings and item reviews. This helps to ensure that a purchase can be made with confidence. If any further information about an item is needed, it is also possible here to ask the seller a question.
If a specific tool is required, it may be easier and more effective to make use of the search function available at the top of every page. Searches can be made to return results from within a specified category, or from across the site. Further information on getting the most out of the search function can be found on the Search Tips page.
Conclusion
Making a pair of curtains can be a rewarding and cost effective way of decorating a home. Curtains can be made out of a range of different fabrics, and can offer an enormous variety of patterns, styles and designs.
Curtains can be made to complement the style and decoration of a room, as well as to block out light, and can be used alone or in combination with blinds or net curtains. A wide range of curtains and the tools needed to make them can be found on eBay.