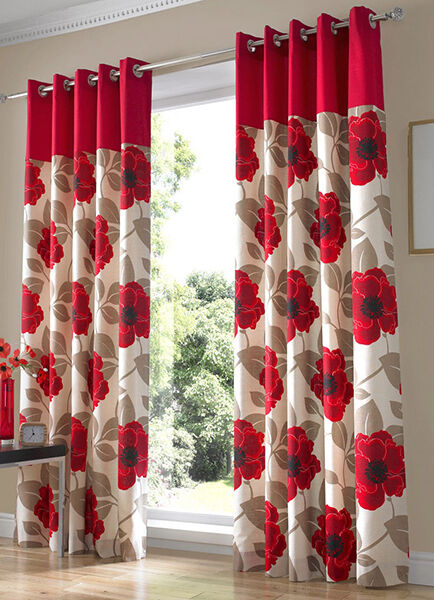 When making curtains, one needs to choose a fabric that is suitable to both the style of the room, the other furniture in the room and the colour scheme of the room. Whilst some rooms may look better or may require a heavy type of curtain, others are best suited to light, flowing curtains.
There are many different types of curtain fabric that can be considered to be light to touch; and they come in a variety of weaves, colours, patterns and designs. All of these different types are available from the likes of eBay at sensible and affordable prices.
Due to the fact that there is such a variety in the light curtain fabrics that are available, there are also a number of benefits that will be explained further in this guide that aims to help prospective curtain fabric buyers with the buying process.
Types of Light Curtain Fabric
The benefits of light curtain fabric range from fabric to fabric. With some fabrics offering the opportunity for light to get into the room through their sheerness, others provide a soft touch to a room that may require such a design quirk. Here are some of the more popular types of light curtain fabric and the reasons as to why they can be beneficial to a room:
Types of Light Curtain Fabric

About and Benefits

Silk is a fabric that is extremely popular in the upholstery of curtains and is very much appreciated for its lightness. There are a number of silks that are suitable as curtain fabric.

One of the lighter silk curtain fabrics is a silk called Dupioni. One of the advantages of this type of silk is that it is very well suited to being dyed. Therefore its colouration can be easily changed to suit the design of the room it is being used in.

Another benefit of using silk as a curtain fabric is that specific kinds of silk are produced with patterns and prints already woven in. Despite the fact that other curtain fabrics are able to have patterns weaved in, silk is woven in a way that the pattern weaving does not affect the weight of the fabric. This type of silk is commonly known as Jacquard silk and is readily available on fabric selling sites such as eBay. One of the lightest types of silk is chiffon and it is widely used for the fact it is made with a considerably more relaxed weave than other silks and thus allows for the transmission of light through the fabric.

Linen

Linen is appreciated as a light curtain fabric for a number of reasons. Firstly, it is well suited for both heat insulation, as well as keeping rooms cool. The natural weave of linen means that it is best suited for rooms that get a lot of sunlight in the summer and those that require added insulation during the winter. Despite its insulating qualities, linen is still light and weightless when compared to other synthetic materials used in curtain upholstery. Linen also provides a gentle touch to a room that may require it, yet is subtle in the way that it does this. It is not so light that it is flimsy and unable to have any affect, yet it is still not overbearing in the sense that it is heavy and dull.

Polyester

Polyester is another type of fabric that is light and serves well as a material used in the upholstery of curtains.Polyester curtains are often mixed with cotton, however there is curtain fabric available that is 100% polyester. It is a synthetic material that is appreciated for many reasons and has a lot of practical benefits.

One of the benefits is that it is easy to clean. This is due to the microfibres used in its manufacturing process. Stains are easily gotten rid of with a warm temperature wash in the washing machine and dust can be shaken out without hassle. Polyester is also extremely durable despite being a light fabric. This is a useful property in households that may be lived in by children or pets and for those who wish to make curtains that will last a long time. Finally, polyester is also considerably affordable compared to both man made light curtain fabrics and other, heavier curtain fabrics.

Viscose

Viscose is a fabric that is used regularly due to its light and soft nature. It is a natural cellulose that can be spun with other fibres to create a fabric that is close in fineness to that of silk. Furthermore, it is appreciated for the fact that it can be dyed easily and bright, bold colours can be the result of this. Viscose is also well suited to being printed on, all the while not losing its flow. Due to the fact that it is so light, it lets a lot of light through. However, a lot of viscose curtains are lined with other fabrics to prevent this from happening. Viscose is also a popular fabric used in curtain lining as it is so light and can be dyed to suit many different colours and patterns.
Benefits of Light Curtain Fabric
With these fabrics in mind, here is a clear list of the benefits of light curtain fabrics:
· Light Allowance: Most light curtain fabrics are celebrated for the fact that they let a certain amount of light in. However, some light curtain fabrics are lined with other similarly light fabrics to prevent light from entering the room.
· Maintenance: Light curtain fabrics are easily looked after. They tend to be easily cleaned and are often water resistant. Whilst some lighter curtain fabrics may crease, they are easily ironed.
· Easily Dyed: Lighter fabrics used in the upholstery of curtains are suited well to being dyed a number of different colours. A synthetic light curtain fabric is an easier process than printing on heavier fabrics.
· Flow and Drape: Light curtain fabrics allow for an elegant flowing affect and they drape well. This is beneficial to those who wish to make curtains for long windows.
Buying Light Curtain Fabric Considerations
· Type of Curtain: One of the most important factors in deciding which light curtain fabric is the most suitable is by knowing which type of curtain the fabric of choice is most suited to. For example, a viscose fabric may not be suitable for a curtain that faces a lot of direct sunlight, but it may be suitable as a curtain for a window that allows the circulation of air into a room. A benefit of one light curtain fabric may be undermined by another of its properties.
· Fabric Size: When buying light curtain fabric one should acknowledge the fact that it may not be as robust as heavier fabrics. This can affect the cutting and sewing of the fabric whilst making the curtain. With this in mind, it is always best to purchase more fabric than is necessary for the size of the window to allow for mishaps in the upholstering process. In saying this, certain blends of polyester are well suited to the sewing and cutting process due to their tough nature; this being yet another benefit of some light curtain fabrics.
· Fabric Cost: Fabric is usually measured in metres. When measuring the window that the curtain is to be used on, note its width and length in metres to be sure that the correct amount of fabric is being purchased.
· Room Design: The purchase of light curtain fabric should also be based on the rest of the room it is being used in. Take into account the colour of walls, fittings and furniture to ensure that the fabric being upholstered does not clash with the aesthetic of the room. However, one of the advantages of certain types of light curtain fabric is that they take well to being dyed so this may not be as important a consideration as when purchasing heavier curtain fabrics that do not dye as suitably.
Conclusion
There are a whole range of benefits to buying light curtain fabric. These can be that it is easier to dye, much easier to clean and is extremely well suited to allowing the circulation of air in a room with an open window or letting light in if necessary.
It is worth noting that a lot of light curtain fabrics perform their functions best with a lining so the purchase of a fabric suitable for a lining may also be required.
If one is looking for an elegant, soft touch to add to any room of the house, light curtains are the most suitable. Their very nature allows for easy maintenance, as well as being aesthetically pleasing.