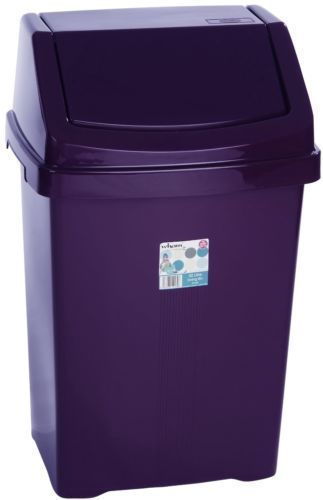 Buying a bin need not be a complicated process. Whilst there is a large variety of rubbish bin available, such as waste paper or kitchen, if one is in the know, the buying process can be both simple and secure.
There are bins that are designed to only be appropriate for use for certain types of refuse or a specific room. These varying types of rubbish bin can be easily found and purchased on auction sites, like eBay, that provide listings specific to the rubbish bin that is desired.
Due to the variety of bins available, there are a number of dos and don'ts that come with the buying process. For this reason, the following guide aims to take prospective buyers of rubbish bins through these dos and don'ts, as a means of making the procedure as easy and as efficient as possible.
The Dos of Buying a Rubbish Bin
Do Take Size into Consideration
Firstly, when buying a rubbish bin, the size of the bin should be high on the list of priorities. With rubbish bins coming in a variety of sizes and shapes, the choice available on the market is extensive.
One should always look to buy a bin that is relevant to the amount of rubbish to be stored inside before collection or recycling. An example of this would be a kitchen bin. Kitchen bins are bound to collect a higher amount of rubbish than the likes of a simple waste paper bin placed in a living room.
Kitchen bins often come with the ability to carry higher amounts of refuse, as they are generally larger in size. A typical kitchen bin has a volume of anywhere between 25 litres, all the way up to 50 litres.
In another room, for example an office, a waste paper bin may be more appropriate, as it smaller in size and volume and does not take up as much space. This means it can be placed in a variety of different positions around the room.
Do Buy a Bin Suitable for its Refuse
Another must do when purchasing a rubbish bin is to acquire one that is suitable and appropriate to the type of rubbish that is going to be placed inside of it.
The type of rubbish that is to be thrown away varies from room to room; hence the buying of a bin should be done so in accordance to this.
Again, a kitchen bin is a good example. Kitchen bins will be used for the storage of refuse such as food and wrappers. The likes of a waste paper bin or bathroom bin would not be suitable or hygienic for this type of refuse.
Therefore, a suitable bin for a kitchen would be one that is big enough to carry large amounts of food waste and packaging, prevents odours from leaking out, as well as ensuring that the hygienic standards of the room are as high as possible.
A way of making this possible is by purchasing a bin with a lid. There are different types of lid available for bins:
· Foot Pedal Lid: This type of lid is opened using a foot pedal at the bottom end of the bin. It maintains hygienic standards as its design means that users do not have to touch the bin with bare hands, and it also closes quickly to prevent odours from spilling out to the rest of the room. There are many foot pedal bins available in a number of sizes and volumes.
· Snap-Lock Lid: Bins with lids of this nature are those that have lids that are able to be locked shut. This can be to the advantage of the owner as it causes a tight seal between the rim of the bin and the lid, meaning that smells cannot escape. Lockable lids are also useful on bins that are stored externally as they prevent rodents from reaching the refuse that they may see as food.
· Swing Lids: Swing lids are much like foot pedal lids in that they allow for easy access and throwing away of rubbish whilst also making sure that hygiene is a priority. Lids of this ilk can be swung open with a small amount of contact to enable owners to throw away refuse quickly, efficiently and hygienically. Swing lid bins are popular for use in the likes of kitchens, as well as being commonly used in bathrooms.
The Don'ts of Buying a Rubbish Bin
Don't Buy a Bin Based on its Appearance
Whilst there are a number of bins that are stylish in their design and aesthetically pleasing to the eye, this should not be a priority when planning to purchase a rubbish bin.
The design and style of the rubbish bin should only be considered once a bin has been found that is both suitable for the room in question (in terms of size and volume), as well as one that is suitable for the type of refuse that is going to be stored in it (more specifically for hygienic reasons).
Once a bin that meets a buyer's hygiene requirements has been considered, there are plenty of options available that are made with their aesthetic in mind.
For example, there are coloured bins with designs ranging from printed patterns to bold, bright colours. There are also bins available for purchase that are antique in design, as well as there being bins that can be purchased that have a modern aesthetic.
Don't Buy a Bin of the Wrong Material
There are a number of different materials used in the making of rubbish bins. These materials are often only best suited to certain types of refuse and rubbish. Here is a table determining the more commonly used materials in the manufacturing of bins:
| | |
| --- | --- |
| Bin Material | About |
| | Plastic bins are commonly used in households and offices. They are light and can come in a variety of different styles, colours and lid styles. They are suitable for use in kitchens and bathrooms and can be lined with a refuse bag or plastic bag as a means of maintaining hygienic standards. Another popular use of plastic bins is as externally stored bins that are kept outside. Recycling and wheelie bins are generally made from plastic. Plastic bins can also be cleaned out easily, and for this reason they are widely used and appreciated. |
| Steel | Steel is also another material used frequently by rubbish bin producers. They are used most popularly in kitchens, as they are robust, strong, and able to hold large amounts of rubbish. Steel bins tend to also be appreciated by those who enjoy their modern aesthetic. Bins made from steel are available with the lid styles mentioned earlier in the guide, yet most commonly have foot pedal lids. There are also waste paper bins available that can be made from steel and these are popular in offices and in rooms throughout homes such as living rooms or bathrooms. |
| Wicker | Whilst not as commonly made and purchased as plastic or steel rubbish bins, there are bins available that are made from wicker. Bins of this material are recognised for their light weight, as well as being used by those who appreciate their design. Wicker bins are best used in living rooms or offices, as waste paper bins. It is recommended that wicker bins should not be used in rooms like kitchens, because their design means that they are not very well suited to preventing odours from leaking out, as they tend not to have lids. Wicker bins are also hard to clean, so any refuse placed in them that leaves leftover debris cannot be easily cleaned off. |
Buying a Rubbish Bin Online
When buying a bin online, there a several things one can do to make the buying process is as affordable and easy as possible.
There are a number of online retailers that sell furniture fittings, including bins, which can be browsed for ideas.
These sites can also be used as a means of understanding the prices that are usually paid for these rubbish bins. By comprehending these average prices, one can then go on to be able to spot some reasonably priced bargains.
Buying a Rubbish Bin on eBay
Once an understanding of prices and types of rubbish bin available has been gained, one can visit an auction site like eBay to purchase their desired item in a secure and potentially inexpensive environment.
To see eBay's rubbish bin listings, visit the Home and Garden or Home, DIY and Furniture categories of the site. From here, click the Cleaning, Laundry and Vacuuming link and choose the Waste Bins and Dust Bins filter tab. To narrow the search even further, one can make use of the filter tabs to isolate results according to material, capacity, colour and condition.
The buying options available on eBay also offer a personal and secure buying experience. One can place a Bid, make a Best Offer or buy the product immediately at a Buy It Now price, all via PayPal.
Conclusion
With all of this information in mind, the buying of a rubbish bin can be done simply and securely, and at an affordable and sensible price.
Always remember:
· It is recommended that a bin should have a lining from either a rubbish bag or a plastic shopping bag (for waste paper bins), as a means of easily removing waste.
· Even if a bin has a lining, it is wise to regularly clean the bin to avoid any odour or mould issues. This can be done simply with warm water and soap.
· A bin should also be regularly emptied to avoid an overflow of rubbish and a compromise of hygienic standards.
Remember to be clear on eBay and PayPal ' s terms and conditions before making a purchase.