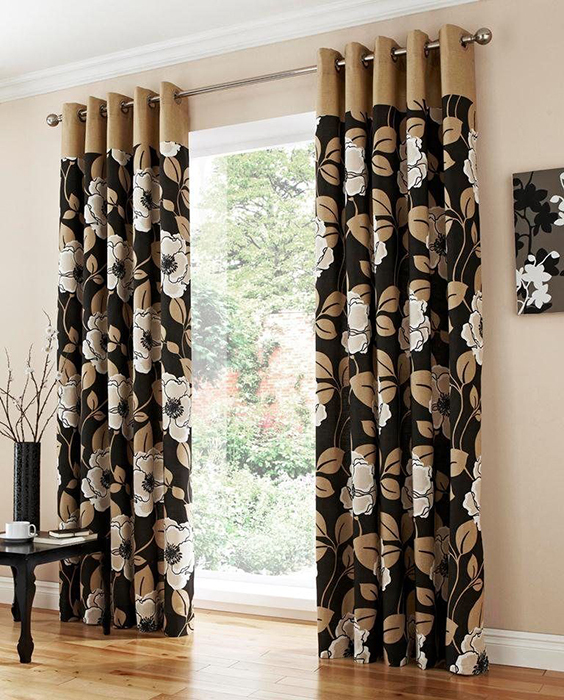 Curtains are a tailored piece of cloth that is used to block sunlight from entering a room. They are predominantly used at night as a means to darken a room. For such purpose, there is no better choice than a dark fabric. Curtains are an important part of the home and feature in most rooms, so it is crucial to get the choice of curtain fabric right.
Constructing a set of curtains is a detailed process and those doing it should always bear material quality, cleanliness and dust retention in mind. Material and fabrics can be a bit of a minefield to navigate through, but this guide is here to make the shopping process easier. The world's leading textiles retailer is no longer a high street store, it is eBay, and shoppers will be sure to find all they require and more on the world's leading online auction site.
Varied and Versatile Appearance
The key element of any set of fabric curtains is its appearance. So when it comes to creating a custom pair, design should always be taken into account. Style is a personal preference, so try to understand the décor of the room before selecting a material to use.
* Those looking to create a vibrant set of curtains should opt for something that places focus on something pattern based.
* Curtains that are for use in a children's room should be strong. Always opt for a fabric that has a high build quality and is preferably tear resistant.
* The bedroom is a room intended for sleeping; people do not wish to be disturbed at that time. Blackout fabric will block out light even on the sunniest day.
* Curtains can also make a great substitute for an interior door. If this is something you are attempting, it's best to go for the heaviest dark curtain fabric available.
* Thickness and weight are two elements that need to be considered before purchase. They stand for durability, but can be strenuous on a weak wall or flimsy rail.
Curtain Lining
Curtain lining can make or break the décor of a room. Dark curtains are the fabric of choice, but the lining they feature is all about personal preference and what is required of them. There are four different types of curtain lining to choose from, each have which has a variety of attributes.
| | |
| --- | --- |
| Lined | The main benefits of creating a set of lined curtains is that they can block unwanted sunrays, while also helping keep out cold draughts. The lining provides an important extra layer to the fabric, which protects the colour from sunlight saturation. Lined curtains are known for how well they hang and their manoeuvrability. |
| Unlined | Perfect for the summer months, as it provides sun protection whilst being light in stature. It allows air to flow through a room, and can help lower a room's temperature in a non-invasive way. They are low maintenance and can be cleaned using a household washing machine. |
| Polycotton | Created using a balanced combination of cotton and polyester. An economical option that fits into any room. Effective at maintaining temperature in both warm and cold environments. |
| Thermal | They are as thick (and usually dark) as any curtain fabric gets. Built to provide maximum heat retention, and will help retain cool conditions during the summertime. Surprisingly cost effective and is a smart way of lowering energy bills. |
Tailoring Possibilities
Dark curtain fabric is the number one choice for curtain material. It can be purchased by the meter and provides an excellent opportunity for tailoring. This allows shoppers to create a set of curtains that are tailored to the nearest millimetre. When it comes to dark curtain fabrics the opportunities are endless.
Purchasing curtain material from eBay means that you have a wealth of options at your fingertips. Using what is on offer will allow people to create a pair of curtains that is exactly what they envisage.
Professional services are available that can tailor a set of curtains to your exact vision. They take the hassle out of curtain making. However, such luxury does come at a fee.
Burgeoning Used Market
New and used fabric does relatively the same thing; this means that the right curtain fabric for your home is never out of reach. Even though buying used is a financially viable option it isn't a foolproof process. Shoppers will need a cautious eye when buying used curtain fabric. Always question a seller to make sure that you are getting a quality piece of fabric, and at the best value for money. Questions to consider include:
* How much material is for sale?
* From where on the roll is it cut from?
* How has the material been stored?
* Are the edges of the material frayed?
* Was the material originally purchased used or new?
Simple to Maintain and Clean
Dark curtain fabric care is simple, the dark nature of the product means that stains and markings don't show all that much. When it comes to cleaning them it couldn't be any simpler. All that is required is the following household items along with a little bit of time and effort.
* Soap
* Detergent
* Ironing board and iron
After acquiring the aforementioned items, take the following steps. Collectively they will restore your dark fabric curtains to a presentable condition.
* Take the curtains down from their rail or pole, and treat any standout stains with a bar of natural soap. It's a pre-treatment process, so be thorough and make sure that the whole stain is covered.
* Place them into a washing machine and put them through a cycle that is 30º or less. Avoid higher temperatures as they can damage the stitching of a custom made set of curtains.
* If the stains are persistent it's time to get more vigorous and start hand washing the curtains.
* Hang dry the curtains (preferably outside) in order to avoid shrinking. The drying process takes time due to the size of the material so be patient.
* Once dry, iron the curtains to remove creases before hanging them again.
Conclusion
The home requires a personal touch in order to make it your own. Creating a set of curtains using dark fabric is a great way to turn a room into something of your own vision. The benefits of dark fabric are unrivalled in terms of look and temperature control. All interior designers agree that they are a tremendous item to own and are a prominent feature in any room.
The importance of curtains is often understated, so it's time for people to get creative and start making their own. It is a common myth that making a set of curtains is a tough and complicated task; this couldn't be further from the truth. All it takes is a bit of time and the right materials to create exactly what you're after. When it comes to finding dark curtain fabric for the home, just log-on to eBay and search away.