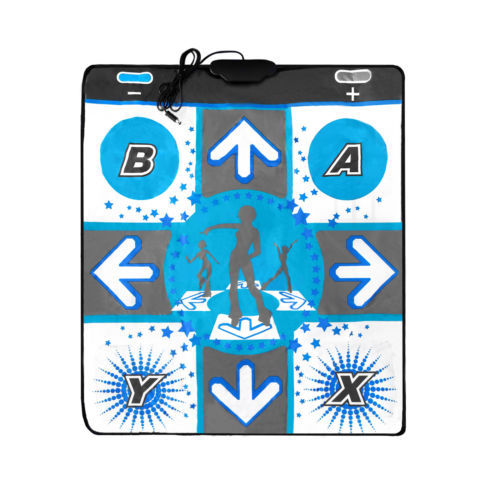 Dance, Dance Revolution started popping up in arcades in 1998 and since then, the dancing game craze has never truly gone away. Manufacturers have released dozens of different dance games over the years across different game consoles, allowing gamers to bring the arcade experience into the home. Dance, Dance Revolution itself has seen several updates, and many of the motion sensor consoles have their own dancing games as well. One thing a gamer quickly learns when playing one of these games is that a traditional controller does not do the trick. A gamer needs either a specialised dance controller or a system that can read body movement to be able to play dancing games. These controllers are often bundled with dance games for sale in shops or online, and buyers can purchase one separately on eBay.. The best thing a buyer can do before purchasing a dance game is to look into which type of controller is needed.
Origins of Dance Controllers
Perhaps the best way to understand dance controllers is to trace their history back to the very beginning. Long before Dance, Dance Revolution appeared in arcades, Nintendo introduced its Power Pad in 1988. This revolutionary controller took the power out of the gamer's hands and put it at their feet. The Power Pad was a plastic floor mat that, when spread out, contained several rows of buttons. Players would run and jump on the buttons. The Power Pad was mainly used for running games, but it did work with Dance Aerobics, the first dancing game.
Dance Pad Controllers
There have been several types of controllers used for dancing games, and every now and then, a buyer can come across a rare handheld controller that has been adapted for dancing. However, by far, the majority of the products on the market use dance pads. This type of controller actually allows the player to dance, rather than press buttons.
As with the earlier Power Pad produced by Nintendo, a dance pad comes with buttons and sensors. In the arcade version, the pad is made out of metal and the buttons light up when hit. Most home versions simply use a sheet of plastic with sensors covered by a design mimicking the arcade button setup.
Dance Pad Setup
The most common dance pad setup is the one popularised by arcade games. There are four main directional buttons that the player has to hit with his or her feet. Some games also include diagonal buttons in the corners. Pads with more than the main four buttons are typically used for games that require the dancer to use both their arms and feet.
Games are usually bundled with the controller that works with them. However, if a consumer has a disc that he or she purchased secondhand, but does not have a controller, these products can be purchased on eBay. A buyer must make sure that the dance pad is either made by the manufacturer of the game or is listed as being compatible.
Types of Dance Pads
Dancers can choose between either metal or plastic when it comes to their dance pad. There are some key differences between the two in price and quality. Which kind the buyer chooses depends on their dancing style.
Plastic
Plastic pads are less expensive than metal ones. They typically come bundled with the initial game, and they work well enough under normal conditions. There are a few issues that buyers must consider, however, with plastic pads. For one thing, they do not do well on wooden floors. The plastic tends to skid across the surface, making it difficult for the dancer to keep hitting the buttons, especially on very fast dance tracks. Another issue is that a plastic pad does not last as long as metal if it is heavily used. Over time, the sensors wear out, and it becomes almost useless.
Metal
Metal pads are commonly used in arcade games and many serious dance game fans settle for nothing less in their home. The metal pads are more expensive than plastic, and they also take up a good deal more room. In exchange, they last longer and are far more durable. Many metal pads also come with a handlebar, like those commonly seen in the arcade. Selecting a metal pad is not for everyone, but serious gamers who play dance games in tournaments can benefit from the extra home practice.
Console Controls
Several consoles have introduced motion sensor technology that allow the game to read the movements of the player. Different consoles achieve this through various means, but the overall effect is a 3D game experience. Many gamers like the motion sensor control because it allows them to dance without having to purchase a dance pad, though they do have to get special equipment.
Nintendo Wii
Dance games for the Nintendo Wii still use a dance pad, but the console also focuses on motion sensor technology. The Wii's Bluetooth-enabled controller allows it to communicate with the console without using wires. The technology is so precise that the console can read the positioning of the controller, allowing it to be used as part of the game.
Wii dance games often incorporate hand movements. Older versions of dance games outside of the Wii did not use hand movements because there was no way to record them. The Wii changes a dance game from trying to complete a series of steps into a full-body experience that uses both legs and arms.
Playstation Move
The Playstation Move works similar to the Wii in that it uses a Bluetooth-enabled controller. However, the Move also works in conjunction with the Playstation Eye, a digital camera that sits on top of the Playstation. The camera records the player's movements along with the positioning of the controller. This allows for dancers to play games without having to purchase a dance pad. The downside is that both the Playstation Move and Playstation Eye cost more than a dance pad.
Microsoft Kinect
Microsoft's state-of-the-art motion sensor technology is called Kinect. It goes one step further than the Wii and Playstation by doing away completely with the control. This system uses a camera similar to the one found in the Playstation Eye, but it is much more complex. Because of its expanded power, the camera is so accurate at recording the position of the player that no controller is needed. The dance pad, likewise, becomes obsolete if the game works with Kinect.
Controller Comparisons
Choosing the right controller depends on the version of the game as well as the console. Some consoles only work with dance pad games, while others are able to handle both.
| | | |
| --- | --- | --- |
| Console Name | Dance Pad | Motion Sensor Control |
| Nintendo Gamecube | Yes | None |
| Nintendo Wii | Yes | Wii Remote |
| Playstation 2 | Yes | None |
| Playstation 3 | For certain games | Playstation Move |
| Xbox 360 | For certain games | Microsoft Kinect |
The main consideration when it comes to the different types of controllers is the cost. A dance pad is less expensive than many of the add-ons, such as Playstation Move and Microsoft Kinect. However, these add-ons are also capable of working with other games, allowing the player to do more with their purchase.
How to Buy Controllers for Dance Games on eBay
Even the pickiest dance game enthusiast can find something to love on eBay.. Whether buying a professional-level metal dance pad or picking up the Playstation Move at a deeply discounted price, consumers love the selection and low prices they find on eBay. Furthermore, eBay also has a large selection of used merchandise for gamers on a tight budget. With such a wide variety at the consumer's fingertips, knowing how to perform a search on eBay is essential for making the right purchase at the best time.
Start off by typing " dance controllers&" into the search engine. This pulls up all results for dance controllers across many different consoles and video games. If you are looking for a generic dance pad for the Playstation 2, for example, then type in " dance controllers Playstation 2 ". This limits the results to accurate controllers that only work with the Playstation 2 system. If you do find a used product at a decent price, make sure it is in good condition. Dance mats do not last forever, and they can easily become damaged if they are heavily used.
Conclusion
Dancing games are enjoyable because they allow the gamer to become part of the action. This is also a very physically demanding genre that requires a dance mat, a special kind of controller that sits on the floor. Made out of either metal or plastic, the dance mat comes with a set of buttons on top that the player has to hit with their feet in order to complete the dance steps. Many manufacturers bundle the dance mat and game disc together, but it is also possible to purchase these items separately on eBay. Furthermore, innovative technology, like the Playstation Move and Microsoft Kinect, has done away with using the dance mat. Instead, these systems use digital cameras that accurately record dancers' positions from the tips of their toes to the tops of their heads. Ultimately, the consumer must decide which version he or she prefers to own before purchasing the product.