Vintage Film, Political and Historical autograph collecting can be exciting, financially rewarding and a great way to learn about history. The most common question I get about autographs is "How do you know its real"? This question has made many people rich, many people poor and on occasion have landed a few people in jail.
Formats of Autographs:
Signatures Sig - Signature (Piece of paper, Postcard, Album page, Cut from a letter etc.)
Letters ALS - Autograph Letter Signed (Handwritten and signed)
LS or TLS (Typed Letter Signed)
Manuscripts (Plays, Music)
Documents DS - Document Signed (Contracts, Signed Cheques, Land Grants, Commissions etc.)
Photographs - SP (Signed Photo)
Books
There are thousands of fake autographs currently on Ebay for sale. Look for the following:
Autopen - This has been signed by a machine. The signature will be at a constant depth in the photo due to constant pressure when it is signed. Also look to see the position where it has been signed. An autopen is usually in the centre of the photo. If it looks perfect then its probably fake.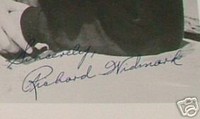 Example: Richard Widmark Autopen Signature
Stamp - There is usually smudging on the edge of the signature when the stamp gets pulled off. Again the signature usually has a constant amount of ink throughout or the signature suddenly stops where not enough ink was on the rubber stamp.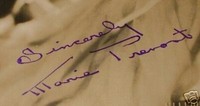 Example: Marie Prevost Stamp. Note the smudge on the "S".
Secretarial - These are often hard to pick. I recommend that you search other websites to compare the signatures. Compare loops and joining of the names etc.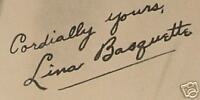 Example: Lina Basquette secretarial signature. Adolf Hitler's favourite actress. This example is ink over an autopen signature.
Preprinted - This is when the person has signed a negative before the printing of the photo. The signature is sometimes blurred. These can sometimes be hard to pick. Check the autograph with a magnifying glass for signs of ink.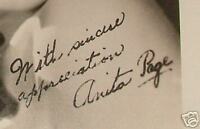 Example: Anita Page Preprinted. Note the blurring on the right.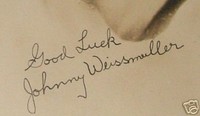 Example: Johnny Weissmeller Autopen. Even throughout.
To reduce your chances of buying a fake autograph I recommend:
Compare the signature with one that you know to be real from a reliable source.
Trace both autographs on tracing paper fit them together and see if they match.
Check the signature with a magnifying glass.
Does the letter have a printed letterhead?
Does the paper look period?
Does the envelope have a postmark?
Is there ink over ink?
Condition. If it is perfect then its probably fake. Anything pre-1960 should show some age and wear.
Letters that begin "Dear Friend" are often preprinted.
Don't bid on items without a picture.
Don't bid from sellers with lots of rare items at bargain prices.
Don't bid on items that are Private Auctions.
What should I collect?
Buy the best you can for your budget. Buy fewer things but better quality.
Content is King! A letter that contains thoughts and insights to their personality holds more value than a letter responding to an autograph request or similar.
A document that is relevant to the person is more valuable.
Something signed at the height of their career is worth more than when they were in old age.
Condition counts!
Collect a historical person that will never plummet in value. Most modern stars will be forgotten in the next twenty years.
Collect a subject that is unique and rare.
My personal recommendations:
Purchase "The Sanders Price Guide to Autographs".
Collate a library of books showing autopen signatures.
DO NOT collect modern signed photos of Actors, Actresses and Pop Singers. There are too many fakes around.
DO NOT collect sports autographs if you want to start a collection for investment.
Subscribe to leading auction houses and autograph dealers and collate a library of auction catalogues. These are often posted to you free of charge.
Do not purchase autographs showing their first name only. These are worthless.
If you are not sure about the authenticity about an autograph post a message on a community board and ask someone else.
Join the fight against fake autographs by signing up to the Ebay group: Autograph Collectors
Some Interesting Autographs and their values:
Alexander 111 - Pope
(LS/DS: US$45,000)
Apollo 1 - (Chaffee, White, Grissom)
(Sig: US$1500 SP: US$4885)
Johann Sebastian Bach
(Sig: US$2,500 LS/DS: US$6,760 ALS: US$11,000)
Clyde Barrow - Bonnie and Clyde
(ALS: US$5,688 SP: US$12,650)
Ludwig van Beethoven - Musician
(Sig: US$7,800 LS/DS: US$17,500 ALS: US$65,000)
Alexander Graham Bell - Inventor
(Sig: US$901 LS/DS: US$1,251 ALS: US$3,163 SP: US$2,958)
Capt. William Bligh - HMS Bounty
(Sig: US$1,458 LS/DS US$7,967 ALS: US$11,875)
Al Capone - Criminal
(Sig: US$3,840 LS/DS: US$10,750 SP: US$9,400)
Andrew Carnegie - Businessman
(Signed Stock Certificate: US$24,000 - US$125,000)
Fidel Castro - Premier of Cuba
(Sig: US$518 LS/DS: US$1,892 ALS: US$:2,987 SP: US$1,335)
Charles 1 - King of England
(Sig: US$558 LS/DS: US$2,042 ALS: US$4,000)
Samuel Colt - Founder of Colt Firearms
(Sig: US$538 LS/DS: US$2,190 ALS: US$4,325)
Capt. James Cook - Explorer
(Sig: US$5267 LS/DS: US$9,300 ALS: US$27,000)
Hernando Cortes - Spanish Conqueror of Mexico
(LS/DS: US$32,500)
Oliver Cromwell - Named Lord Protector England
(Sig: US$1,200 LS/DS: US$6,194 ALS: US$10,225)
Marie Curie - Physicist
(Sig: US$1,139 LS/DS: US$2,544 ALS: US$2,932 SP: US$4,558)
Charles Darwin - Naturalist
(Sig: US$620 LS/DS: US$2,372 ALS: US$3,716 SP: US$5,462)
Arthur Davidson - Founder Harley Davidson
(Sig: US$1,100 LS/DS: US$5,300)
James Dean - Actor
(Sig: US$1862 LS/DS: US$2,746 ALS: US$3,250 SP: US$5,184)
Charles Dickens - Author
(Sig: US$529 LS/DS: US$948 ALS: US$1832 SP: US$6,280)
Walt Disney - Film Producer
(Sig: US$931 LS/DS: US$2,675 ALS: US$3,467 SP: US$2,681)
Wyatt Earp - Gunfighter/Gambler
(Sig: US$3,769 LS/DS: US$14,500 ALS: US$27,500)
Thomas Edison - Inventor
(Sig: US$559 LS/DS: US$1,306 ALS: US$2,755 SP: US$2,500)
Edward 1V - King of England
(Sig - US$25,000)
Albert Einstein - Physics
(Sig: US$1,058 LS/DS: US$2,750 ALS: US$5,166 SP: US$3,077)
Elizabeth 1 - Queen of England
(Sig: US$4750 LS/DS: US$26,140)
George Gershwin - Composer
(Sig: US$803 LS/DS: US$2,075 ALS: US$4,250 SP: US$3,923)
Vincent Van Gogh - Painter
(Sig: US$3,500 LS/DS: US$5,550 ALS: US$16,000)
Button Gwinnett - Signer of the Declaration of Independence
(Sig: US$150,000 LS/DS: US$320,000)
Jean Harlow - Actress (note her Mother signed a lot of her pictures)
(Sig: US$1,042 LS/DS: US$1,400 ALS: US$3,000 SP: US$3,771)
William Henry Harrison (as President) - One Month as President of USA
(LS/DS: US$140,000 ALS: US$210,000)
Henry V111 - King of England
(Sig: US$5,500 LS/DS: US$18,000 ALS: US$26,000)
Adolf Hitler - Head of State
(Sig: US$1,155 LS/DS: US$2,375 ALS: US$17,000 SP: US$3,524)
Howard Huges - Aircraft
(Sig: US$1,500 LS/DS: US$2,708 ALS: US$6,125 SP: US$2,625)
Martin Luther King Jr. - Peace Advocate
(Sig: US$1,662 LS/DS: US$2,840 ALS: US$3,500 SP: US$3,324)
John Lennon - Beatle
(Sig: US$904 LS/DS: US$1,568 ALS: US$13,803 SP: US$1,663)
Martin Luther - Clergy
(LS/DS: US$49,500)
Malcolm X - Black Leader
(Sig: US$704 LS/DS: US$3,084 ALS: US$7,500)
Karl Marx - Philosopher
(Sig: US$1,500 LS/DS: US$8,000 ALS: US$22,500 SP: US$12,650)
Wolfgang Mozart - Composer
(Sig: US$35,000 LS/DS: US$47,500 ALS: US$80,000)
Sir Isaac Newton - Science
(Sig: US$4,750 LS/DS: US$10,425 ALS: US$17,500)
Lee Harvery Oswald - Alleged Assassination of JFK
(Sig: US$1,662 LS/DS: US$7,000 ALS: US$9,212)
Sir Walter Raleigh - Explorer
(Sig: US$5750 LS/DS: US$23,000)
Babe Ruth - Baseball
(Sig: US$1,024 LS/DS: US$2,659 ALS: US$12,675 SP: US$3,121)
Joseph Stalin - USSR Dictator
(Sig: US$1,148 LS/DS: US$3,960 ALS: US$7,550 SP: US$4,000)
George Washington - President
(Sig: US$5,721 LS/DS: US$14,630 ALS: US$25,830)
Check out my current stock: London Collectibles