A versatile type of fastener, screws are widely used in construction. They come in a wide array of diameters and lengths; thus, it is important to choose the right type to ensure structures remain robust over time. Moreover, screws are made from various materials, including steel, brass, nylon, and aluminium, and have various finishes, such as black oxide, zinc plating, or non-stick coating.

Screw Types

While wood screws should be reserved for working with wood, drywall screws and sheet metal screws are increasingly versatile and can be used for multiple applications, including woodwork. No matter the type you choose, consider galvanised and stainless steel screws, as they resist rusting if exposed to the elements.
| Screw Type | Applications |
| --- | --- |
| Wood | Also known as flatheads; usually used on wood but are made of metal; often has an unthreaded shank; countersunk below the wood's surface to provide a clean look; may have a tapered shape |
| Sheet Metal | Used to secure thin metal objects; fully threaded; popular choice for any project type |
| Drywall | Designed to secure drywall to wood or metal studs; versatile and strong |
| Masonry | Works well with hard materials such as concrete or brick |
| Lag | Used to attach hinges to gates and ideal for construction work |
Screw Heads
Screw heads are designed to perform different functions. While some are meant to sit flat against a surface, others sit slightly raised for easy removal. Depending on the screw head, different fastening tools may be required.

| Screw Head Type | Characteristics |
| --- | --- |
| Pan | Standard in size and height |
| Round | Rounded Top |
| Truss | Wide diameter; rounded top |
| Flat | Tapered underside; flat top |
| Fillister | Deep profile; slightly rounded top |

Screw Length and Thread Type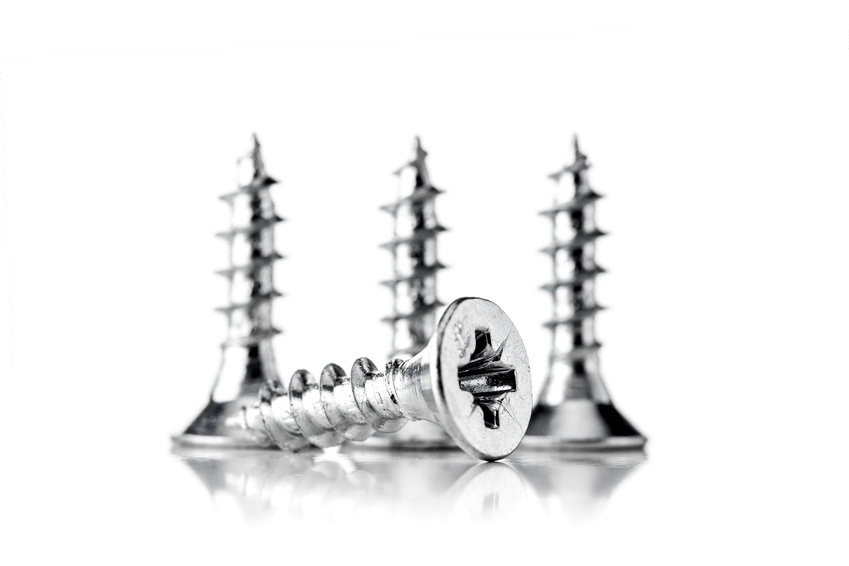 Screws should be three times as long as the thickness of the object they are fastening. The thread, or region below the screw head, comes in several varieties. Coarse thread is designed to help grab material, such as wood or sheet metal, while finer thread, often found on machine screws, should be used in conjunction with a nut or tapped hole. Still, some thread varieties feature two alternating heights and suit certain plastics and low-density materials, while the threads on self-tapping screw work on softer materials, such as wood and plastic.
Screw Gauge
The gauge, or diameter, of a screw is measured at the smooth portion of the shank, just above the threaded section. The higher the gauge, the thicker the screw, and the greater the level of holding power is. Six gauge screws are recommended for moulding and trim, while eight gauge screws are better suited for door and drawer pulls or knobs. Still, eight or 10 gauge screws should be used for deck construction, while more furniture and cabinetry require 10 gauge screws.