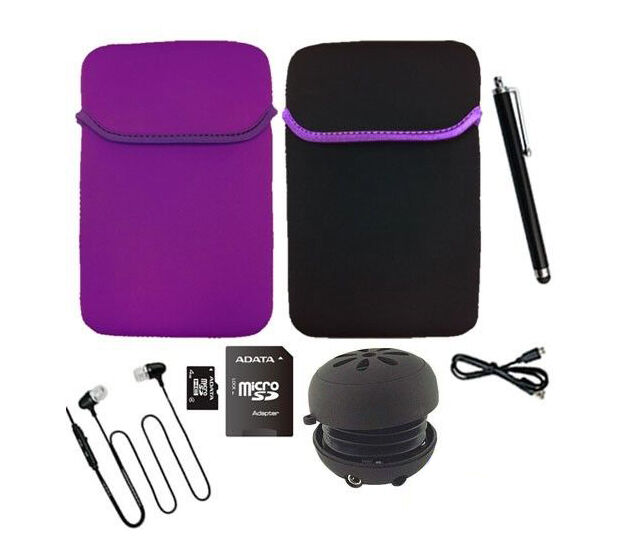 With the myriad of options for unbranded electronic accessories on the market, it is easy to become overwhelmed with the sheer number of iPad, tablet, and eBook accessories that are presented to the buyer. Most of these accessories have the same or similar features as their branded competitors. Many are generic items that were developed with a few hallmark features.
Unbranded accessories provide many of the same benefits as their branded counterparts at a fraction of the price. This is obviously very appealing to the majority of buyers that wish to save money. This means that unbranded accessories have dominated the market on technology add-ons. Unbranded accessories allow third-party manufacturers to expand the market, while allowing branded manufacturers to maintain their focus on popular gadgets. In order to benefit from unbranded iPad, tablet, and eBook accessories, buyers need to experience a reasonable price, extra functionality, and an even more enjoyable use of the device.
When purchasing unbranded iPad, tablet, and eBook accessories buyers should consider the various types, familiarise themselves with the benefits that they offer, and understand the different features. These accessories can be bought at computer supply shops, department stores, and online at retailers such as eBay.
Types of iPad, Tablet, and eBook Accessories
There are various types of iPad, tablet, and eBook accessories, including protective screen coverings and cases, docking stations, and keyboard docks. When searching for these accessories, buyers should bear in mind the intended use of their device.
Protective Screen Covering
Many manufacturers produce protective screen coverings for iPads, tablets, and eBooks. As dirt and oils are released by the fingertips, they can compromise the integrity of the screen. The coverings are designed to protect the device from the daily wear and tear that comes from repeated use. They are best described as clear, thin sheets that can be placed on the screen easily as needed.
Protective Case
In order to protect the iPad, tablet, or eBook from damage, users should invest in a protective case. These cases may be hard or soft shelled. Hard cases provide greater durability and strength, while soft cases, also known as sleeves or pouches , are lighter and offer greater comfort. Buyers that travel frequently should consider purchasing a protective case in order to minimise dents, chips, and scratches associated with rough handling.
Docking Station
Docking stations allow users to sync or charge their iPad, tablet, or eBook as needed. In addition to syncing and charging, the docking station also allows users to connect to powered speakers with use of an audio cable. The docking station can also double as an alarm clock.
Keyboard Dock
A keyboard dock is a combination of a full-sized keyboard and a docking station. In addition to allowing for synchronisation and for users to charge their iPad, tablet, or eBook, the keyboard dock also replaces the device's touch screen keyboard with a full-sized version. Many users find that this allows for more comfortable typing.
Benefits of Unbranded iPad, Tablet, and eBook Accessories
There are many benefits of using unbranded iPad, tablet, and eBook accessories rather than their branded counterparts. These benefits include universality, price, a wider selection, and availability.
Universality
The main benefit of an accessory being used by a range of devices, despite their brand, is convenience. If you have many devices of different brands that can all benefit from one particular accessory, such as a set of headphones or an AC electrical charger, then the universal component is in itself a money saver. This concept of universality is popular amongst technology enthusiasts. This is partly because buyers can now measure the usefulness of a particular product by using a universal unbranded accessory as guide. For instance, if audio is of a certain quality in an older eBook, then the buyer can check whether there is a difference in quality with a newer product using the same headphones even if the eBook is a different brand to the original.
Price
Buying branded accessories can be expensive, especially for those that have the tendency to lose them while travelling. Therefore, it is often a worthwhile investment to buy unbranded iPad, tablet, and eBook accessories. The low cost of unbranded accessories also makes them available to people that otherwise would not be able to purchase them. Some accessories have been researched extensively, such as headphones, so less money is spent on research and development by less well known producers. These savings can be passed on to buyers.
Wider Selection
The wider selection of products is related directly to the needs of buyers that have been exposed for some time to common accessories. The most popular products need to adapt to the needs of the market place. So unbranded manufacturers seek to improve an old idea or to look for opportunities to create new products to add value to the consumer. The wider selection of products creates choice for the consumer and as unbranded manufacturers produce items more cheaply than their branded counterparts, they can observe the market and increase production on the most in demand items and discontinue those that prove to be unpopular.
Availability
Even if unbranded accessories are in demand they cannot sustain their current level of popularity if they cannot be distributed to the consumer. Buyers need to be able to shop for them easily. In addition, the greater availability of any particular product drives down prices and improves consumer feedback on the overall quality of an item. Often branded iPad, tablet, and eBook accessories are only available in a limited number of shops that are licensed to sell the merchandise, while unbranded accessories are available in a wider range of bricks and mortar and online shops. The majority of buyers want to purchase accessories in a way that is convenient.
Features of Unbranded iPad, Tablet, and eBook Accessories
Unbranded iPad, tablet, and eBook accessories have many features that separate them from their branded counterparts. These items are often identified by their wider range of sizes, colours, and the absence of name branded logo. Buyers should ensure that the dimensions of their accessories match those of the device they wish to connect to, and that any power supplies are fully compatible in order not to damage the device.
How to Buy Unbranded iPad, Tablet, and eBook Accessories on eBay
When buying unbranded iPad, tablet, and eBook accessories on eBay, buyers should begin their search on theeBay home page. From here, buyers are free to input any related key terms into the search bar, such as " iPad, tablet, and eBook accessories". If buyers have a specific product in mind then they can add more detailed keywords, such as " blue protective case ". Alternatively, buyers can choose to use the advanced search feature. This allows them the opportunity to search for unbranded iPad, tablet, and eBook accessories within a specific price range or in a particular condition.
Read the Item Description
When searching for unbranded iPad, tablet, and eBook accessories, buyers should read the listing's item description thoroughly. The description should clearly communicate the condition of the accessories, particularly if they are pre-owned, in which case there should be full details of any wear or tear that compromises the item's appearance or ability to function properly. If buyers need any additional information, they should use the "Ask a Question" feature to contact the seller directly. This link allows buyers to send messages within the eBay community so that no personal details need to be released. Sellers are generally more than willing to offer any additional information to assist in a successful transaction.
Seller Feedback
Before making a purchase, buyers should always look at the information that eBay provides about the seller. Get to know the seller by reading his or her feedback and looking at the rating. A seller that provides good products has a high rating derived from feedback provided by previous buyers. Buyers should also consider items sold by Top-rated sellers. Top-rated sellers are recognised within the eBay community for their high levels of customer service and good quality products.
Conclusion
Choosing the most compatible unbranded iPad, tablet, and eBook accessories is an important task. Unbranded accessories create diversity in the products available for consumers. Manufacturers of unbranded products can take well-known products and make versions that are more affordable than the branded equivalents. This offers a cost saving to the producer that is passed on to buyers. However, the lower production cost can be a disadvantage if the quality of the item is compromised.
The possibility of damaging your iPad, tablet, or eBook is relatively small when using unbranded products when compared to branded versions. So, the benefits the average buyer receives from unbranded accessories outweighs any disadvantages. Buyers can purchase unbranded iPad, tablet, and eBook accessories on the eBay website for the most convenient shopping experience. eBay's selection of products is wide ranging and many products can be purchased from this online marketplace at a fraction of the retail price.