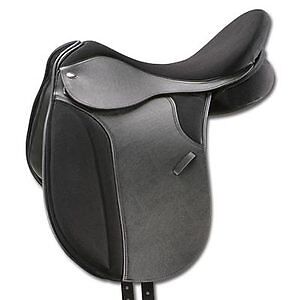 For centuries, horse and pony saddles were made of leather. Leather is a durable, breathable, attractive material that shapes to both horse and rider over time. If well-cared for, leather has such a long lifespan that saddles can be passed down through generations and become family heirlooms. But recent advances in textile technology have created a range of synthetic materials that rival leather in terms of durability and aesthetics while showing distinct advantages in areas like weight and ease of care. This guide will explore the benefits that synthetic saddles sourced on eBay can offer horse and rider.
Saddle Construction
Synthetic saddles are divided into two broad styles: Western and English. Both types feature seats, cantles, pommels, skirts, stirrup leathers, stirrup irons and girths. The girth is a band that encircles the horse's ribs to keep the saddle secure. The core of most leather saddles are built around a wooden or fibreglass 'tree', which provides a firm foundation for the saddle. This tree is surrounded by padding, traditionally horse-hair but today it is far more common for saddle-makers to use foam materials. As such, even when they are covered in leather, most modern saddles are largely synthetic. What describes a saddle as 'synthetic' however, is its skin.
Synthetic Saddles are Lightweight
Synthetic saddles are usually more lightweight than their leather counterparts, with an all-synthetic saddle weighing about half as much as a leather one. There are several benefits to this, including the fact that it makes them easier for children and smaller, older or disabled adult riders to lift. A lighter saddle can also benefit younger and older horses too since it reduces strain on the back muscles, as long as it is well-fitted. It should be noted here that the precise fit of a saddle, whether leather or synthetic, is vital to the well-being of the horse.
The versatility of synthetic saddles canmean that horses and ponies with more unusual back measurements or which are otherwise difficult to fit can be accommodated.
Synthetic Saddles are Easy to Maintain
Synthetic saddles are much easier to maintain than traditional leather saddles. Leather is easily damaged by rain, sweat and damp storage conditions, which makes regular cleaning and oiling important when maintaining conventional saddles.
Hi-tech, modern synthetic materials are not affected by rain and can easily be wiped clean with nothing more than a damp cloth and a mild detergent if necessary. If there is heavier soiling, a synthetic saddle can be hosed down. Synthetic saddle sprays are also available for deeper cleaning.
It is an undeniable time and labor-saving benefit that synthetic saddles never need to be oiled or conditioned.
Synthetic Saddles are Lower Priced than Leather
Synthetic saddles are considerably more affordable than leather saddles. On eBay it is possible to pay the same price for a new high quality synthetic saddle as for a second-hand leather saddle.
Besides the obvious advantage to the pocket that the lower price-point of synthetic saddles offers to the buyer, there are other less obvious benefits. If a rider is interested in trying new disciplines such as dressage, jumping or rodeo-riding, a more affordable tag allows the buyer to venture into new disciplines with specialised equipment without breaking the bank.
What are Synthetic Saddles Made from?
Synthetic materials today are becoming as soft and as pliable as leather – and virtually indistinguishable from this more traditional material. Synthetic saddles are made from a variety of fabrics which are described in detail below. Some fabrics will suit the saddle to general, every-day riding while others will be smart enough for showing at events.
Cordura
An extremely durable fabric, Cordura effectively resists tearing and scuffing. Originally introduced as a type of Rayon, Cordura is a woven material that is three times more durable than standard polyester. Cleaning mud and sweat off a saddle made of Cordura generally requires nothing more than a damp cloth. For heavier soiling, bleach should not be used on the material, but mild detergents are safe. Cordura saddles are available in natural color tones or in a selection of bright colours on eBay.
Equileather
Equileather is frequently used in synthetic saddles due to its leather-like appearance. Like Cordura, Equileather saddles are low maintenance and can be wiped clean. This, like so many other synthetic fabrics, is another highly durable material that is more abrasion-resistant than leather. It repels both water and sweat and remains flexible even in low temperatures.
Equisuede
This is a synthetic suede material that is employed where suede is usually used on conventional saddles. These areas include the seats of the saddles used in some rodeo events, where it is important for the rider to maintain a good grip on the saddle. Equisuede is fast-drying and remains non-slip even when wet.
BioThane
BioThane is nylon webbing that is covered with thermoplastic polyurethane. It offers durability, is resistant to abrasion and remains flexible in low temperatures. This material comes in a variety of colours as well as in natural looking tones. Often used in saddle manufacture because of its ability to mimic the look and feel of traditional leather, this material is also lightweight and wipe clean, water-resistant and chafe-resistant.
Beta BioThane
Beta BioThane is a newer version of BioThane that uses a vinyl coating to improve its durability look and performance.
Points to Consider
Aesthetics of Synthetic Saddles
Advances in both the texture and appearance of leather-look materials are creating a close-run battle between synthetic and leather in terms of performance and appearance. Nowadays, riders competing in shows may well consider using a synthetic saddle. This is in stark contrast to a few years ago, when the technology did not exist that today allows saddles to look as good and perform as well as leather.
But despite the many advantages synthetic saddles offer, there are still some areas where it some people believe it does not compete with leather.
When synthetic saddles first appeared in the latter part of the last century, they were covered in nylon fabric. Often produced in vibrant colours, these saddles had novelty value and appeal but they were not acceptable for showing. Brightly hued saddles are still available (and in most cases they are still unacceptable for showing) but advances in technology mean that synthetic saddles are now usually produced in leather-look materials in natural tones. However it remains true that synthetic materials lack the deep lustre of traditional aged leather.
Shorter life span of Synthetic Saddles
The first synthetic saddles, made from nylon, had short life-spans of a couple of years. Nowadays, if made from top quality fabrics and cared for well, a synthetic saddle sourced on eBay can last for ten years or more, although it probably won't become a family heirloom.
Feel of Synthetic Saddles
While synthetic leather-like materials can fool the eye and even the hand, some people believe that a synthetic saddle will never feel as good to ride in as a traditional saddle. However, this is largely a matter of opinion and taste rather than being an objectively grounded fact.
The horse may find synthetic saddles less comfortable to wear. Leather saddles are reliably good at absorbing heat and sweat, whereas synthetic saddles can under perform in these areas in comparison.
How to Buy Synthetic Saddles on eBay
When buying a synthetic saddle on eBay, it is likely that you won't be able to try before buying. To help you judge whether a saddle is the right size for the rider and the horse, it is helpful to take and request as many measurements as possible.
To search for saddles, type into the search box 'synthetic saddles'. Some buyers have a good idea of the type of product they want to buy, such as '17" black synthetic saddle '. Using the search feature will help you find exactly what you want.
When searching through listings, carefully review all the data. Make sure the item matches what you had in mind. Look over the photographs a couple times. Feel free to Ask the Seller a question if you want additional details. Visit the Buying Tips page for more information.
Once you're ready to buy, either place a Bid, Buy it Now, or put down your Best Offer. Buying with PayPal will ensure the transaction will go smoothly. eBay users are protected by the Buyer Protection Program.
Conclusion
When buying a synthetic saddle on eBay you should apply the same critical criteria to your search as when purchasing a leather saddle. Quality of material, sturdiness of form, and a good fit for horse and rider are of paramount importance. Synthetic saddles offer performance levels that can exceed those of more affordable leather saddles. Their lower price point and higher value for money make them a great choice for riders and horses or ponies that are still growing. This is not to mention the ease and convenience they offer to busy horse-owners unwilling to spend a great deal of time and energy on maintaining leather tack.