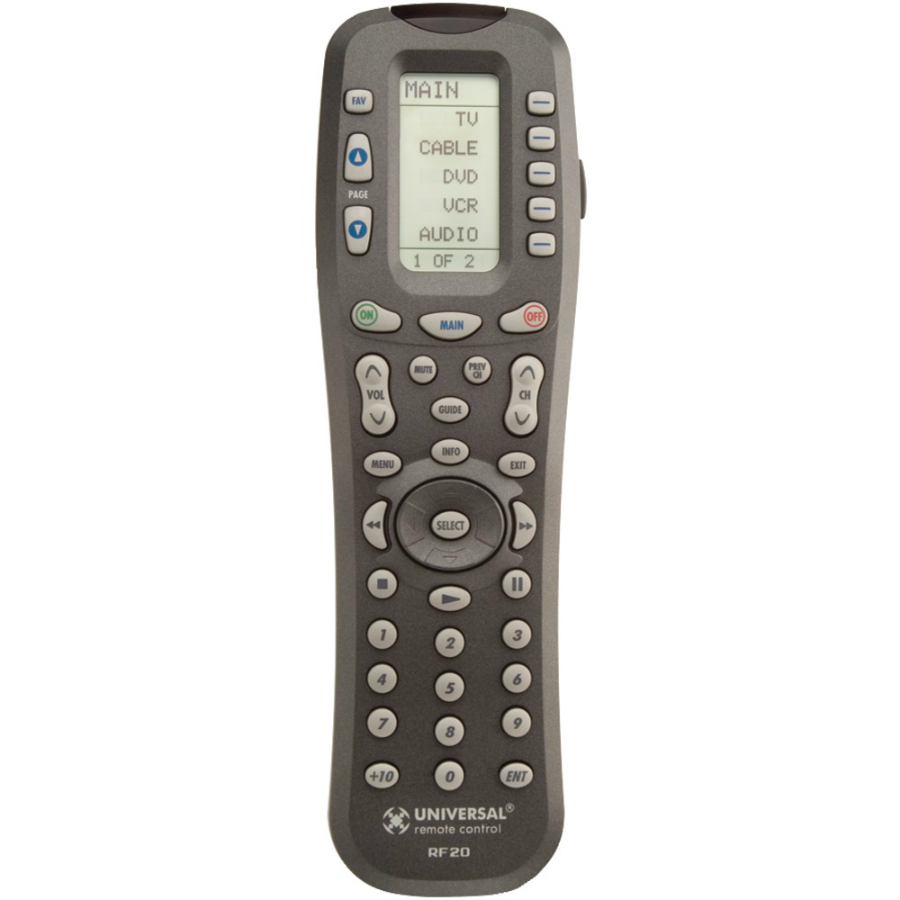 A universal remote control is any remote that works to control more than one device. Usually sold in a variety of categories, universal remotes can power anywhere from two to an unlimited number of devices after either being programmed to the device or already supporting the device. Universal remotes can benefit everyone in a variety of ways, but especially the elderly.
A standard universal remote comes with a list of pre-programmed in devices that it can control, but most remote controls can be updated to include a new device, or an old one, if it is not already in the home. They offer convenience, practicality, and ease of use to everyone, and sometimes specific functions such as a large keyboard or the ability to take house calls via Bluetooth or Internet as well. Universal remote controls can be purchased in household goods stores, electronics stores, and in online stores such as eBay.. Universal remote controls can serve many purposes, and benefit the elderly in a variety of ways including reducing clutter, reducing confusion, and making home audio and cinema easier to use.
How a Universal Remote Control Works
All remotes work using an LED (Light Emitting Diode) transmitter to send a code to the device. A remote that has been programmed for one device generally has only one code programmed in, although many offer the ability to programme in additional codes as necessary. With a traditional remote, programming in a new code can be quite complex.
A universal remote is generally designed with a list of common devices programmed in so that it can easily be used with nearly any popular media device including DVD player, PVR, TV, stereo set, and more. Some universal remote controls feature options that update the list of codes as new devices come out, while others allow the owner to easily programme the remote by pressing 'setup'. The result is an easy to use remote that can work with most if not all popular home media devices.
With special consideration for the aging and elderly, some universal remotes are equipped with larger buttons that can be pressed more easily, with backlit buttons that can be found more easily in the dark, and simple setup options that are easy to learn and to use. Most universal remotes can be easily programmed by anyone who knows the code of the device they want it to control, which means that most elderly people can programme their remote control to easily accept a wide variety of devices.
One Universal Remote Control for Multiple Devices
The biggest and most obvious benefit of the universal remote control for the elderly is that it is a simple and easy way to control electronic devices. Getting rid of multiple remote controls can reduce clutter in a smaller apartment or nursing home, and can make the remote easier to find. Many older people, especially those with failing eyesight, might have difficulty discerning between one remote and the next, meaning that a universal remote control can save a great deal of time and frustration for someone who must typically grab multiple remotes before finding the correct options.
With less fiddling to find the remote that they want, especially in the dark, fewer buttons to push, and fewer buttons to memorise, an elderly person can actually enjoy their home audio or cinema system rather than worrying about the electronics that go with it. While most elderly people do not mind to have multiple remotes for multiple electronic devices, a universal remote can definitely save a great deal of time and frustration. While this holds true for anyone with a universal remote, it is especially useful for elderly people who might be disabled or have trouble seeing.
Advantages of the Universal Remote Control
Anyone who has difficulty walking knows that it can be a hassle to realise that while the remote for the TV is on the table next to the chair, the remote for the DVD player is still on top of the device. Using a universal remote contr o l means only having one remote control to keep track of, which means that it can easily be kept in a pocket or on a wheelchair. Not having to get up after a remote can be a huge benefit, and not having to call someone for help with it can be an even greater benefit. Most importantly, a universal remote can actually be taken from room to room and used throughout an entire house, meaning that anyone can simply take their remote with them, rather than worrying about remembering to pick up a remote from a particular room or device.
Need Fewer Batteries
Reloading and recharging remote controls can be a hassle, mainly because many elderly people do not drive. Without batteries, they cannot use the remote. A universal remote can cut down on the need to purchase batteries, meaning that it is easier to keep track of, requires fewer battery changes, and fewer trips to the store. Most universal remotes run on AA batteries, which makes them easy to keep charged, and easier to keep track of the batteries.
Are Easy to Learn How to Use
Universal remotes are generally designed with ease of use in mind, and that means they are easy to learn. With clearly labelled buttons that are sometimes colour coded, programmable hotkeys, and the ability to handle every electronic device in the house, elderly persons can easily familiarise themselves with, and learn how to use their universal remote.
While there is still a learning curve, especially for anyone not familiar with technology, the universal remote reduces the amount of information that must be learned because there is only one remote to learn about. Most elderly people can easily figure out how to use a remote after a quick tutorial, even if they have never used a universal remote in the past.
Have Large Buttons Easy to Press
An important option to consider is to purchase a large button universal remote instead of a standard one. Often called 'jumbo', 'oversized', or 'large', these remotes have bigger buttons that are easier to press. For anyone with palsy, failing eyesight, swollen hands, arthritis, or any of a number of other problems, having larger buttons can make using the remote just that much easier. Many universal remotes offer larger buttons, which makes them one of the best choices for elderly people. Most universal remotes with larger buttons feature a wider remote, sometimes as much as twice the size of the original remote.
Have Special Features and Functions
Some universal remotes offer special features and functions that can range from the ability to answer a call, to being a 'smart' remote with a touchscreen. The latter are usually the only options with the ability to answer the house phone, but can sometimes be too complicated for elderly persons not familiar with technology. Usually the process works via Bluetooth or WiFi and can generally put the call on a loudspeaker or direct it to the actual TV.
A simple touchscreen universal remote such as a 'Logitech Harmony 1100&', offers elderly people the ability to control their home cinema and audio via a tablet-like device with a touchscreen and a few controls. This option can actually be easier for some people to learn, mainly because the 'TV' or 'DVD Player' buttons can simply be touched from the main screen, rather than turning them on via buttons found on the remote.
Buying a Universal Remote on eBay
Whether buying for a loved one, or for yourself, a universal remote can be purchased on eBay in new or used condition. eBay features a large electronics section with thousands of available universal remote models to choose from. Important things to keep in mind when making your purchase include that some universal remotes are made to support a specific number of devices and some are made to be used with specific brands.
Generally, any remote that cannot be used on any device should be labelled as such, as is any remote with limited device support. Buyers can look for and purchase a universal remote in the price range of their choice, and with desired features by simply searching on eBay from the home page, paying attention to titles and descriptions, and then making their choice. You can contact the seller to ask about any questions you might have, purchase the universal remote from an eBay authorised seller, and purchase the remote in new or used condition, depending on your preference.
Conclusion
Universal remotes use LED to transmit codes to devices in order to control them. Many universal remotes come pre-programmed with a long list of codes, but might not support every device. For the elderly, a universal remote can provide a variety of benefits that range from simplified device control to easier learning. With just one remote to remember and keep on hand, elderly persons can reduce clutter while gaining more control over their personal environment, which can often lead to increased self-confidence and happiness.
Universal remotes can be purchased with a touchscreen to control home media via a tablet-type device, with very large buttons for anyone who has trouble with smaller remotes, and with a variety of features including programmable hotkeys, the ability to accept home phone calls, and backlit keys for easier pressing in the dark. Universal remote controls can be purchased from electronics stores selling home media, household goods stores, online stores, and on eBay in both new and used condition.