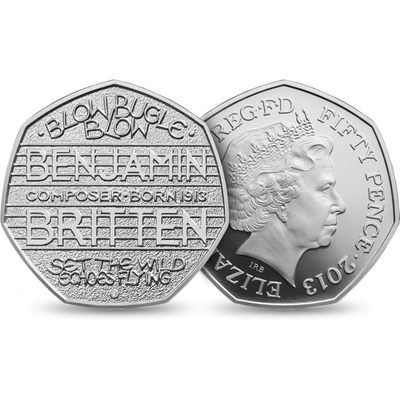 Where Some Have Become Fanatics
The new spotlight 50 pence piece coin of this era has emerged from the Royal Mint back in 2013 and has somehow managed to land itself all over online selling sites demanding prices of up to circa £10,000 and perhaps even more.

WHAT'S SO SPECIAL ABOUT THIS COIN?

The coin at sale is a British Benjamin Britten 50 pence piece, issued in 2013, which holds the record of being the first UK 50p coin to ever be struck with its face containing the full name of somebody else other than that of her royal majesty. It also features the words "Blow bugle blow" and "Set the wild echoes flying," from verse by Alfred Tennyson which was one of a number of poems set to music in one of Britten's best known works, Serenade for Tenor, Horn and Strings.

It wasn't quick before people began putting this piece on sale over the internet, ranging from under £100 to over £5,000. Amateurs and even professional businesspeople are currently flooding online sites, namely eBay and Gumtree, with this coin, hoping to achieve magnificent profits from selling this "rare" piece, slim chance of it being in mint condition as most of the coins most likely been found at the bottom of one's purse, wallet, or pocket. It has even been estimated that this piece has a high chance of having its value increased by 600% over the next decade, or that's just what the media wants people to believe.

THE REALITY CHECK

But here is a real fact about this coin. IT'S NOT RARE AND IT HOLDS NO SIGNIFICANT MONETARY VALUE WHATSOEVER. Now, before anybody get any ideas about trying to find this coin or even putting it up for sale asking for an absurd amount of money, ask yourself this: how many people have become successful at selling this coin for hundreds of pounds, let alone in four figures? If you can think of nobody, the chances are you'll never sell this coin for an outstanding profit. Also, if this coin is so rare, then why is it countlessly listed on sale MORE times than the average UK 50 pence coin?

WHY THIS COIN IS VIRTUALLY VALUELESS

Here is what listers fails to realize about what they are selling: the Benjamin Britten piece has a current mintage of 5.3 million in circulation, which isn't even remotely rare, as the average British coin's mintage is 3 - 8 million. It is composed of the same elements as the standard 50 pence, 75% copper and 25% nickel, so it's not a standout piece either. There are many people selling this exact coin online for under £2 and in mint condition whereas others are selling for around £5,000 and in used condition.

According to the Royal Mint and high-class professional UK coin checkers, this coin almost holds no monetary value greater than that of its current circulating face value, which is 50p, and the best recommended fetching price for this coin, for coin collectors, is £5 – 10..........IN MINT CONDITION.

MY EXPERIMENT

During midyear of 2016, I personally conducted an investigation in asking as many listing sellers as possible just how rare this coin was, and, I have to admit, I wasn't surprised at all that no seller came up with even a speck of genuine information. Half the sellers never responded, and those who did merely gave the runaround, failing to deliver the proper info on the coin's rarity, and providing false information, specifically on how they "acquired it at around the same price". Most of them just said that the coin "is rare." However, they were a lot more interested in asking how much I was willing to offer, almost as if they were glad to be near a chance to get rid of it.

Who lists a "rare" coin for sale for thousands of pounds and virtually have no information whatsoever to substantiate the coin's rarity when a potential customer requests this information? It's either this or the seller knows that this coin isn't rare and has fallen under practical assumption that people in general are, in their eyes, "suckers with money" - an insult, an intentional scumbag move, and unethically, in their profession, completely immoral in cheating money from coin collectors at best.

THE REAL RARE BENJAMIN BRITTEN COIN

The myth about the REAL rare Benjamin Britten coins is true. Unlike the ones you see listed on sale for thousands of pounds by these fanatics, there is a silver-proof edition of the Benjamin Britten 50 pence piece that only sold 1,000 units in mintage by the Royal Mint. The silver-proof coins are so rare they can fetch a quote of up to £10 – 20 grand.
What's even more interesting about this coin is that isn't listed at all on any site, compared to its virtual valueless counterpart.

THE PSYCHOLOGY OF THE NON-RARE COIN

There is a reason why a large number of people list things like this looking for a large amount of money, because they believe they can earn that large amount of money with something from almost nothing that doesn't require a lot of effort.
According to psychology, this case relates to none other than the rewarding system of the brain – finding this so-called "rare" coin and having knowledge of its popularity in listing prices over the internet is almost like an infant receiving a large amount of candy. It blinds people from the reality and consequences of abusing the potential of the little things.

This copper-nickel piece essentially induces a stubborn, blinded, delusional fantasy of somebody finding a worthless trinket and automatically having a sudden rush of satisfaction in belief that they are going to be rich, when in actual fact selling this coin successfully is a hopeless endeavour and the average seller has a better chance of finding the actual rare silver-proof Benjamin Britten coin.