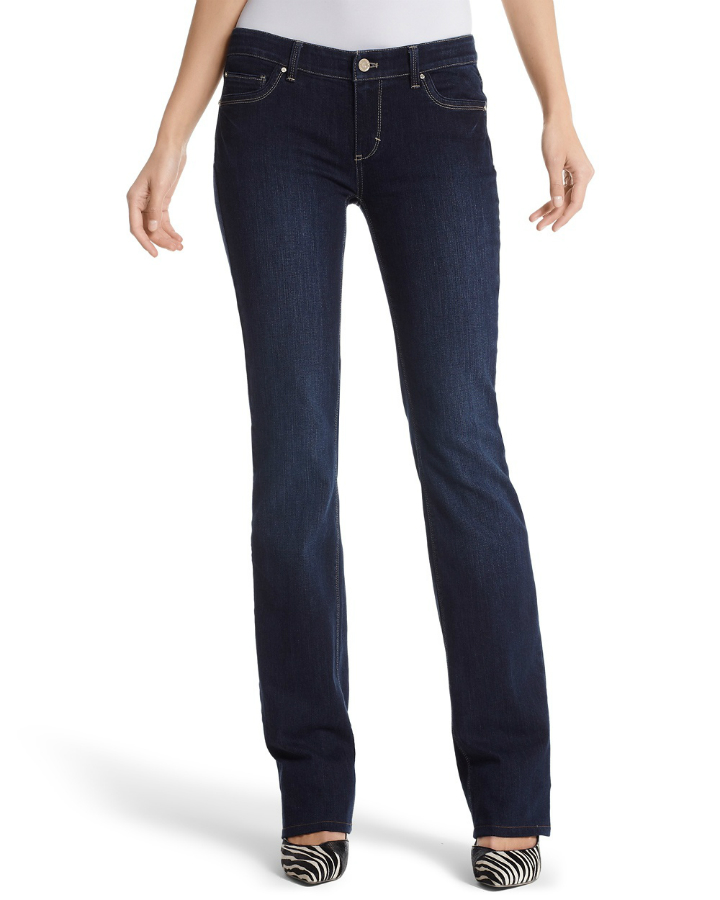 Bootcut jeans are a hot item in the clothing fashion world. They appeal to most women because they can be worn with nearly limitless tops and shoe combinations, are flattering on almost every body type, and they are easy to find due to their popularity. Bootcut jeans are essentially what they sound like. They are denim trousers that are designed to fit the hips and thighs perfectly but then flare out to a wider leg at the bottom to accommodate for boots. The way they are designed makes them work on all body types because they are not too tight or too loose at the top, and they flare out at the bottom to make the woman's figure look proportionate and curvy. Typically they have a waistline that rides more on the lower hips than the stomach which flatters the rear and thighs. The only downfall with low-riding jeans is that they do not hide the stomach or love handles and they often require a belt to stay up.
Since bootcut jeans are simple and universally easy to wear with anything, one would think that there is not much involved in the process of selecting a pair to purchase. However, there are a few things that buyers should consider before they begin shopping. This guide will show women how to find their right jean size, what washes they can choose between, which jeans to select for different outfits, and where to shop and purchase them from.
How to Find the Right Size of Jeans
A common mistake made with jeans is to simply go up or down a size if the trousers are too tight or too baggy in one area. The best idea is to stick with the normal size worn and only choose a different size to try on if the waist is the only thing not fitting. In most cases, jeans not fitting is simply because their shape isn't working with a particular body type. When it comes to bootcut jeans, they need to be perfectly fitted in order to look right. They are not meant to be baggy or skin tight. Begin figuring out what sizes to look for by measuring the hips and the waist, then use the chart below to compare the measurements and sizes.
| | | | | | | | |
| --- | --- | --- | --- | --- | --- | --- | --- |
| UK SIZE | 6 | 8 | 10 | 12 | 14 | 16 | 18 |
| Hips (cm) | 60.5 | 63 | 68 | 73 | 78 | 83 | 90.5 |
| Hips (cm) | 23.75 | 27.75 | 26.75 | 28.75 | 30.75 | 32.75 | 35.75 |
| Waist (cm) | 86 | 88.5 | 93.5 | 98.5 | 103.5 | 108.5 | 116 |
| Waist (in) | 33.75 | 34.75 | 36.75 | 38.75 | 40.75 | 42.75 | 45.75 |
The next step is to obtain the inside leg measurement, which is the distance from the crotch to the middle of the heel. It may be a good idea to do this while wearing a regular pair of shoes. This prevents the trousers from becoming too short once the shoes are put on. Clothing companies manufacture women's trousers in three different lengths: short, regular, and long.
| | | | |
| --- | --- | --- | --- |
| UK Size | Short | Regular | Long |
| Inside leg (cm) | 76 | 81 | 86 |
| Inside leg (in) | 30 | 32 | 34 |
If the measurements are a close call, get a size higher because they can be trimmed to fit later. Their length may also be slightly adjustable by switching back and forth between ballet flats and high heels.
Types of Bootcut Jean Washes
All jeans are washed and dyed in a different way to give them a specific appearance. For example, using very little denim dye will produce light blue jeans, and blasting them with sand will make the jeans look faded and worn. How the denim is treated will determine how dressy or casual they can be.
| Jean Wash | Description | How to Wear Then |
| --- | --- | --- |
| Acid | Acid washed jeans are often frayed and have holes in them. Bleach is also used in the dying process which makes them a very light blue colour with patches of white | These jeans are as casual as they come because they are the ultimate "grunge" style. They can be worn with casual high heels for a hip look, but typically they are best with regular sneakers and a retro top |
| Dark | These jeans have had a darker blue dye used which makes them almost black | Dark jeans are the dressiest ones. When worn with high heels and a nice blouse, they can be semi-formal. These are also ideal for those who want their legs to appear slimmer |
| Light | Less blue dye is used during the manufacturing process so they are a light blue colour | Light blue jeans are casual and go great with comfortable clothing such as a flannel button-down shirt or flip flops and a tank top |
| Sandblasted | Sandblasted jeans appear faded and worn due to being roughened up by sand particles | The faded look is very retro but can still be very stylish. Try these with cowboy boots and a frilly top |
| Stone Washed | In order to expose the fibres of the denim or to get holes in them, the jeans are literally washed with stones | Since these jeans have worn holes in them, they are not as easily dressed up. They can be worn with casual high heels or something more comfortable like clogs |
| Tinted | Jeans in colours other than blue have been dipped into dyes to tint them | colourful jeans are fun to wear with tops that have large, colourful patterns on them. However it is rare to find tinted bootcut jeans |
| Vintage | These jeans are designed to look like they are vintage by fading them and then adding a little green tint to them | Depending on the jeans, these can be somewhat dressed up with high heels, pearls, and a nice blouse |
| Whiskered | Jeans are often bleached in a special way that makes it look like they have crease lines in the areas that would usually get worn out | If the whiskers are subtle and they are on dark jeans, then they can still be dressy. Whiskers on others washes are usually casual |
Before shopping, women should know whether or not they are looking for a dressy or casual look. This will help them decide what kinds of washes to get. Do not be afraid to experiment, though. Unlike years ago when jeans were strictly casual, they are now acceptably worn in nearly any way.
Where to Shop for Women's Bootcut Jeans
Jeans are one of the most common types of trousers found in stores. When shopping, it sometimes saves time by first looking at brands that are familiar. Every brand makes their jeans differently so if they have fit in the past, there is a good chance that they may fit again. If none of those work, move onto another brand and see how they fit. Consignment shops also usually have a good selection of used jeans. Purchasing them used means that they are less expensive and already have that worn and faded look. Or, for those who are lacking in the time that's needed to shop around town, websites like eBay have just about every brand, style, and size of jeans. They even sell used apparel. By shopping online people can eliminate the time they spend driving and walking around shops. eBay has everything in one place so that people can easily find what they need without ever leaving the house.
How to Purchase Women's Bootcut Jeans on eBay
To start shopping for bootcut jeans on eBay, go to their website and enter "bootcut jeans" into their search bar. Since there will be thousands of listings, narrow them down by customising your search according to your preferences. Select your jean size, the brands you like, the colours you may want, and then enter in your price range. Now you can begin browsing because only the jeans that are within your specifications will be shown. If you know exactly what you want, using more specific keywords like "sandblasted bootcut jeans" can also narrow down the listings. Be aware though that such specific searches can dramatically reduce your choices.
As you shop, you can add the products you are interested in to your Watch List. This way you can pull them up later in your My eBay page to compare them and decide which ones you want to order. Be sure to verify what the shipping charges are before ordering anything and also double check the size of the jeans. Often times the seller will have multiple sizes available and you are required to specify which one you want.
Conclusion
For those who do not know what to look for, shopping for bootcut jeans can feel very intimidating. But the rewards of owning them makes the effort of finding them well worth it. The bootcut jeans can be worn with nearly any apparel item in the wardrobes of women and still look good. Women especially love them because they are universally flattering and they give the illusion of luscious curves.
This guide has laid out some ways that women can find the pairs of bootcut jeans they want without the usual hassle involved with shopping for them. By being able to find the right size, getting a wash that looks good with the outfits the jeans will be worn with, and knowing where to shop for them, women can save time as well as money when they purchase their jeans.