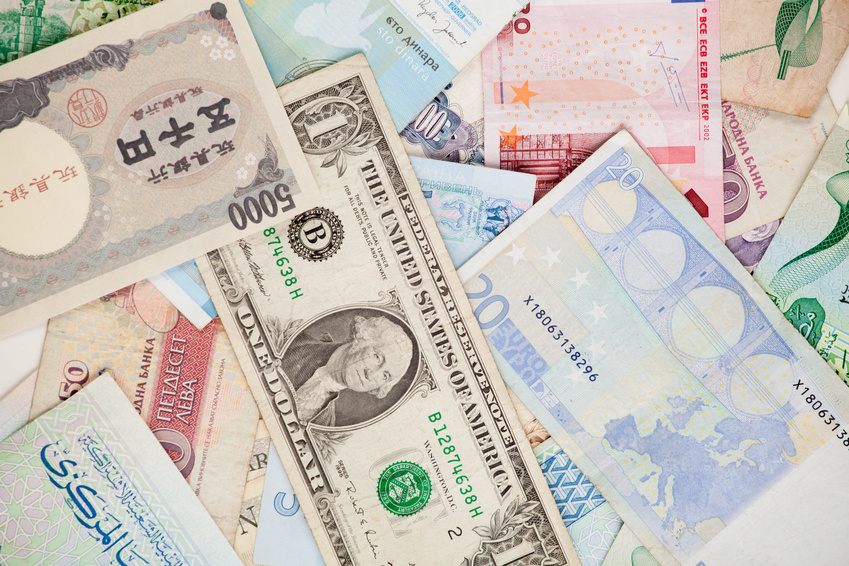 Irish £5 notes are no longer in circulation and make interesting collectors' items. Irish £5 notes are available on eBay, but before you buy, learn about the different notes issued between 1928 and 2001 and understand grading to ensure that you find the perfect notes for your collection.
Series A Irish £5 Notes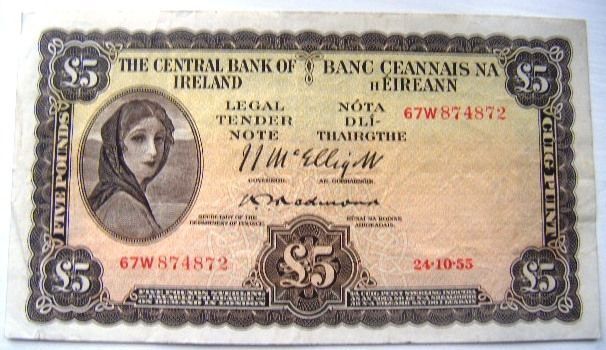 The Republic of Ireland's Currency Commission issued three sets of notes between 1928 and 2001. Series A banknotes feature a portrait of Lady Lavery, as well as the rivers of Ireland and a watermark depicting the Head of Erin. The Currency Commission issued these notes from 1928 to 1977. The £5 note is brown and features the River Lagan.
Series B Irish £5 Notes
From 1976 to 1993, Series B notes from the Central Bank of Ireland were in circulation. Each note features a portrait of a person who influenced the history of Ireland, and the Lady Lavery portrait remained as a watermark. The Series B £5 note is orange and features a portrait of Johannes Scotus Eriugena, a ninth-century theologian and philosopher, and on the obverse, the beginning of Psalm 17 of the Psalter of Ricemarcus over the Book of Durrow. The illustration on the reverse consists of script extracts from the Book of Kells, an eighth-century version of the gospels.
Series C Irish £5 Notes
Series C Irish banknotes, in circulation from 1992 to 2001, feature portraits of people involved in the formation of modern Ireland. The £5 shows in the foreground Catherine McAuley, founder of the Sisters of Mercy, as well as the Mater Misericordiae Hospital in Dublin in the background, which the Sisters of Mercy founded. The reverse of this blue note shows three children in a classroom, with the first verse of 'Mise Raifteiri an File', an Irish poem by Antoine O Raifteiri, on the blackboard, and a map of Europe in the background.
Understanding Irish £5 Note Grading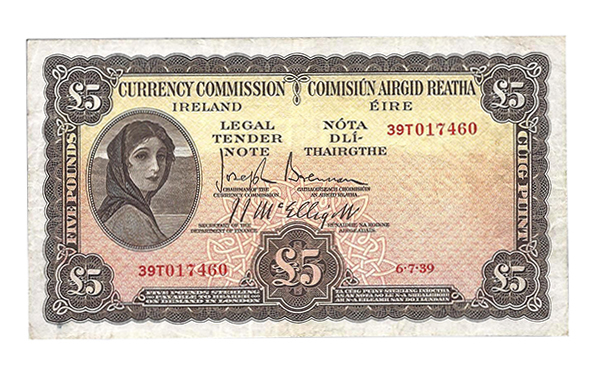 The value of Irish £5 notes depends largely on their condition. Collectors and sellers use a grading system to indicate condition. The system is not standardised, so you may need to do additional research to ensure that the notes you buy are in the condition you expect them to be. The table below provides an overview of common note-grade descriptions.
Grade

Description

Uncirculated (UNC)

Perfect condition with no tears, folds, or discolouration

About Uncirculated (AU)

Near perfect with minor signs of handling

Extremely Fine (EF or XF)

Very attractive note with some signs of handling

Maximum of three folds or one crease

Very Fine (VF)

Attractive note with evidence of handling

May have several folds, minimal dirt, some smudging

Fine (F)

Shows considerable circulation

Has folds, creases, wrinkling

Not excessively dirty, but somewhat soft
Additional grades include very good (VG), good (G), fair (FR), and poor (PR). Generally, higher grade Irish five pound notes demand higher prices. Original notes are also more valuable than washed, pressed, or otherwise restored notes.