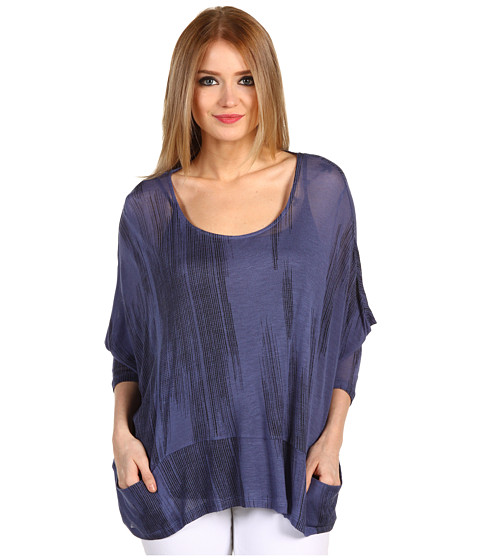 In contemporary Western fashion, the term "blouse" typically refers to a loose-fitting top worn by women. This has not always been the case, however; for centuries, blouses had been largely associated with peasant dress and, in the eighteenth and nineteenth centuries, the Romantic poets. In fact, it was not until the second half of the nineteenth century that the blouse became a trend in women's fashion. Long-sleeved, high-necked Garibaldi blouses, adapted from a style worn by Garibaldi's soldiers, were popular among women in the 1860s. At the turn of the twentieth century, the man's button-down shirt was adapted for working women into a more feminine version of the "shirtwaist", the original word for a woman's blouse. Since then, blouses have undergone many transformations and adaptations, but have remained a wardrobe staple. Contemporary blouses include everything from sporty models to traditional designs inspired by fashions of the past.
When purchasing a blouse, women have a tremendous range of choices. The most common variables include the cut, closure, length and style of the sleeves, the neckline, the kind of material, and the fabric's colour or print. Learning about different styles and options can help women select a blouse that will be a comfortable, fashionable, and versatile part of their wardrobe.
Blouse Styles
The style of a blouse has many components, including cut, sleeves, neckline, and decorative elements. Choosing a blouse style depends on a woman's fashion sense as well as the type of attire with which the blouse is meant to be worn.
The Cut of the Blouse
Blouses are often loose, flowing garments with a distinctly feminine quality. However, there are plenty of crisp, tailored versions, whose structured look may be perfect for business settings. Still other styles gather at the waist or hips, reminiscent of vintage fashions, or crop high at the midriff.
Other variations include asymmetrical hemlines, high-waisted empire cuts, and detailing such as ruching, pleats, and shirring.
The Closure of the Blouse
Blouses may be pulled on over the head, or have closures at the front, sides, or back. Buttons are the most common closure, but some blouses may close with laces, snaps, corded buttons, or zips.
Blouse Sleeves
The first consideration with a sleeve is its length, which is usually classified as long, short, or three-quarter. Some blouses are sleeveless. Long sleeves are good for cooler weather, but short sleeves can easily be layered under a jumper or jacket for additional warmth. Three-quarter sleeves are considered flattering, because they show off what is typically the thinnest part of a woman's body, the wrist.
But sleeve style goes far beyond length: the cut of the sleeve is one of the most prominent aspects of a blouse. Set-in, close-fitting sleeves created a smooth line through the shoulders and arms. Princess sleeves feature added material that puffs slightly at the shoulders, for a sweet, feminine style. Dolman or batwing sleeves have a capacious arm hole that connects lower on the body of the shirt, creating soft, sculptured folds when the arm is in a relaxed position. Long bell sleeves flare out in a romantic line that recalls traditional peasant and poet blouses; they can also be gathered for a dramatic billowing effect.
Different Blouse Necklines
As the border that frames the upper torso, neck, and face, a blouse's neckline plays an important role in creating an overall look. It also affects what items can be layered over the blouse. For professional attire, necklines should not be overly revealing; plunging necklines should be saved for evening wear.
Blouses inspired by peasant and poet tops often feature a wide scoop neck or a Nehru collar that rises slightly on the neck. Pointed collars appear on tailored and looser versions alike. V-neck blouses tend to reveal more, depending on how deep the neckline dips. Loose, feminine, pussy bow necks can be cut high, middle, or low. Turtleneck blouses cover the neck for added warmth, and draw attention upward toward the face.
Decorative Elements in Blouses
In addition to the features discussed above, many blouses have decorative elements that create impact. Ruffles add volume, perfect for less curvy bodies who want the illusion of an hourglass figure. Fringes can be flirty, while details like ruching or shirring look delicate and pretty. Lace adds vintage character to a blouse, while sequins make it fun and contemporary.
Blouse Fabrics
The fabric used for a blouse affects the way it looks and feels. When shopping for professional attire, buyers should choose polished fabrics such as cotton poplin or tailored rayon. For casual wear, women have a wide range of fabrics from which to choose: soft, comfortable knits, delicate chiffon, cool cotton, elegant silks, or warmer styles in light wool blends. Silk and satin blouses are good choices for dressy evening occasions.
Blouse Colours and Prints
Blouses come in a seemingly limitless range of colours and prints. Solid colours are easy to layer with other items, and are a good choice for office wear. Classic prints include polka dots, stripes, and floral designs, and the list goes on from there. People with a bold personal style can look for animal prints, zig zags, or geometric designs. Stylists advise having a couple of blouses in whatever prints are most appealing, since they are one of the most versatile garments in a wardrobe.
Blouse Fit and Sizing
Finding a blouse in the right size is crucial for ensuring a stylish, flattering appearance. Depending on the blouse's style, it may fit loosely or snugly, but there are a few things to look for when trying it on for the first time:
The shoulders of the blouse and the natural shoulder should line up.
The material should not stretch or pull across the bust.
The arm should have free range of motion in the sleeve.
If there is a closure, the blouse should not gap or pucker along it.
If the wearer plans to tuck the blouse in, it should be long enough to stay tucked, even when the arms are raised.
Blouse Sizing
Buyers should be aware of whether a blouse is sized according to UK, US, or European standards. The following chart outlines basic conversion between different sizings.
| Bust Measurement | Waist Measurement | UK Women's Size | US Women's Size | European Women's Size |
| --- | --- | --- | --- | --- |
| 76 cm | 58 cm | 4 | 2 | 32 |
| 78.5 cm | 60 cm | 6 | 4 | 34 |
| 81 cm | 63 cm | 8 | 6 | 36 |
| 86 cm | 68 cm | 10 | 8 | 38 |
| 91 cm | 73 cm | 12 | 10 | 40 |
| 96 cm | 78 cm | 14 | 12 | 42 |
| 101 cm | 83 cm | 16 | 14 | 44 |
| 108.5 cm | 90.5 cm | 18 | 16 | 46 |
| 116 cm | 98 cm | 20 | 18 | 48 |
It may be necessary, if converting from US to UK sizes, to add 2 to the UK size indicated in the chart. European sizes do not include France and Italy, who have their own systems. For French sizes, add 2 to the European size. For Italian sizing, add 6 to the European size.
Sizing can vary depending on the manufacturer, so if the buyer has any questions, they should consult the manufacturer's or retailer's website for precise information.
How to Buy a Blouse on eBay
eBay 's online auction website has an extensive selection of blouses for women of all shapes, sizes, and styles. If you have a particular blouse in mind, you can start by typing keywords into the search bar on eBay ' s home page. Keywords can be general, such as "women's blouses", or specific, like "polka dot silk blouse size 12". Once you have your search results, you can further refine them by selecting the colours you want, the seller's location, and more.
Before Bidding
There are several steps you can take to ensure a positive transaction on eBay. The first is to read the product description carefully before bidding. Make sure specifics such as material, size, condition, and the seller's return policy are all clearly stated. Should you need more information, eBay makes it easy to ask the seller a question.
You may want to research the seller a bit as well. Check the positive feedback rating: a high percentage is usually a sign that the seller provides good customer service. Reading comments left by other customers, particularly ones who purchased blouses or similar items, is another way to assess the seller's reliability. Top-rated sellers have a strong record of excellent service.
Conclusion
Since the late nineteenth century, blouses have been an important part of women's fashion. Today, the blouse is a versatile garment that can often cross over from casual wear into office wear, and from the office into evenings on the town. They are unmistakably feminine, often with soft, loose fabric and delicate detailing. The range of styles varies greatly, with some hearkening back to more traditional styles, and others looking forward with sporty or contemporary interpretations.
There are several elements that define a blouse's style. The first is the way it is cut, which results in a range of silhouettes, from neatly tailored to gracefully unstructured. Blouses can have different kinds of closures, or may be pulled on over the head. Sleeves are another prominent feature, as their length and cut influences the overall look of the blouse. The neckline frames the upper body and face; it can be anywhere from a plunging V-neck to a high turtleneck. Finally, decorative details add interest and style. Blouses come in many different materials, and a vast array of colours and prints; choosing a fabric depends on the level of warmth needed, the dress occasion, and personal style. Finally, it is important to find the right size blouse for a perfect fit. Informing themselves about these various available options will help women find a comfortable, fashionable blouse to fit their style.