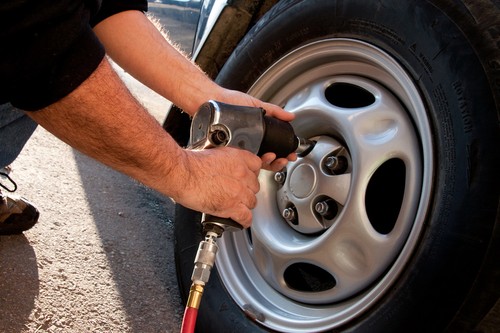 Whether vehicle owners are interested in making their job easier when cutting, pounding, or nailing various things for their vehicle, air tools are an excellent choice. Those who have ever tried to change a tyre by hand can surely appreciate the benefits of using air powered wrenches, for example. Air tools are excellent when it comes to saving time at a reasonable cost. Repairing cars is easier when using air tools such as impact ratchets, impact wrenches, or butterfly impact wrenches.
Having a car repaired can be costly and this is the main reason for which many people opt to buy their own air tools that can help them achieve the same results at a fraction of the cost. By learning to use pneumatic tools, drivers can have their vehicle up and running without a hefty bill from the car shop. Getting informed about how to buy the right air tools can help buyers make the right choice every time.
What Are the Benefits of Owning Air Tools?
Air tools are also known as pneumatic tools and they are essential for completing automotive work and clean-up. In order to use these type of tools, one also needs an air compressor that provides the tools with compressed air. There are plenty of benefits of using air tools for car related projects and repairs. One of the most significant advantages of working with air tools is the fact that they are lightweight and ergonomic. Since they receive air from a compressor, these tools are often lighter than their electric power tool counterparts, which means they can be operated easily.
Using air tools allows one to finish a project quicker than doing everything manually. Pneumatic nailer guns, for example, allow users to finish their job very quickly as opposed to using a hammer. As a result, one may notice an increased productivity. By using air tools, one can obtain the same results they would using electrically powered tools, but without consuming any electricity, as these tools can be hooked to a gas-powered air compressor.
Types of Air Tools
Those who are interested in buying air tools for their vehicle repair projects can choose from different types. Some of them are quite essential for any car owner, whereas others are better suited for complex projects. Popular pneumatic tools include nail guns, screw guns, drills, wrenches, and grinders.
Nail Guns
A nail gun is a type of air tool that is used to drive nails into different materials. Nail guns are actually replacements for hammers and can be very helpful for those who have to work with nails regularly. Pneumatic nail guns allow one to complete various tasks much quicker as compared to using a hammer. When using a nail gun, one should pay attention to different hazards that may arise from working with this type of tool. Safety glasses or a face shield are recommended when completing car repairs with the help of a pneumatic nail gun. Nail guns come in different types, popular ones being stick-type nail guns, framing nail guns, coil-style nail guns, and finishing nail guns. The nails for these air tools come in strips and they can be easily loaded into the gun before being fired with a pull of a trigger.
Screw Guns
By using a pneumatic screw gun, one can make the job of grabbing and holding each screw faster. A simple pull of the trigger allows operators to fasten a large number of screws per minute. Auto-feed screw guns are ideal for those who wish to load a number of crews before starting work and simply fasten each of them by pulling the trigger. Buyers should also consider the sheer speed of an auto-feed screw gun when making a purchase, as these tools can allow them to save a lot of time.
Drills
Pneumatic drills are a good choice for those who tend to spend a lot of time in the workshop. As opposed to electric drills, air drills are lighter because they have fewer parts and lack the heavy motor. By using such an air tool, one can have more work done in a shorter span of time and with less fatigue. In addition to that, the costs of operating an air drill are only reduced to the electricity used for the air compressor. Air drills can be used for both boring and fastening, and users can choose different attachments for different jobs.
Wrenches
The main use of an air wrench in a car shop is for spinning sockets. The majority of these tools feature torque adjustments for exact auto repairs. Buyers can mainly choose from two types of wrenches: the inline model and the pistol grip. The first one is used just like a screwdriver, whereas the second allows users to attach various accessories or sockets to the anvil. Air wrenches are also known as torque guns or air guns, and they can be found in various socket sizes. These tools are useful for small auto assembly and disassembly projects.
Grinders
Air grinders are similar to drills in the way they employ rotary force for spinning a disc. These pneumatic tools are helpful for grinding, polishing, and cutting different materials. When using this type of tool, operators should make sure they take the proper safety precautions, which may include wearing safety glasses and protecting the hands with heavy gloves.
Choosing the Right Compressor
All air tools used in car related projects require a constant supply of compressed air in order to function properly. When choosing a compressor, buyers should take a few factors into account. The tank capacity and the horsepower of the unit are some of the most significant of them. By opting for a unit with a large tank and powerful motor, buyers can make sure they have enough power for all their air tools. The rating capacity of the air compressor is something that buyers should pay attention to. The majority of air compressors require a pound per square inch (PSI) rating of at least 90. The more tools one wants to use with a compressor, the higher rating it requires. The chart below may be helpful when it comes to determining the cubic feet per minute (CFM) that can be delivered by a standard compressor to various air tools.
| Type of Air Tool | Average CFM at 90 PSI |
| --- | --- |
| 7-Inch Angle Disc Grinder | 5-8 |
| Brad Nailer | 0.3 |
| Cut-Off Tool | 4-10 |
| Hammer | 3-11 |
| Drill, Reversible or Straight-Line | 3-6 |
| Dual Sander | 11-13 |
| Framing Nailer | 2.2 |
| Hydraulic Riveter | 4 |
| Mini Die Grinder | 4-6 |
| 1-Inch Impact Wrench | 10 |
| Needle Scaler | 8-16 |
| Rotational Sander | 8-12.5 |
| Shears | 8-16 |
| Speed Saw | 5 |
Buyers should remember that they should be looking for a higher CFM if they intend to run more than one air tool at a time. When it comes to the tank size, buyers should opt for a compressor with a large motor if they want to run their tools continuously. Comparing different tanks before making a purchase is an excellent way to make sure the choice is right.
How to Find Air Tools on eBay
Air tools are essential for anyone who wants to perform regular maintenance to a vehicle. If you want to avoid frequent trips to the car shop for minor repairs, all you need are several pneumatic tools and an air compressor. It can sometimes be difficult to choose the right air tools for a certain type of project, but fortunately, you can choose to shop around and compare different tools before making a purchase. A great place to do so is on eBay, as the website offers a wide selection of air tools and compressors for all needs and budgets.
In order to quickly find the right air tools for your car repair projects, you should first decide which type of tools you need. Once you figure this out, you can simply type the name of the tool you need into eBay's search bar. For instance, if you are looking for a grinder, you can type the words 'air grinder' into the search bar on the home page of the website. You instantly get several pages of results you can start browsing through in order to find the air grinder you want to buy. Remember to read the product description carefully before committing to buy an item to be sure the product is the right one for you.
Conclusion
Air tools can be of great help for all those who are interested in performing repairs or regular maintenance to their vehicles. Whether one is a professional or an amateur, these tools can make their life easier as they allow users to complete their tasks quickly and without too much effort. Pounding, cutting, or nailing things becomes an easy task due to the compressed air that drives pneumatic force into the tools.
Becoming familiar with different types of air tools is the first step for making a wise investment. One should decide the type of tool they need for a certain project and then start looking for the right option for their budget. eBay is a great place to start looking for air tools, as it offers buyers a large palette of options available from sellers from all over the world. Regardless of the type of air tool buyers are looking for, chances are they can find it on eBay.